Case study by Global Evolution
Global Evolution is a specialist emerging and frontier markets investment manager. Our ESG sovereign screening and the Global Evolution ESG Research Programme is a closely integrated part of our investment process.
Why ESG dynamics matter for sovereign risk analysis
Our regression analysis shows that credit ratings explain 38% of the difference in spreads across sovereign bonds, but that when combined with ESG dynamics (the change in ESG ratings over time), the explanatory power rises five percentage points to 43% – a 13% increase that represents a clear business case for considering ESG dynamics as part of the investment process. Adding the static ESG ratings themselves, rather than the changes in the ratings over time, generates no statistically significant effect: it is specifically the improvement or deterioration in countries' ESG performance that credit ratings are not sufficiently capturing.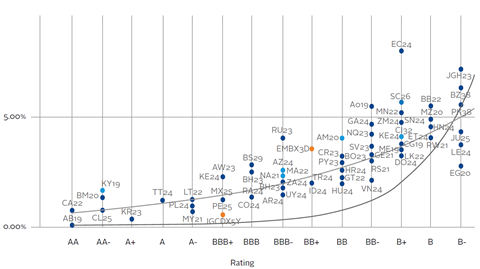 How we measure ESG dynamics' impact on sovereign risk analysis
We calculate how many notches the credit ratings would have to be adjusted by to appropriately account for ESG dynamics. We call this adjustment the ESG Risk Factor.
The ESG adjustment per country is estimated by an ordinary least squares (linear) multiple regression: s = α + β1CR + β2ESG, where s is the spread, CR is the credit rating, ESG is the ESG dynamics and and are regression coefficients. (Both explanatory variables are statistically significant at maximum 2% (p-value); a small variance inflation factor indicates no multicollinearity).
Isolating CR in the regression (CR = β2/β1ESG – (α + s)/â1), identifies the effect on credit ratings from ESG dynamics as β2/β1ESG. Multiplying β2 and ESG shows the effect of ESG dynamics on spreads.
About the data: spreads are measured over Libor; credit ratings are from S&P, Moody's or Fitch; ESG dynamics are expressed as percentage changes in ESG ratings (from 2013 to 2014) and are based on a weighted average of five risk indices, split across environmental, social and governance factors.
Example: Emerging markets
The following chart shows the Global Evolution ESG Risk Factor for a set of emerging markets countries: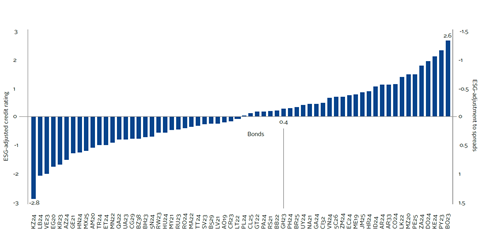 Taking Ghana's GH23 bond as an example, the model shows its B- credit rating should be about half a notch higher to take into account ESG improvements. The model simulates that Ghana's ESG rating improvement of approximately 1% over the 2013/14 period has caused the spread to drop 0.14 percentage points. This spread-compression is not accounted for by the credit rating – so taking ESG dynamics into account better accounts for spreads.
At the extremes of the scale are Bolivia's bond BO23 and Kazakhstan's bond KZ24. Bolivia's BB bond should be rated more than two notches higher to account for ESG improvements in the 2013/14 period, and its spread has dropped 1.26%. Kazakhstan's BBB bond should be rated more than two notches lower to account for ESG deteriorations, and the spread has widened 1.34%.
Research ambitions
Further research will analyse: the effect of sovereign ESG dynamics on different asset classes; forward-looking ESG dynamics; which specific ESG factors correlate most closely with spreads; the effect of different weightings between ESG indices in creating the ESG ratings from which ESG dynamics are measured; more sophisticated modelling than simple ordinary least squares regressions.
GLOBAL EVOLUTION RESEARCH DISCLAIMER
This investment research has not been prepared in accordance with legal requirements designed to promote the independence of investment research. Further it is not subject to any prohibition on dealing ahead of the dissemination of investment research. Global Evolution, its affiliates or staff, may perform services for, solicit business from, hold long or short positions in, or otherwise be interested in the investments (including derivatives), of any issuer mentioned herein.
None of the information contained herein constitutes an offer (or solicitation of an offer) to buy or sell any currency, product or financial instrument, to make any investment, or to participate in any particular trading strategy.
This material is produced for informational purposes only and Global Evolution and its subsidiaries and affiliates whether acting directly or through third party distributors make no representation or warranty, and assume no liability, for the accuracy or completeness of the information provided herein. In providing this material Global Evolution has not taken into account any particular recipient's investment objectives, special investment goals, financial situation, and specific needs and demands and nothing herein is intended as a recommendation for any recipient to invest or divest in a particular manner and Global Evolution assumes no liability for any recipient sustaining a loss from trading in accordance with a perceived recommendation.
All investments entail a risk and may result in both profits and losses. In particular investments in leveraged products, such as but not limited to foreign exchange and derivates can be very speculative and profits and losses may fluctuate both violently and rapidly. Speculative trading is not suitable for all investors and all recipients should carefully consider their financial situation and consult financial advisor(s) in order to understand the risks involved and ensure the suitability of their situation prior to making any investment, divestment or entering into any transaction.
Any mentioning herein, if any, of any risk may not be, and should not be considered to be, neither a comprehensive disclosure or risks nor a comprehensive description such risks. Any expression of opinion may be personal to the author and may not reflect the opinion of Global Evolution and all expressions of opinion are subject to change without notice (neither prior nor subsequent).
Statements contained on this communication that are not historical facts and which may be simulated past performance or future performance data are based on current expectations, estimates, projections, opinions and beliefs of Global Evolution. Such statements involve known and unknown risks, uncertainties and other factors, and undue reliance should not be placed thereon. Additionally, this communication may contain 'forward-looking statements'. Actual events or results or actual performance may differ materially from those reflected or contemplated in such forward-looking statements.