Before engagement: first steps and preparation
Creating a successful engagement: investors
Set clear objectives
Set clear objectives for your anti-bribery and corruption engagement, based on company research and your organisation's engagement approach.
Select the right indicators
Select indicators that will reflect progress antibribery and corruption policy disclosure as well as systems implementation (and culture as far as is possible).
Evaluation methodology
Use clear evaluation methodology to help guide dialogue with the target companies and measure progress made against set objectives.
Collaborate with others
Work with other investors interested in engaging the same companies, to spread the workload. Then regularly exchange insights with them, such as different companies' responses and practices.
Creating a successful dialogue: companies
Keep programmes up-to-date
Continuously assess anti-bribery and corruption programme elements to keep them updated and to ensure performance.
Maintain communication channels with your board
Make sure the board stays informed of issues investors would like to discuss, meeting agendas and agreed key objectives. This way, feedback from the engagement can directly feed into the company's governance, strategy and performance. Companies should also encourage direct involvement of the board in the engagement dialogue with investors.
Download the full report
Engaging on anti-bribery and corruption

June 2016
Before engagement: the investor persepective
Tailor your engagement
Investors working in the PRI-coordinated group typically undertook engagement with companies selected by:
percentage of holdings;
the number of ESG issues relevant to the companies f operations;
potential impact on the companies' operations and/or fundamental valuation;
any investment policy breaches (taking into consideration the UN Global Compact principle 10, for example).
Both investors using passive investment strategies and those that actively stock picked with a ebottom up f approach used engagement to monitor companies f implementation of anti-bribery and corruption standards in line with their investment policy requirements.
Conduct background research
Before initiating dialogue, investors assessed companies' existing anti-bribery and corruption policies and practices to identify strengths and areas for improvement. They reviewed contextual information about companies' anti-bribery and corruption record, history of previous engagements as well as any potential 'tailwinds' for progress on anti-bribery and corruption from regional developments. Such examples include: the development of Japan's corporate governance code and the anti-bribery and corruption drive in China spearheaded by the General Secretary, Xi Jinping.
Investors can use national corporate governance and disclosure requirements where applicable (especially in regions where investor engagement is less well developed) to further build the value case for good anti-bribery and corruption systems.
Approaching an existing contact helps
An engagement was usually initiated at board or executive management level. Meetings or calls thereafter typically took place with company representatives who report directly to the Chief Executive, such as the Senior Compliance Officer or the Head of Investor Relations.
Investors indicated that the engagement was less likely to be a tick box exercise if the initial contact was at a senior level, and that use of an existing relationship was more important than contact with a specific non-executive or executive. Mutual trust is the key component of successful engagement on anti-bribery and corruption issues.
Make the engagement constructive from the off
Setting clear targets and expectations is very important, as well as recognising when (and when not) to push companies regarding sensitive areas. Some investors were even able to meaningfully engage with companies undergoing an anti-bribery and corruption investigation, by using existing relationships and by focussing on improvements going forward.
Use of an existing relationship was more important than contact with a specific non-executive or executive
Before engagement: the company perspective
Stay ahead of the curve and communicate well
Companies can stay ahead of the curve by planning a proactive strategy to investor engagement on anti-bribery and corruption issues. This approach helps them understand investors' expectations, build credibility and strengthen relationships with existing and potential shareholders. Companies can use various modes of communication to do this, including:
website articles, press releases, regulatory filings that communicate broadly with all stakeholders;
a letter from the board or its chair elaborating on the board fs strategy and its role in the governance of the company (some companies include board letters in their annual reports or proxy statements);
roadshows and einvestor days to communicate broadly, with a focus on investors as stakeholders;
letters, emails, conference calls and/or meetings to respond to specific enquiries from investors, meetings in person can work well to build relationships and address sensitive issues during engagement outside of proxy voting season.
Demonstrate a proactive approach
Taking a proactive approach requires allocating some resource to monitor a range of high-profile government/ anti-bribery and corruption initiatives that may be used by investors to start dialogue.
Before engaging with investors on specific enquiries via meetings and calls, companies would:
involve the board of directors in order to embed stakeholder engagement in the company's governance;
understand investor expectations and know how the company fs systems compare with best practice (see Appendix A and figure 7);
discuss agenda items with investors in advance, to mutually agree on goals and expectations;
establish a timeline for future public disclosure;
communicate to employees about the engagement process, objectives and commitments, to ensure a well-informed and aligned approach, whoever the investors may speak to.
A 2014/2015 Control Risks survey of over 600 companies illustrates the typical anti-bribery and corruption measures covered by company compliance systems. Studies like this can be used as a benchmark for companies conducting a baseline assessment.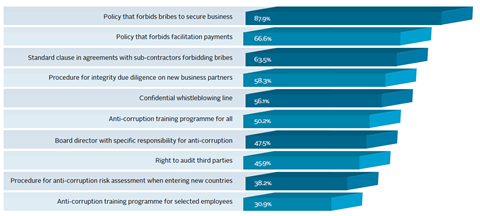 Download the full report
Engaging on anti-bribery and corruption

June 2016
Engaging on anti-bribery and corruption
1

2

3

Currently reading

Before engagement: a guide

4

5

6

7

8