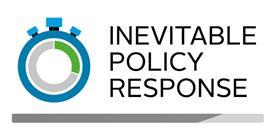 This policy forecast paper is a fundamental building block of The Inevitable Policy Response (IPR), a pioneering project which aims to prepare financial markets for climate-related policy risks that are likely to emerge in the short and medium term. What is "Inevitable" is some further policy response as the realities of climate change become increasingly apparent. The questions for risk forecasting are when this response will come, what policies will be used, and where the impact will be felt. IPR forecasts a response by 2025 that will be forceful, abrupt, and disorderly because of the delay. It provides a Forecast Policy Scenario (FPS) which lays out the policies that are likely to be implemented up to 2050 and quantifies the impact of this response on the real economy and financial markets
The Inevitable Policy Response: Policy Forecasts (PDFs)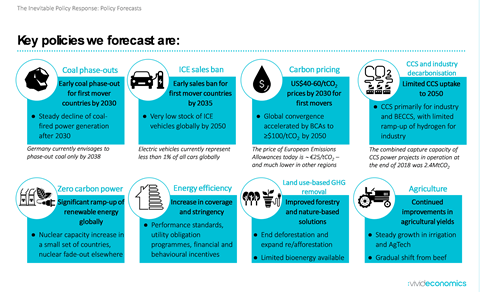 Markets today lack a strong basis for pricing climate transition risk, and do not seem to have priced in a forceful policy response to climate change within the near-term. But our policy forecast shows this to be a highly likely outcome, leaving portfolios exposed to significant risk.
Through a robust real-world analysis that works up from the policy and technology developments that are most likely to emerge, the FPS builds a credible and informed view of climate transition risk for investors. Rather than basing it on pre-defined target temperatures like most climate scenarios, we forecast a number of key climate-related policy developments that will disrupt markets and have significant implications for the real economy and society within the near term.
This paper outlines and explains the basis of the forecast, detail what are the expected policies, where they will likely come into effect and when. It is thus the fundamental building block of the overall modelling results, the first round of which are to be released at New York Climate Week.
Eight Key Policy Forecasts
Climate policy developments are highly dependent on local contexts, with a significant geographic disparity in uptake rates. Reflecting the fact that a mandatory global agreement has proven impossible we expect that there will be significant but uncoordinated policy action by governments across eight critical policy levers which we expect to feed into the Paris Agreement process. We therefore start the analysis at the country level and build outwards - beginning with expectations for leading nations and likely areas of regional/bilateral collaboration, while incorporating some competitiveness dynamics and the likely role of more unilateral alignment mechanisms like border carbon adjustments.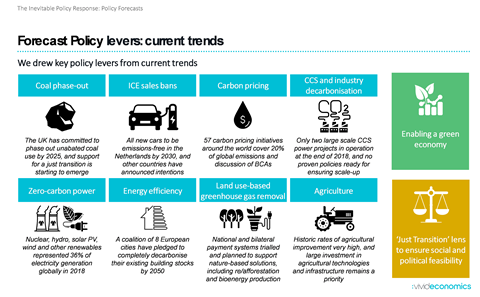 Once these policy levers were defined, climate policy experts from Vivid Economics and partner institutions analysed the aforementioned research to make transparent forecasts of the likely developments within each region. For each policy lever, countries were defined as 'leaders', 'followers' and 'laggards' and the timing and stringency of policy announcements was phased accordingly.
The raising of ambition
Although this assessment draws on an expansive review of current trends and feasible developments and is thus credible, it also points to a raised level of ambition and thus is very different to a simple extrapolation of current trends or announce commitments.
This expectation of raised ambition is realistic and grounded in the view that although there are limited signals that governments will act forcefully on climate change in the next 2 years, this situation is not sustainable and indeed increases the likelihood of a delayed and disruptive response. The realities of climate change will inevitably catch up with governments across the globe – as they are beginning to – and 2023-25 is the critical period.
Pressure for policy action will continue to increase and come from all angles – environmental, social, and economic – upward pressure by electorates and businesses to act, and further fuelled by fears over national security. Perhaps most critically, such a rapid policy shift is further enabled by advances in technology cost and performance, and the drive by major economies to lead in these emerging industries.
Far more so than in the past, these triggers are aligning actors in a common direction. At the same time, the Paris Agreement 'ratchet mechanism' – starting with the Global Stocktake 2023 and leading to the third round of climate pledges in 2025 - increases the likelihood that policy announcements to tackle climate change will accelerate within this period. Although not a mandatory global agreement, this mechanism gives a framework with which governments at all levels – Regional, National, State and Local - will operate, and presses them to raise ambition.
Although we expect continued action and announcements before 2025 in certain regions, the ratchet process is key to our Forecast that there will be a policy response to climate change by 2025 that will be forceful, abrupt, and disorderly because of the delay.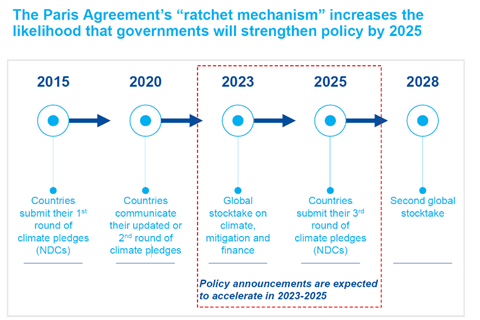 A bottom up, granular and transparent approach
Researching and forecasting policy developments to this level of detail is complex. Over the past 6 months, a team of researchers at Vivid Economics and Energy Transition Advisors in collaboration with climate policy experts across the consortium undertook research that followed a robust, transparent and rules-based approach along the following principles:
Our approach to Forecasting
Four key rules ensure realistic forecasts
Focussed on eight major markets representing more than 75% of global GDP
Grounded in an expansive qualitative and quantitative analysis of recent announcements, commitments, initiatives and trends in each region
Underpinned by transparent and realistic assessments of likely policy developments from a wide range of international climate policy experts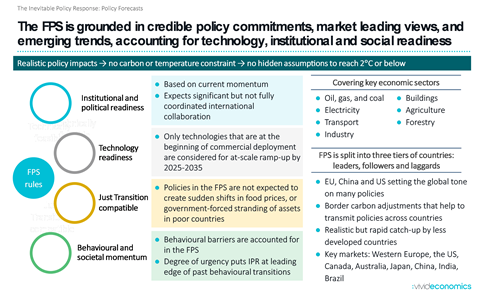 To derive policy forecasts given the four rules, we:
Defined the countries' current situation (e.g. % of coal in power generation)
Collated and analysed all related, recent and credible policy announcements within that country (e.g. coal phase-outs, CCS roadmap)
Collated and analysed all related, recent and credible announcements by other important stakeholders (e.g. corporate pledges, ICE bans by cities, Japanese consortiums announcing coal divestments, etc.)
Collated and analysed specialists' views on likely technological and economic developments (e.g. IEA, OECD, Bloomberg New Energy Finance, High Commission on Carbon Prices, Carbon Tracker, C40 Reports, Network for Greening the Financial System (NGFS), etc.)
From this process we identified the eight key policy levers that are likely to drive the transition within the near term.
Downloads
PDF, Size 1.09 mb

PDF, Size 10.51 mb

Excel, Size 86.51 kb