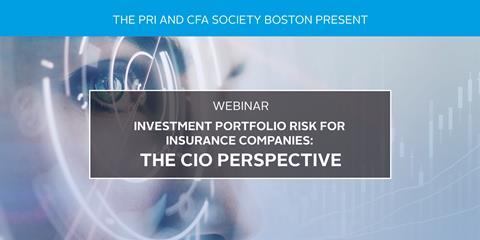 Date: Monday, 14 December 2020
Time: 11:00am - 12:00pm EST
Platform: BrightTALK
The insurance industry is in the business of risk; acting as risk managers, risk carriers and investors. Accordingly, the insurance industry is significantly exposed to risks posed by the increasing frequency and intensity of extreme weather events, as well as the global transition towards a low-carbon economy. Adding the recent unprecedented pandemic for additional complexity and uncertainty, it is more important than ever before for managers of insurance company assets to factor relevant ESG risks into their investment portfolios.
Please join the PRI and the CFA Society Boston on December 14th at 11 am ET for the second in a series of webinars exploring responsible investing and the US insurance industry. In this session, you will hear directly from investment officers of two major Insurance firms on the unique challenges they face, potential increased regulatory scrutiny and how they plan to continue managing resilient and sustainable insurance investment portfolios.
Confirmed speakers:
Randy Brown, CIO, Sun Life & Head of Insurance Asset Management at SLC Management

Patrizio Urciuoli, Co-Head of Strategy &Asset Allocation, Executive Managing Director, Executive Vice President Liberty Mutual Insurance Group