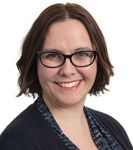 Lian Hillier
Lian joined the PRI in November 2016. She is responsible for the PRI's HR strategy and manages HR practices across the organisation's global offices.
Prior to joining the PRI, Lian was Director of People & Culture at Nesta where she was part of the executive board, providing strategic oversight of all HR and culture issues. During her eleven years there, Lian played a key role in a range of high-profile initiatives, including the organisation's independence from the public sector. 
Prior to this, she worked at the NHS and the Museum of London.
Lian holds a Post Graduate Diploma in Human Resource Management and is a Chartered member of the CIPD.