Case study by Alliance Trust Investments
Our assessment of the consumer staples sector identified three business activities - the production of food, the production of household chemicals and the retail of them both - in which revenue can be driven by the Sustainable Development Goal (SDG) themes.
Identifying trends
We assessed Kerry Group - a €14bn listed Irish company established in 1972 as a dairy cooperative that has evolved to be one of the largest and most advanced ingredients and flavours technology companies in the world - as being exposed to Sustainable Development Goals 2 and 3, in particular target 3.4 to reduce pre-mature mortality from non-communicable diseases (NCDs) by a third. (Obesity is linked to myriad NCDs including Type 2 diabetes, heart disease and stroke. The prevalence of obesity has doubled since 1980 and is set to double again by 2030, with the World Health Organisation declaring obesity a global epidemic impacting emerging and developed economies.)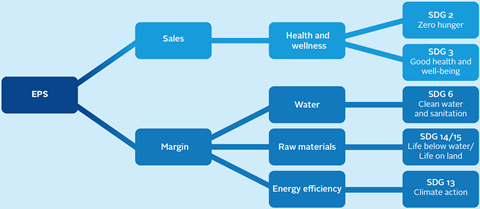 We found that the ingredients and flavour division, which accounts for roughly 75% of total Group revenues, will be materially impacted by structural trends towards healthy eating preferences: Kerry is sought out by food majors for its expertise in reformulating foods (reducing the calorie, sugar, salt and saturated fat content, whilst retaining the same taste, texture, feel and shelf-life) and for its development of healthier ingredients for new products.
Proactive disclosure of environmental, social and governance factors can help companies navigate through regulatory and reputational risks, and mitigation strategies can highlight opportunities for operational efficiency, especially when related to environmental impact reduction. Kerry Group is well positioned to address environmental issues having implemented carbon, water and waste reduction programmes. The company has worked to address deforestation risks presented by its raw material inputs, and in 2014 moved to 100% RSPO-certified sustainably sourced palm oil. This helps to secure a sustainable supply for the future, protects against reputational risk and gives the large food manufacturers the opportunity to differentiate their offering with transparent labelling and traceable supply chains.
Assessing impact
When assessing the growth of the ingredients and flavour division, we look at likely exposure to these key trends, resulting in multiple changes to our 2014-17 estimates for the company:
We believed that the division fs exposure to SDG 2 and SDG 3, and the associated acceleration in the shift toward healthier eating, would result in volumes growing at an average of 5%.
Our top line revenue forecast was about 150bps ahead of consensus estimates, also enabling us to increase our margin expansion expectations as a result of the operational leverage.
Integrating these factors resulted in projected earnings growing at a compound annual rate of 12%, over 100bps higher than consensus estimates, in turn improving expected return on capital.
We believed that Kerry, delivering steady growth and returns, would be recognised for its quality and would overtime develop a premium valuation relative to its peers. So far, our forecast of superior returns and valuation appreciation has been corroborated by the company outperforming the index and the sector since our analysis was conducted.
Risk warning - For investment professionals only. This document should not be communicated to, or relied on by, retail investors. Past performance is not a guide to future performance. Investments can go down as well as up. Investors may get back less than they originally invested. Examples of stocks are provided for general information only to demonstrate our investment philosophy. It is not a recommendation to buy or sell and the view of the Investment Manager may have changed. Alliance Trust Investments Limited is a subsidiary of Alliance Trust PLC and is registered in Scotland No. SC330862, registered office, 8 West Marketgait, Dundee DD1 1QN; is authorised and regulated by the Financial Conduct Authority, firm reference number 479764. Alliance Trust Investments gives no financial or investment advice.