Case study by Sycomore Asset Management
Investing in European food companies presents clear environmental and social risks as well as considerable opportunities (the sector as a whole should benefit from further population growth).
As a bottom-up, long-term investor, we have developed a valuation tool that factors ESG considerations into investment decisions to find companies able to generate sustainable value.
Assessing the opportunities and risks
Opportunities
Estimates indicate a gap of nearly 70% between the amount of food available today and that required by 2050. Closing this gap, while improving the quality of our food, protecting the environment, replenishing strained resources, recognising the value of those who farm the land and wasting less along the food chain, will be part of private and public sector policies over the next thirty years.
Risks
Environmental risks
Agriculture represents approximately 10% of greenhouse gas emissions in the EU and the US. The extensive use of monocultural fields has led to biodiversity loss. Nutrient degradation and erosion affect soil quality. Resource depletion and pollution to water and air are also concerns.
Economic and, hence, social risks:
Large food producers and distributors shifted the balance of power, now reaping most of the pricing power to the detriment of farmers.
Political instability (e.g. 2014 Russian ban on EU food products, end of European milk quotas) has led to sharp falls in prices of certain food products, further impacting farmers f revenues.
More rigorous environmental and animal-welfare standards have raised farmers f costs significantly over the past ten years.
Consumers are eating less meat . very few categories, like poultry, are still growing.
Farmer-led protests often impact the economy as a whole.
Integrating opportunities and risks into models
As a proxy for gauging the sustainability of a company's business model, we look at whether it creates value for its stakeholders: suppliers/society/states, people, investors, clients and the environment (SPICE). The SPICE model structures our financial and ESG research work and is fully integrated into our proprietary research and valuation tool.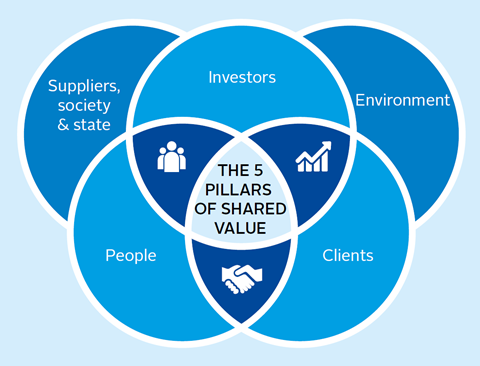 Each company in the investment universe is given a SPICE rating, and the fund manager reviewing the stock is responsible for keeping the analysis up-to-date. The SPICE rating is used to adjust a stock's beta:
| SPICE rating | Beta adjustment |
| --- | --- |
| A+ | -20% |
| A | -10% |
| B | 0% |
| C | +10% |
| C- | +20% |
Impact of integration
The table below shows food-related examples of how ESG issues, which represent over 65% of our SPICE rating, have affected companies' adjusted beta.
Company name
Initial beta
SPICE score
Key ESG pros and cons
Adjusted beta
Bonduelle
1.25
A

Pros: real engagement towards employees and suppliers; agricultural techniques aimed at reducing environmental impact; board members engage in dialogue with investors

Cons: governance structure that leaves little rights to minority shareholders

1.13
Casino
1.15
B

Pros: one of the first to raise environmental awareness through product labelling

Cons: complicated, relatively high-risk accounting structure; antitakeover mechanisms

1.15
Fleury Michon
1.35
A

Pros: huge efforts on product quality and authenticity; raising transparency standards in the food supply chain and in product labelling

Cons: inherently difficult jobs with relatively high absenteeism and health and safety concerns

1.22
Tesco
0.80
B

Pros: global plans to trade responsibly, tackle risks in the supply chain and build lasting relationships with suppliers ¡¡ board members engage in dialogue with investors

Cons: it will be a while before great objectives become business as usual all around the world; fraud and accounting risks

0.80
Unilever
0.70
A

Pros: sustainability leadership in setting highly ambitious 2020 targers

Cons: more work is needed on setting single global standard for product and content and formulation

0.63
Wessanen
1.05
A+

Pros: healthy natural and organic products; commitment to the environment, employees and suppliers

0.84
Download the full report
A practical guide to ESG integration for equity investing

September 2016