Case study by APG Asset Management
Our Industry Frameworks summarise material sustainability issues for each industry, to:
support company analysis;
inform investment decisions;
guide company engagement;
facilitate portfolio monitoring.
The Industry Frameworks were developed jointly by sustainability and governance specialists and portfolio managers to interpret the UN Global Compact's Ten Principles in the context of specific industries. These followed four internally developed issue papers that were written in 2014, one for each of the UN Global Compact themes (human rights, labour, environment and anticorruption).
One of the outputs of the Industry Frameworks is an issue map for each of the 38 industries (below), which at a glance highlights the risk exposures within each UNGC theme.
From an initial set of 18 sustainability issues, we identified, for each industry, which issues were the most material as a business risk and as a public concern. For example, we assessed one of the material issues for the banking industry to be data security: with the risk of cyber-crime becoming more frequent and sophisticated, it can lead to significant business and reputation risks if the company's systems are not up-to-date and don't include strong protection measures.
Companies are then analysed using the Industry Framework, with a special focus on the sustainability issues identified as most material.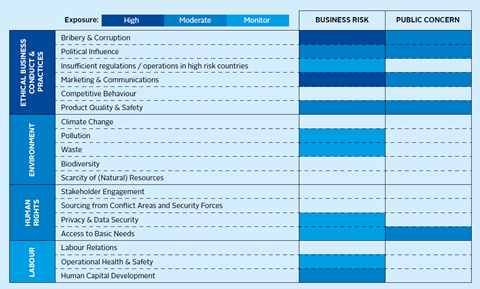 Download the full report
A practical guide to ESG integration for equity investing

September 2016