Case study by Sycomore Asset Management
A growing body of evidence suggests that strong corporate culture and engaged employees make the best performing companies. That's why we launched Sycomore Happy@Work, a fund explicitly targeting firms with top human capital credentials. To identify the best companies, we engaged with companies, employees and human resources experts. Our assessment focuses on five areas – personal development, autonomy, fairness, job purpose and work environment.
Including human capital in decision making
Svenska Handelsbanken is a Swedish universal bank with nearly 11,700 employees operating in the Nordics and the United Kingdom. It operates in a highly-exposed sector and is subject to a great deal of human capital-related scrutiny.
The company's long-term focus contributed to their resilience during the 2008 crisis. For example, while competitors were building up massive loan books, Svenska Handelsbanken focused on client and employee attractiveness. As a result, the crisis did not impact the company as severely as its competitors and so it was spared from conducting massive restructuring.
Also, today, in spite of increasing digitalisation, Svenska Handelsbanken considers human interactions to be essential. Branches are therefore relocated rather than shut down.
A "Happy@Work" environment
Svenska Handelsbanken is committed to creating a positive working environment which contributes to a strong corporate culture of trust. For example:
Personal development is strongly encouraged - in 2014, for example, 93% of managers were recruited internally.
All employees own the same share capital as the CEO and as employees are the second biggest company shareholders, profits are shared fairly.
The bank offers an attractive base salary and worked with unions in 2015 to reduce wage disparity between men and women.
To avoid unconsidered risk-taking and miss-selling practices, employees are motivated by profitability instead of sales.
The group's values - availability, simplicity and attention - are presented to all new starters during a three-day introduction period.
A selective investment process
Our Sycomore Happy@Work Fund investment process relies on a thorough analysis of employee engagement as well as the exclusion of companies that carry excessive ESG risks monitored by our SPICE analysis. This assesses the impact of the companies' relationships with suppliers, society, people, investors, clients and the environment.
As a proxy for evaluating the sustainability of a company's business model, we look at whether it creates value for all its stakeholders through our SPICE analysis and assign a SPICE rating to each company in our investment universe.
We exclude all the companies with a SPICE rating under three/five from our investment universe, or those which accumulate over 10 controversy points (a controversy is rated from one to three points depending on its severity). The same applies to any company facing a severe (level two out of three) controversy related to working conditions.
The investment process also aims to develop dialogue with companies. We are particularly keen on supporting preventative action in health and safety as this drives company performance and improves employee well-being.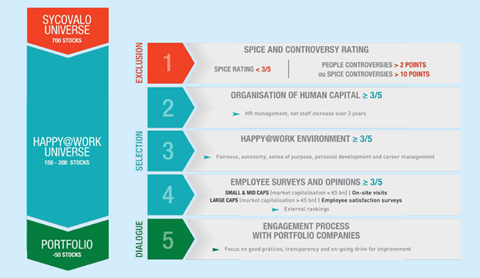 Integrating extra-financial factors into models
Our SPICE valuation model combines our financial and SPICE analysis and is fully integrated into our valuation tool. In addition to the investment process described above, the construction of the portfolio is dependent on the stocks' target prices. The SPICE ratings adjust stock's beta, which in turn changes the stock's target price.
| SPICE rating | Beta adjustment |
| --- | --- |
| A+ | -20% |
| A | -10% |
| B | 0% |
| C | +10% |
| C- | +20% |
With an A+ SPICE rating, Svenska Handelsbanken's beta moved from 1.22 to 0.95. Choosing the standardised valuation method (Gordon-Shapiro approach) – which is the most adapted method to valuate a bank – the target price increased by 17%.
| Initial beta | SPICE score | Adjusted beta | Increase of the share valuation thanks to adjusted beta |
| --- | --- | --- | --- |
| 1.22 | A+ | 0.95% | +17% |
Download the full report
A practical guide to ESG integration for equity investing

September 2016