Case study by Columbia Management Investment Advisors
Our global research team developed a tool that enables a third-party suite of ESG data to be systematically considered in our mainstream investment processes. We supplement that tool with internal research and external research from a variety of sources. Our goals were to encourage integration of ESG factors by developing highquality portfolio-, sector-, issuer- and risk-level analytics from the ESG data suite for easy use by our analysts and portfolio managers, while simultaneously meeting clients' growing need for insight into their ESG exposures.
We built a system that maximises outputs (e.g. ESG factors for thousands of companies across dozens of portfolios) while minimising inputs (e.g. programming time, ESG data and benchmark/financial performance/time series data).
Our interactive data visualisation tool has multiple dashboards that allow users to analyse the ESG criteria underlying ESG risk factors. The tool feeds information from multiple databases into a graphical interface displaying data in infographics, heat maps, pop-up boxes and detailed charts. Users can then manipulate that data or drill into the portfolio-level or issuer-level ESG data.
Instead of relying on an issuer's overall ESG score or ratings to determine the suitability of a security, the multiple data sources feeding this tool help our users identify exposure to particular risks, which we prioritise in shades of red to green. With a single click on any color-coded risk, a user can unpack all the underlying data, definitions and data sources to analyse the nature and extent of the risk along with company management's efforts to mitigate that risk over a multi-year period.
Users can compare an issuer's range of ESG factors against those of its sector or industry peers, or see how many issuers from that sector with red-, yellow- or green-coded risks appear in a given portfolio. They can also analyse all the ESG ratings for a given portfolio in a color-coded heat map and compare the results against a portfolio's benchmark. Clicking on any issuer in the heat map reveals the underlying ESG factors (and their underlying criteria, sources and definitions) or sorts the portfolio by the sectors represented: in a heat map, in a 'bacteria chart' based on a combination of market weight and risk rating or in a table.
We can test, modify, augment and organise ESG data to allow our analysts and portfolio managers to adopt it into their own workflows as they wish. We can compare multiple portfolios side-by-side, or overall to understand aggregate ESG risk exposures across the firm.
Research teams and investment teams working with the tool encourages more meaningful ESG integration than relying on a standalone team of ESG specialists or on isolated, absolute data.
In practice
The tool highlights that an exposure to data privacy and cybersecurity risk factors exists among the securities in a portfolio. The portfolio manager queries the issuers with exposure to those factors, sorting the list by sector, portfolio weight or benchmark weight, to see the issuers' scores and the extent of respective management's response to mitigate the risk.
Upon analysing the risk and response, the portfolio manager seeks greater understanding of the issues and meets with the fundamental analyst covering the issuer to review how the risk may affect the issuer, its clients and stakeholders, and ultimately how that may bear on the long-term valuation and sustainability of the firm. Internal and external issuer-specific ESG research and thematic research on cybersecurity is consulted to further inform engagement with the issuer on the topic as needed.
If the portfolio manager believes our clients would be best served to reduce the position in the security or sell, the ESG screening tool can also be used to identify potential replacements: it includes ESG risk data on thousands of issuers plus our internal fundamental and quantitative ratings, all of which can be screened by rating, sector or benchmark.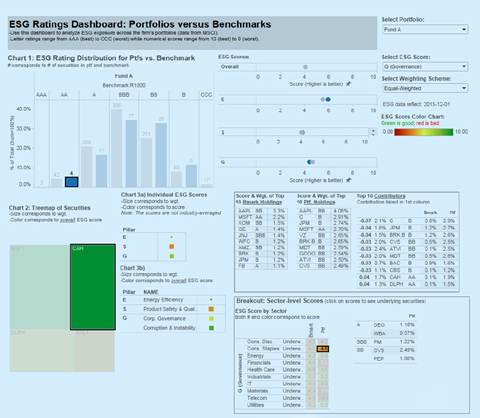 Download the full report
A practical guide to ESG integration for equity investing

September 2016