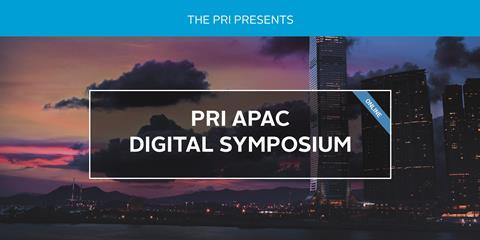 In September 2020, the PRI APAC Digital Symposium brought together experts from across the responsible investment industry for a series of insightful and informative conversations for the Asia-Pacific region.
Please scroll down to view the agenda.


Watch the recordings:
Access materials on the topics presented:
Explore the PRI website for more, including our wide range of multilingual resources here.
Agenda
Day 1
Time: Sydney (AEST)
Session
15:45 – 15:55

Opening remarks

Fiona Reynolds, CEO, PRI

15:55 – 16:15

Opening keynote address: Sustainable finance in the COVID-19 era

Ashley Alder, Chief Executive Officer, Securities and Futures Commission; Chair of the Board, International Organisation of Securities Commissions

16:15 – 17:00

Sustainable finance policy in APAC: recent developments and next steps

Sustainable finance policies are increasing exponentially around the world. In APAC, policymakers have been actively developing frameworks on ESG disclosure, stewardship and sustainable taxonomies.

This session will explore latest developments around sustainable finance policies in the region, and enquire on the next steps to building an enabling environment which will redirect investments towards sustainable, inclusive economic growth.

Lim Cheng Khai, Executive Director, Capital Markets Intermediaries Department II, Monetary Authority of Singapore

Karen Silk, Co-chair, New Zealand Sustainable Finance Forum

Shri Amarjeet Singh, Executive Director, Securities and Exchange Board of India

Moderated by: Nathan Fabian, Chief Responsible Investment Officer, PRI