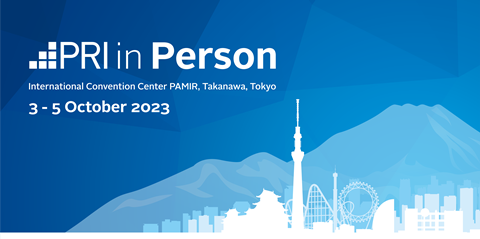 In-person registration for PRI in Person 2023 has now closed. Register for on-demand access.
Introducing PRI in Person 2023
We are delighted to announce that PRI in Person 2023 will be held in Tokyo.
PRI in Person plays a unique role in bringing our industry leaders together to share knowledge and effect change. This is the world's leading responsible investment conference, convening over 1,000 delegates each year to hear the latest developments, discuss best practice and network.
The 2023 conference will be the 15th annual event, and our first visit to Asia in seven years. The programme will include experts from PRI signatories, policymakers and the wider financial community.
Who will be there?
The audience will be made up of a diverse group of investment industry stakeholders, including asset owners, foundations, investment managers and service providers. Among them will be CEOs, CIOs, directors, portfolio managers and RI/ESG specialists.
Sponsorship opportunities
Sponsorships for this year's conference have now sold out. We will soon be launching a suite of packages to support the 2024 edition of PRI in Person. These opportunities will offer a range of brand and logo exposure benefits and complimentary registrations. If you would like to receive a brochure when this becomes available and be kept informed, please contact our Sponsorship Team.
Lead Sponsor
We are delighted to announce the Nippon Life Insurance Company will be the conference Lead Sponsor. We are pleased to confirm this is our first asset owner categorised Signatory to take such a profile at PRI in Person.