Pension fund regulations
Pension fund regulations set the demand for ESG incorporation into investment decision making. They put ESG on the agenda for trustees as they formulate the fund's investment strategy and internal investment policies. This in turn should be codified into mandates, stewardship and investment decision making. Through mandate setting, asset owners control the incentive structure for fund managers. For this reason, regulating pension funds should have a multiplier effect – this was the key finding of the PRI's report How asset owners can drive responsible investment: beliefs, strategies and mandates.
Our analysis includes two kinds of pension fund regulations:
disclosure requirements as part of the Statement of Investment Principles, or equivalent;
regulation targeting key stateowned asset owners.
Stewardship codes
Govern the interactions between investors and investee companies, with a view to promoting long-term value creation strategies. Formalised stewardship codes are a relatively recent invention. The first code was developed in the UK in 2012, but built on a long heritage of industry-led initiatives to promote engagement and voting. For this reason, some of the stewardship codes we've included in this analysis are still industry-led guidelines. All stewardship codes are voluntary, although some governments promote adherence more actively than others. All existing codes comprise a set of flexible, comply-or-explain principles. Key variables include whether the code explicitly references ESG issues and whether collaborative engagement is emphasised.
There has been notable growth in stewardship codes in Asia in recent years with Hong Kong, Japan, Malaysia, Singapore and South Korea implementing them since 2014.
Corporate disclosure guidelines
Help investors access data on ESG risks and opportunities – a precondition for the incorporation of ESG issues. The process of reporting also raises awareness of ESG issues within a company and may result in better management practices. There's considerable variation in corporate disclosure guidelines. They can be:
issued by governments or nongovernmental authorities, such as stock exchanges (with or without formal regulatory power) or industry associations;
mandatory, comply-or-explain or voluntary (many include a materiality threshold for inclusion of individual ESG issues, though definitions of materiality vary);
single-issue or comprehensive . covering a specific ESG issue or aiming to provide a comprehensive overview of a firm fs activities;
general principles or specific indicators and calculation methodologies.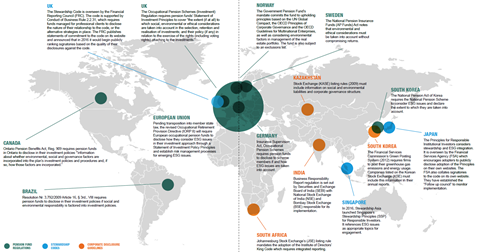 MSCI and MSCI ESG Research contributed data and ratings information to this report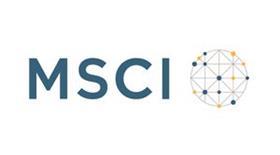 Global guide to responsible investment regulation
1

2

3

Currently reading

Examples

4

5

6

7

8