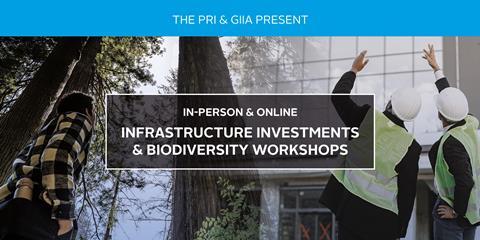 Biodiversity is deteriorating globally at an unprecedented pace. Policy makers, civil society, businesses, and asset owners are looking to halt, and even reverse, this biodiversity loss. Infrastructure development has been flagged as a high priority sector due to its potential negative impact on biodiversity. Integrating biodiversity into investment decision-making and asset ownership practices is thus becoming increasingly material for infrastructure investors; from both a risk-management and value-creation perspective.
Considering this, the PRI and Global Infrastructure Investor Association (GIIA) are pleased to announce two upcoming workshops covering infrastructure investments and biodiversity.
These workshops aim to encourage peer learning; consisting of a brief presentation by an expert, followed by a structured panel discussion between practitioners.
If you would like to attend, please RSVP below by EOD on Friday 13th January.
Biodiversity 101: An introduction to biodiversity for infrastructure investors
When: Thursday 26th January 2023, 2-3.30pm GMT
Where: The session will be hosted at PRI's office in London (25 Camperdown St, London E1 8DZ) with an option to join virtually.
Discussion to cover issues such as:
What is biodiversity and why is it in crisis?
What are the risks and opportunities associated with biodiversity for infrastructure investments?
How biodiversity aligns with other elements of ESG, e.g., climate and social issues
Tools and resources investors are currently using to inform their work on biodiversity
Integrating Biodiversity into Infrastructure: How to stay ahead of the curve
When: Thursday 9th February 2023, 2-3.30pm GMT
Where: Hybrid in-person and virtual. Location in London to be confirmed.
Discussion to cover issues such as:
What are the current developments in regulations and disclosure requirements on biodiversity?
Selecting and tracking biodiversity targets and metrics
How to engage with portfolio companies/assets on biodiversity
Deploying nature-based solutions in the context of infrastructure investing
Venue
PRI London Office & Online