By Hazell Ransome, Karen Kerschke, Junru Liu, Freya Bannochie, the PRI's Policy team
In March 2021, we shared the results of our updated regulation database which showed the unstoppable rise of responsible investment policy. Today, we are delighted to launch the next update which includes data for the first half of 2021 and let's just say 'unstoppable' feels like an understatement.
So far this year, over 159[1] new or revised responsible investment policy instruments were established, more than all of 2020. The most recent update contains three new countries bringing the total number covered to over 85. This growth in number and breadth reinforces the strong signal that responsible investment is now mainstream and a must. Policymakers and regulators understand that the role of private finance will be crucial to meet sustainability goals.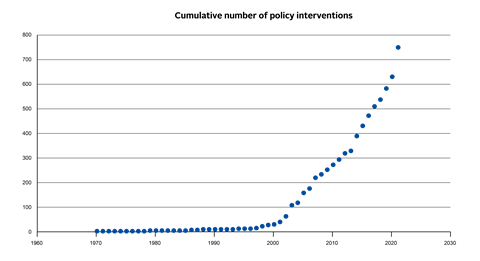 Figure 1.
To track this trend, we updated the regulation database which contains sustainable finance policy tools and guidance for investors to consider all long-term value drivers, including environmental, social and governance (ESG) factors. These policies and regulations can:
Support national policy goals on climate change and the SDGs;
Enhance the resilience and stability of the financial system and the economy;
Improve market efficiency by clarifying and aligning investor and company expectations; and
Increase the attractiveness of countries as investment destinations.
Let's take a look at some of the trends from the regulation database.
Uptake in responsible investment policy by region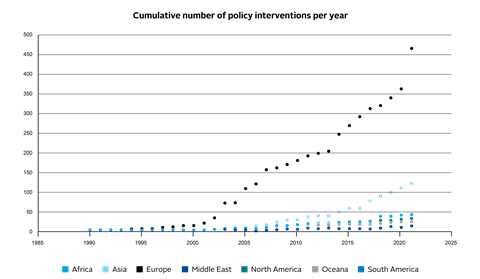 Figure 2.
Europe continues to lead the way in terms of RI policies. There is a substantial increase in RI uptake over the last six months since the release of the European Commission's sustainable finance package in April[2] as well as the significant work of the UK government to introduce TCFD reporting requirements for pension schemes, publicly quoted companies, large private companies and LLPs. However, we can also see an increase in policy interventions across all regions.
The breakaway of Asia since 2010 has continued steadily in 2021. Looking beyond the overwhelming European growth in figure 3 below, China clearly distinguishes itself in figure 4 from the other three key jurisdictions which the Policy team focuses on[3]. This year, the Chinese government released multiple notices and interim measures to create and support the implementation of the national carbon ETS, promote investment in renewables, assess insurance companies on their ESG investment. We expect such measures will continue to grow as China aims to meet peak carbon emissions by 2030, as set out in its 14th Five-Year Plan.
Figure 4 below also shows the Trump-induced plateau of RI policies in the US is disappearing under the positive influence of the Biden-Harris administration. We expect this trend to be fully cemented by our next update in first half of 2022 and the rate of increase to eventually match that of 2014.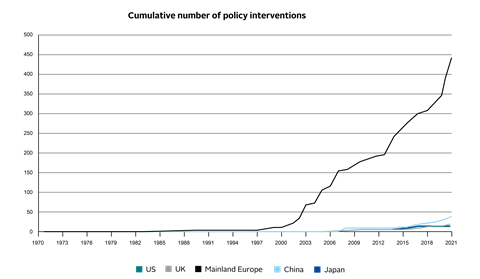 Figure 3.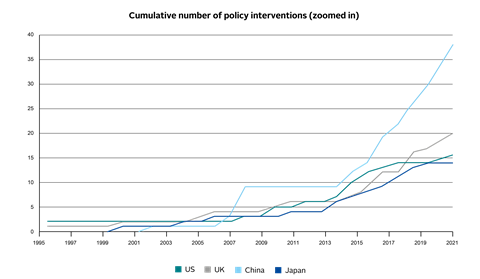 Figure 4.
Issuers of responsible investment policy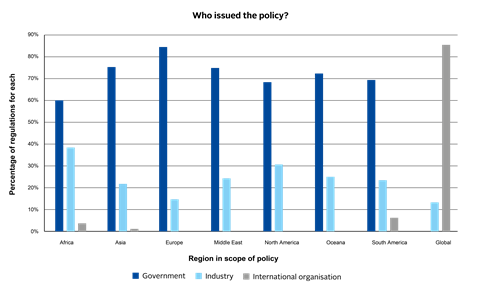 Figure 5.
The PRI regulation database allows users to filter by issuer. For all regions, most policies originate from the government, which has always been the case. However, industry-led polices have also made up a significant proportion, which is roughly 20% of regulations since 1995.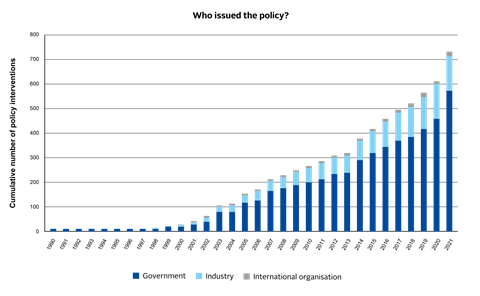 Figure 6.
Types of RI policies
In all regions and jurisdictions, regulations requiring corporate ESG disclosure are amongst the highest in number.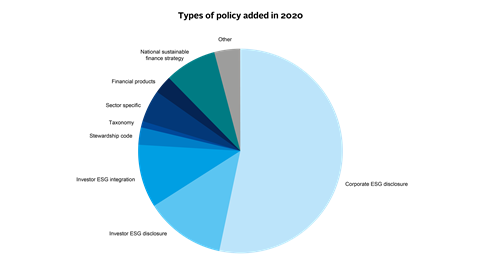 Figure 7.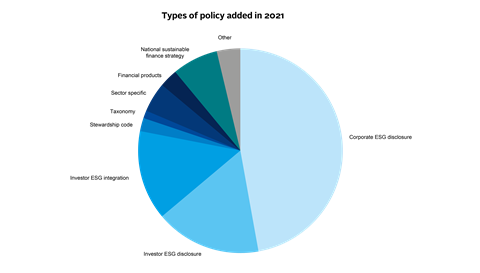 Figure 8.
However, in our previous blog, we noted the early signs of a slow-down in the growth of corporate ESG disclosure regulations and the opposite trend for investor ESG policies. This trend seems even more likely looking at the new data for the first half of 2021. At the end of 2020, corporate ESG disclosure represented over half of all policies in the database. This is no longer true. Furthermore, since the start of 2021, the proportion of investor ESG disclosure or integration regulations have each increased by four percentage points. This is an important factor as corporate ESG disclosure is only one of five foundational sustainable investment policies and regulations. To support a full-scale transformation towards a sustainable financial system requires stewardship, investor ESG duties, taxonomies and national sustainable finance strategies.
2021 has provided little relief from the struggle and uncertainty of 2020. COVID-19 cases and deaths continue to increase worldwide, and the first part of the IPCC's sixth Assessment Report published last month presents a stark warning that if we don't act now, our opportunity to limit global warming to 1.5°C by the end of the century will be lost. The growth in RI regulation is a reassuring sign that policymakers are waking up to these issues, and it also highlights the role finance has to play, but numbers alone will not be enough.
The PRI's Policy team will continue to push hard for the change needed. This year we have already responded to 35 consultations and published 13 briefings to support signatories to effectively incorporate regulatory frameworks. The seminal research of the Legal Framework for Impact flagship report, authored by Freshfields Bruckhaus Deringer, and commissioned by PRI, UNEP FI and The Generation Foundation, will also open a new phase of work. We will conduct an in-depth analysis on what policy reforms are needed to facilitate investing for sustainability impact and support the broader investment community to shape real-world outcomes aligned with the SDGs and the Paris Agreement. With increasing regulatory momentum and COP26 around the corner there is a huge opportunity for collective action. Every datapoint in the regulation database must count and be effective in creating a global sustainable and just society.
This blog is written by PRI staff members and guest contributors. Our goal is to contribute to the broader debate around topical issues and to help showcase some of our research and other work that we undertake in support of our signatories.Please note that although you can expect to find some posts here that broadly accord with the PRI's official views, the blog authors write in their individual capacity and there is no "house view". Nor do the views and opinions expressed on this blog constitute financial or other professional advice.If you have any questions, please contact us at blog@unpri.org.
References
[1] The last update to the regulation database contained 662 entries as of January 2021. The new update adds 88 new entries bringing the total to 750. 2021 has seen 159 new or revised policies because 88 have been added to the regulation database in this update, and a further 71 were either already included in the database under 2021 or were updated from "in progress" policies to "issued" policies in second half of 2021.
[2]The total number of European policies equals the sum of national policies, plus EU regulations plus EU directives multiplied by the number of member states. This accounts for the fact that while EU regulation immediately takes effect in all member states, EU directives are transposed into national laws and thus create 27 different capital-market-specific laws.Mainland Europe covers policies from all European Countries as well as those from the EU.
[3]Note, Mainland Europe covers policies from all European Countries as well as those from the EU.