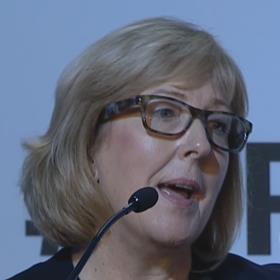 We live in challenging times, and above all our thoughts are with those affected by the coronavirus.
The communities we live and work in are a critical focus for all of us during this time as neighbours, friends, relatives and colleagues. During difficult phases such as this, the importance of sustainable capital markets, and how they can impact everything from healthcare infrastructure to supply and demand, comes acutely into focus. In the coming weeks, we will be releasing a short note for signatories covering stewardship in the context of Covid-19 which we hope you will find helpful.
During difficult phases such as this, the importance of sustainable capital markets, and how they can impact everything from healthcare infrastructure to supply and demand, comes acutely into focus
We extend our very best wishes for the health and wellbeing of you, your family and friends.
Importantly, recognising that everyone's plans for 2020 will now be disrupted, we remain committed to delivering as much of our work programme as possible for you. As with most organisations we have moved to advising all our staff to work from home; their health and wellbeing is our top priority.
Signatory growth
Over the past quarter, we've passed two major milestones in recent months, marking our 3000th signatory and 500th asset owner signatory. This tremendous growth reflects an increased focus on ESG by investors, and in turn the value the PRI provides to signatories. However, we're not content to rest on our laurels: there's much more to be done to embed responsible investing in markets around the world and remain committed to playing a pivotal role with investors.
A number of you gathered at PRI Forums in London and Stockholm in the past quarter. We were very pleased to host these regional events, and look forward to more in other geographies in due course.
Engaging with signatories
Signatories engaged online too over the quarter, in collaborative engagements including advancing tax transparency. The outcomes from this collaborative engagement from 2017 – 2019 can be found here. The report looks at key takeaways, evaluates the progress of target multinational companies in the healthcare and information technology sectors and gives recommendations for investors on corporate tax responsibility going forwards.
Continuing the theme of engagement of a different kind, the PRI engaged with the SEC this quarter regarding proposed changes to ownership and resubmission thresholds in the US. We engaged signatories to oppose these changes, which many viewed as a challenge to sustainable markets. This engagement informed our response to the SEC on the critical issue of shareholder rights.
We are also asking signatories to respond to our consultation on investing with SDGs outcomes – we believe that progress on the SDGs is urgent and in the best interest of signatories, but scaling up efforts is needed. Signatories have until 24 April to respond to the consultation.
Getting to net zero
This year, we're seeing governments, business and investors making commitments towards net zero. One of the questions we're hearing a lot from investors and business is: 'how do I get there?' The EU taxonomy is one of the tools that investors and business can use to help them in that transition. And this quarter was a pivotal one for the taxonomy, as the final report was released. The PRI's Chief Responsible Investment Officer Nathan Fabian played a critical role in the taxonomy as Rapporteur for the Taxonomy Group of the EU Technical Expert Group (TEG) on Sustainable Finance.
This month, the PRI released a valuable guide setting out actions that private equity general partners (GPs) can take to address the four-pillar framework of the recommendations proposed by the Task Force on Climate-related Financial Disclosures (TCFD). Based on interviews with GPs, LPs and service providers, the guidance was co-authored by the PRI and INDEFI.
PRI reporting
Reporting and assessment continues to be a key focus at the PRI, and we released an assessment snapshot on the Reporting Framework 2014-19. The snapshot provides a wealth of meaningful data across a range of reporting areas.
In addition, we ran the second phase of our reporting and assessment consultation. In line with the PRI mission and 10-year Blueprint, the PRI has developed a proposal of how the Reporting Framework, including the reporting outputs, could be improved. This second phase of the consultation was based on signatory feedback from the first consultation phase which ran last year
Finally, on reporting and assessment, the current reporting cycle closes on 31 March and we ask that signatories do their best to meet the deadline. However, if signatories have identified severe risks to meeting this deadline due to Covid-19, please contact reporting@unpri.org.
We look forward to continuing to engage with you in the upcoming quarter. Continued action on ESG issues including the climate emergency is imperative, and you all play a critical role.
In closing, once again I hope that you each stay safe and healthy during a challenging time.