In 2018 the PRI implemented minimum requirements for membership alongside introducing programmes for showcasing leadership.
The increased accountability of the PRI as an organisation is one of the focus areas of our 10-year Blueprint for responsible investment.
The PRI's consultation on strengthening signatory accountability in September 2017 showed strong signatory support for using reporting and assessment data to delist signatories whose progress in implementing the Principles is not sufficient to meet a basic criteria of being a signatory, as defined by the PRI. A full overview of the consultation responses can be found here.
Increasing accountability
Minimum requirements
The PRI has implemented the following minimum requirements for existing and future asset owner and investment manager signatories. Failure to meet these requirements over a two-year period, following extensive engagement with the PRI, would result in delisting.
The three requirements are:
Investment policy that covers the firm's responsible investment approach, covering >50% of AUM [indicator SG 01 ]
Internal/external staff responsible for implementing RI policy [indicator SG 07]
Senior-level commitment and accountability mechanisms for RI implementation [indicator SG 07]
Signatories that do not meet the criteria will be informed privately and delisting will only be as a last resort following unsuccessful engagement over the two-year period.
A full overview of the PRI's minimum requirements can be found here.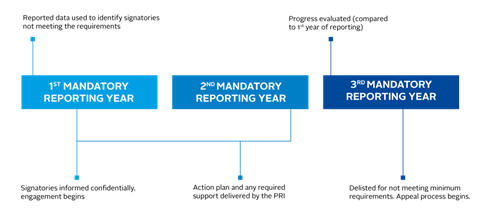 FAQs
Why is the PRI introducing accountability measures?
In 2016, the PRI conducted an extensive stakeholder consultation on accountability and recognising diversity. It showed a strong endorsement of the PRI's ambition to increase transparency, accountability and leadership among its signatory base.
The recently launched Blueprint for responsible investment lays out the PRI's ambitions and goals for the coming 10 years; strengthening accountability and showcasing leadership are at its core.
What does the PRI hope to achieve with the new accountability measures?
The main objectives are:
engaging signatories that have been failing to implement the Principles;
delisting, as a last resort, signatories who are not committed to the Principles;
helping signatories committed to the Principles but not highly engaged with the PRI; and
recognising best practices and encouraging shared learning.
How have signatories been involved in developing the measures?
In 2016, we received five hundred signatory responses to our consultation on accountability and recognising diversity. We then conducted a more detailed consultation on minimum requirements and showcasing leadership between August and October 2017 and held an interactive workshop at PRI In Person in Berlin to enable signatory input. In total, the PRI received input from over three hundred different organisations.
Do these accountability measures affect the rules of being a signatory?
Yes. The signatory accountability rules have been updated to reflect the changes. These changes were approved by the board in December 2017 and can be found here.
What are the minimum requirements going to be?
All signatory organisations are required to report annually to the PRI on their responsible investment activity. It will be from this information that the PRI will monitor signatory progress against the minimum requirements (for more information on reporting please see here).
The requirements are all captured in the Strategy and Governance Module (SG):
Formalised RI policy (or similar) or a policy that covers E/S/G issues covering >50% of AUM [SG 01];
Staff (internal or external) explicitly responsible for implementing responsible investment policy [SG 07]; and
Senior level oversight of and accountability mechanisms for implementing responsible investment [SG 07].
These requirements and indicators were selected because they are applicable to all types of signatories. Feedback also indicated that these were achievable within the two-year engagement period and an appropriate place to start for newer and less advanced signatories. The process is intended to help signatories progress through use of PRI resources and network.
Do the requirements apply to all signatories?
From 2018, the requirements will apply to all asset owner and investment manager signatories. Service provider signatories will be expected to report for the first time on a mandatory basis in 2018 – another important step forward for the PRI's accountability.
When are they going to be implemented?
The requirements were communicated publicly in January 2018 and were based on reported data for the 2018 Reporting Framework. Signatories that do not meet the requirements will be informed confidentially by the PRI and will be offered support over a two-year period.
Will the PRI publish a list of signatories that do meet the requirements?
The PRI does not plan to name the signatories that do not meet the minimum requirements, although signatories that are delisted at the end of the engagement period will be named. This will be done in the same way that signatories who fail to complete their annual reporting are presented in the Annual Report. It should be noted that the minimum requirements are based on responses to indicators that are made public as part of an organisation's Transparency Report.
How will the PRI support signatories who do not meet the requirements?
The PRI will confidentially inform all signatories that do not meet the requirements within six weeks of the reporting window closing. Following that notification, an engagement plan will be agreed for the two-year period and signatories will be supported through the process with the appropriate resources. This will include existing resources, such as examples of signatory activity that are available on the Data Portal and in Transparency Reports, guides, publications, events and webinars.
Will I be delisted if I do not meet the requirements?
Delisting will be a last resort if the two-year engagement period is unsuccessful and if there are deemed no extenuating circumstances. No signatory will be delisted for not meeting the requirements before June 2020. Signatories will be able to appeal the delisting process at the end of the engagement.
Why will signatories have two years to meet the requirements?
Following consultation, a two-year engagement period felt an appropriate time for signatories to implement the requirements and have sufficient opportunity to report them in the next reporting cycle. As signatories do not have to report in their first year, this will mean that organisations will have been signatories for a minimum of three years before they have to meet the requirements.
I am reporting voluntarily - do the requirements apply to me?
Signatories that complete their reporting during the first voluntary cycle will be identified for engagement. However, they will be given an additional year to meet the requirements, the equivalent to two mandatory reporting cycles.
What is a responsible investment policy?
Responsible investment policies can take many forms and there is no single right way of developing one. Currently, policies can take the form of high-level statements on an organisation's webpage, a code, communication on a separate responsible investment policy document, a range of policy documents covering different areas, or in some cases, they are incorporated into an organisation's investment policy statement.
Generally, it may include information such as:
core responsible investment guidelines
which responsible investment approaches you will implement;
guidelines on what ownership activities you will employ or prioritise; and
your approach to reporting.
For more guidance on how to write an RI policy, see here.
Will the PRI change these requirements in the future?
The PRI plans to review the requirements periodically to ensure they are fair and appropriate. The current requirements are the first accountability measures to be implemented and the PRI feels it is important to give people sufficient time to implement them. The whole process will be reviewed in 2020.
How many signatories currently do not meet these requirements?
Based on 2017 reporting data, approximately 200 signatories did not meet the proposed minimum criteria. The PRI proactively contacted all of these signatories during the consultation period in order to receive their specific feedback.
Reporting for signatories
1

2

3

4

5

6

Currently reading

Increasing signatory accountability