Consultation with signatories showed strong support for PRI to use the Reporting & Assessment process to further differentiate signatories at different stages of implementing the Principles. This included showcasing 'leadership' across different signatory types, sizes, regions to encourage other signatories to improve their performance, share good practices and facilitate learning.
What is the Leaders' Group?
The Leaders' Group will comprise two main outputs:
a filterable table of organisations with access to their public responses; and
an accompanying report featuring practical case studies and trends, to showcase leading practices.
The leaders' group will use PRI reporting data to assess the breadth of signatories' excellence across the Reporting Framework, as well as on the specific theme selected that year.
In 2019, it will focus on selection, appointment and monitoring of external managers by asset owner signatories.
In 2020, it will focus on active ownership across different asset classes
In 2021, it will focus on the SDGs and climate change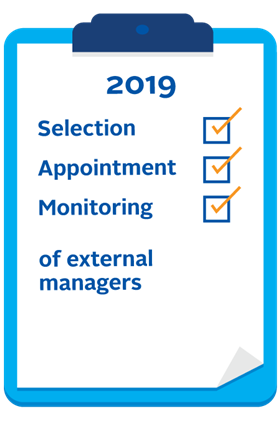 The final Leaders' Group in 2019 is expected to contain 30-50 asset owners – roughly equivalent to the top 10% of organisations. Organisations will not be rated and ranked but presented alphabetically or grouped into relevant categories such as region, size and type; allowing readers to learn from the good practices being conducted by PRI signatories.
How will signatories be identified for the Leaders' Group?
We will use signatories' annual reporting responses and assessment data to identify the Leaders' Group. A combined score will be calculated using responses across the entire Reporting Framework.
This combined score will be based on governance, RI implementation and transparency .
We will then screen this pool of signatories using predefined criteria, that will change each year based on the Leadership topic, to ensure signatories with relevant RI practices are available.
In 2019, signatories will have to be an asset owner who have scored highly across the framework, and received an A or A+ for the Selection, Appointment and Monitoring module for either listed equity or private equity.