Case study by UBS Asset Management
Signatory type: Investment Manager
Operating region: Global
Assets under management: CHF 815 billion as of 31 December 2018
Why engage with companies on the SDGs?
Engagement with companies is critical, both to unlock value for companies, investors and under-served communities worldwide, and to support the SDGs. Our engagement aims to reduce material sustainability risks and gain further insights as to how the business model links to impact, with the aim of enhancing positive impact.
A multi-year research collaboration that we launched with leading academics in environmental and public health science assesses public companies' contribution to the SDGs. The academics have developed models to measure the impact per unit of sales for approximately 80 technologies produced by companies in four critical categories: air quality and climate change; water quality; health; food security.
The impact measurement models and metrics can offer insights that provide a starting point for conversations with companies. We can also use the metrics for reporting: directly linking them to specific SDG indicators provides us, our clients and companies with a way to measure contribution to SDG targets.
How we engage for impact
Our engagement programme covers approximately 50 companies. Each company included in our impact fund has an impact investment case. The associated objectives for each company are to:
increase the positive impact associated with its products;
decrease the negative externalities (risks) resulting from its direct operations and supply chain practices.
In some cases, our engagement is also focused on the company's business model, operational issues and its management capacity to execute its stated strategy. When we were developing the impact measurement models, our focus was to engage companies with advanced sustainability strategies and reporting to sense-check and further develop the models.
We also engage companies on the fundamental importance of disclosing the financially material information that investors need to understand their impacts on the society and environment. Measurement is management and we see disclosure as a critical first step in effectively managing negative impacts and optimising positive impacts.
Impact research, engagement with companies and internal discussions continuously influence the investment case and investment decisions.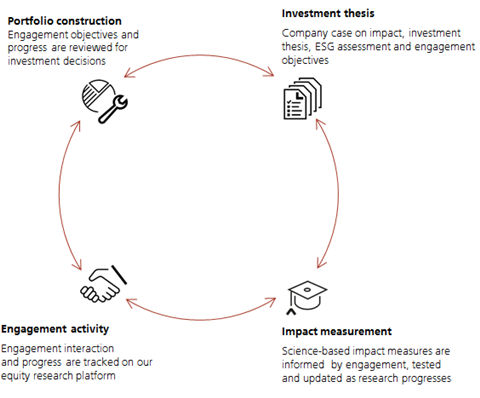 Example: Engaging to increase impact against disease
Our engagement with a pharmaceutical company that sells drugs to treat some of the 20 most burdensome diseases[1] began with an educational discussion on our impact measurement methodology to assess the human health benefits of its products (SDG 3; addressing non-communicable and communicable diseases). The immediate need was to provide our academic partners with detailed geographic drug sale data to inform and enhance the impact model. The company agreed to collaborate with the academics and pilot our methodology, to measure its impact based on their detailed data and our impact metrics.
A pharmaceutical company can increase its impact in multiple ways, including:
improving the efficacy of its drugs;
increasing its sales in areas where products create the highest impact, which can include reviewing pricing strategies to ensure affordability and enhance access;
educating patients and investing in local infrastructure to increase drug efficacy and treatment accessibility.
Our baseline for measurement and engagement activity is based on both increasing efficacy relative to an existing alternative treatment, and increasing sales over time of the most impactful treatments (measured in terms of lost work days prevented, hospitalisations prevented and deaths prevented, per the drug-taking patient population). Efficacy is based on US FDA labels, and impact is based on global sales (though future methodology developments can incorporate further regional/country and population characteristics).
In addition to drugs sold via traditional channels, we intend to complement our impact assessment with the impact of drugs distributed for free.
Through engagement on measurement, we aim to encourage companies to adopt objective metrics to measure their contribution to the SDGs and use this to set targets for improvement.
In addition to engagement on modelling and measuring impact, we have engaged the company on more traditional ESG areas including marketing and sales policies, incentive systems for sales, practical training for employees and creating an ethics helpline, due to the lack of disclosure of detailed information.
References
[1]Including ischemic heart disease, neonatal disorders, stroke, lower respiratory infections, diarrheal disease, road injuries, COPD, HIV/AIDS, congenital birth defects malaria etc.; https://vizhub.healthdata.org/gbd-compare/