Nomura Asset Management
Investment manager
Japan
AUM: US$494 billion
Nomura Asset Management believes that large public companies, and their investors, can play an important role in shaping outcomes in line with the Sustainable Development Goals (SDGs). This case study shows how Nomura has used its public equity investment, combined with engagement, to shape outcomes in line with the SDGs.
Why we focus on SDG outcomes
The SDGs represent a tremendous step forward, uniting governments and investors alike, in establishing the most important requirements to ensure a sustainable future for our planet. Responsible investment is simply the right thing to do, and where possible in our position as institutional investors, we must support the creation of positive outcomes.
The role of large companies in meeting the SDGs, particularly when they represent standalone, direct investments, has received relatively little attention, in part due to the difficulties in assessing impact. Large companies are one of – if not the most – important stakeholders for enabling certain SDG outcomes, particularly given the funding and resource gaps required to meet the goals.
As institutional investors we have the collective ability to direct companies to support SDG outcomes – even the smallest changes can have a huge impact in dollar terms. We also believe that the issues surrounding impact assessment can be credibly addressed through the framework illustrated in this case study.
Figure 1. The Role of Public Companies in Supporting SDG Outcomes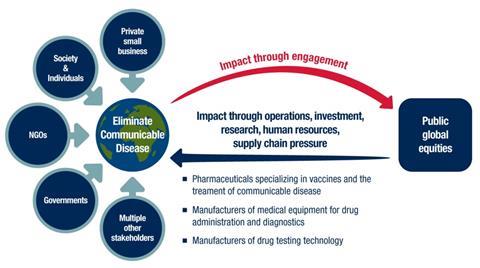 How we focus on SDG outcomes
The first step in our impact assessment framework is to establish which SDG outcomes can be targeted by public equity investors – where material impact could be achieved and where engagement would shape outcomes. Many of the targets within Good Health and Wellbeing (SDG 3), Affordable and Clean Energy (SDG 7), No Poverty (SDG 1), Responsible Consumption and Production (SDG 12) and Clean Water and Sanitation (SDG 6) clearly can be addressed by public equity investors.
Indeed, we would argue that for certain targets, such as eradicating diseases such as AIDS, TB and Malaria by 2030, the collective amount spent on research and development by large pharmaceuticals companies is critical. Furthermore, by investing hundreds of millions of dollars to provide access to these drugs, typically at very little to no economic gain, these companies are the most important stakeholders.
Figure 2. Large companies: Most important stakeholder for certain SDGs?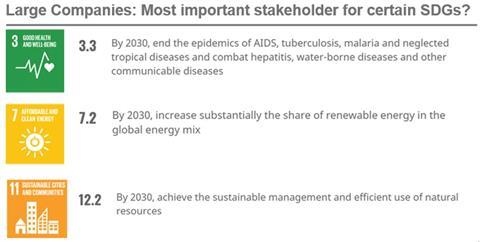 Clear environmental and social goals are needed to measure the impact of an investment, or to determine how an investment approach should be adapted to achieve impact. At the public company level, it is possible to report inputs (such as R&D investment) or outputs (e.g. the number of patients receiving HIV treatment). Therefore, our approach is to:
Set clearly defined impact goals that are aligned with SDG outcomes and establish Key Performance Indicators (KPIs) for each goal. Eliminating communicable disease is one goal and we track this by monitoring KPIs such as the global number of deaths from AIDS, Malaria and Tuberculosis.
Identify investee companies that support these goals andestablish Company Performance Indicators (CPIs). For our 'Eliminate Communicable Disease' goal, this might include pharmaceutical companies that have a very strong presence in vaccines or the treatment of communicable diseases such as HIV. We then track metrics such as the number of low-income patients that are being reached through 'access' strategies.
Track CPIs and KPIs, engaging with companies to enhance the impact of specific companies and where necessary, change investments to ensure maximum overall impact on SDG outcomes.
Report all activity and outcomes to our stakeholders, to ensure that we are held accountable alongside our investee companies.
Example: Eliminating communicable disease
Figure 3. Impact goals and defining credible KPIs

Nomura Asset Management has adopted 'Eliminating Communicable Disease' as an outcome objective, in line with SDG Target 3.3. To measure progression towards this goal and optimise our investment and engagement activity, we monitor global deaths from HIV, Malaria and TB, as defined by the World Health Organisation. Although deaths have been steadily declining, 800,000 people still die every year from AIDS, while TB death rates remain stubbornly high at over 1.2 million per year.
The importance of ensuring access to medicines in the poorest countries – where treatment is needed the most – cannot be understated, and R&D spending towards treatments and vaccines is critical.
By clearly recognising potential positive outcomes in line with the SDGs, we were able to broaden our perspective regarding potential investments. For SDG Target 3.3, we identified companies across the healthcare value chain – in pharmaceuticals, medical equipment and testing – that play vital roles, including a company focused on HIV treatment development.
The company spends billions of dollars every year on research and development and has been a pioneer in ensuring its drugs reach those most in need. The company was the first pharmaceutical partner of the Medicines Patent Pool, a United Nations-backed organisation working to increase access to life-saving medicines for low- and middle-income countries, and today, over 12 million people receive HIV treatment as a result of its access strategies.
We track company-level indicators, such as the number of HIV patients being reached and R&D expenditure, to determine how this company is impacting the outcome objective of eliminating communicable disease (specifically HIV).
Our engagement activity is focused on ensuring accurate communication of the company's impact and ensuring that access strategies are prioritised. We engage directly and collaboratively to maximise the impact of our investment.
More broadly, the Access to Medicine Foundation has been an important avenue for helping investors to understand the issue of access to medicine and supporting collaborative engagement with companies to push for a greater focus on this area. We have participated in and coordinated several engagements with other leading pharmaceutical companies on expanding their access strategies geographically and across their drug portfolios.