Digital Book Launch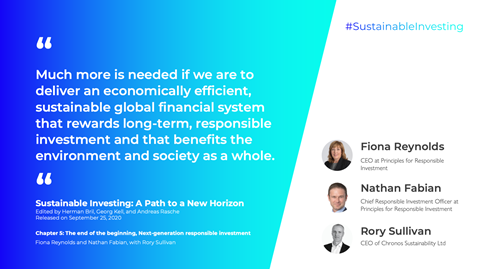 Date: Thursday, 24th September 2020
Time: 14:00 - 15:00 BST
The PRI is pleased to support Herman Bril, Georg Kell and Andreas Rasche with the digital launch of their new book 'Sustainable Investing: A Path to a New Horizon'.
Featuring contributions from global thought-leaders, this book tells the story of how the convergence between corporate sustainability and sustainable investing is now becoming a major force driving systemic market changes. The idea and practice of corporate sustainability is no longer a niche movement, and investors are increasingly paying attention to sustainability.

At this digital launch, the authors will moderate a panel discussion with Fiona Reynolds, CEO of the PRI, Mette Morsing, Head of the PRME, Martin Reeves, Chairman of the BCG Henderson Institute, and Omar Selim, CEO of Arabesque, to explore the trends that are accelerating the shift towards sustainable investing.
For further information and to register please click on the link below.
The panel discussion will cover some of the key topics from the book, including:
How systemic market change is influenced by various contextual factors that impact how sustainable investing is perceived and practiced.
Why the integration of ESG factors in investment decisions is impacting markets on a large scale and changing practices of major market players, as well as educational programs at business schools.
How technology and the increasing datafication of sustainability are acting as further accelerators of change.