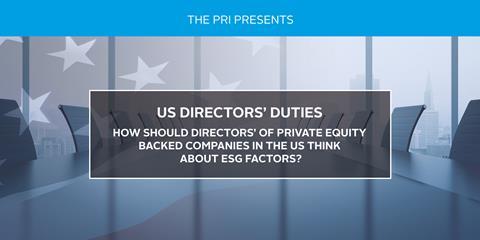 Date: Thursday, 1 October 2020
Time: 11:00 - 12:00 EST | 16:00 - 17:00 BST
The PRI has commissioned a legal memorandum from law firm Debevoise & Plimpton on the duties of US directors, as they pertain to ESG. This piece follows from a similarly commissioned report in 2019 looking at UK directors' duties. The US memo looks specifically at the law of Delaware, and the PRI intends it to inform GPs whose investment team members sit on portfolio company boards.
In this webinar, we will discuss the conclusions of the memo and what they mean for US GPs seeking to address ESG issues at their portfolio companies.
Speakers include:
Robert Eccles, Visiting Professor of Management Practice, Saïd Business School, University of Oxford
William D. Regner, Partner, Debevoise & Plimpton
Scott Zdrazil, Senior Investment Officer, LACERA
Alison Fenton-Willock, Global Head of ESG, Blackstone
Moderated by: Peter Dunbar, Senior Specialist, Investment Practices, PRI