Good decisions need good data
KEY TARGETS
717 requests to view Assessment Reports and Transparency Reports through the Data Portal
475 requests from asset owners to view investment managers' reports, with 56% approved
When signatories join the PRI, they make a public commitment to disclose their activities through the Reporting Framework.
In 2017, we made it easier for signatories to access signatories' reported data by introducing the Data Portal, a platform which allows asset owners and investment managers to search, group and request access to private Transparency Reports and Assessment Reports.
And although accountability and transparency is at the heart of what we do, until 2017 service provider signatories didn't have to report on their business offerings and ESG activities: service providers weren't being held to the same level of account as our other signatories.
To counter this, we introduced voluntary service provider reporting in 2017, and it was made mandatory this year.
Service provider reporting: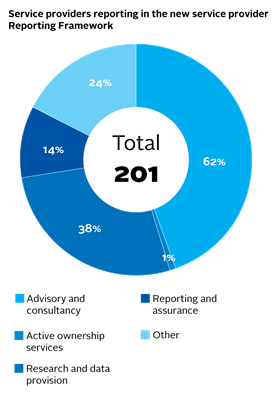 allows service providers to demonstrate their commitment to the Principles;
responds to service providers' desire to communicate their responsible investment activities;
gives asset owners more visibility on service provider activities, enabling them to understand what service level the can and should expect.
Over 200 service providers reported this year, including our first credit rating agency signatory.
In other updates to the Reporting Framework, we aligned our climate indicators with the TCFD recommendations.
Read more on the 'Champion climate action' page
Data snapshots
We released a range of reports providing in-depth analysis of our signatories' responsible investment activities across different asset classes. Our data found that:
68% of asset owners encourage improved responsible investment practices with existing investment managers, but only 19% have or would move assets to those with better integration.
70% of signatories who engage on ESG issues in listed equity set specific objectives for the majority or all of their individual and collaborative engagements.
75% of investment managers incorporate ESG factors in screening and integration strategies across the different fixed income categories.
Read more about our snapshot reports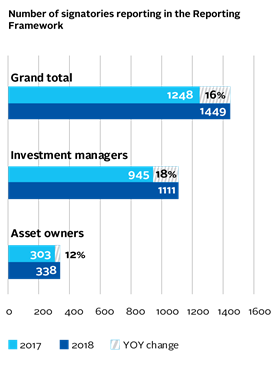 Robust figures
Following a consultation in 2016, our signatories signalled their support for increased signatory accountability, and better ways of assuring the validity of data reported to the PRI. So we published Introducing confidence-building measures to PRI signatories. It gives an overview of current market practices, a review of best practice and possible solutions that could be implemented to ensure the robustness of data reported to the PRI.