Sharing knowledge, reaching new people and supporting development will benefit everyone
Recruiting the next generation of responsible investors
As asset owners wield enormous influence at the top of the investment chain, we have focused our proactive global recruitment on growing our asset owner signatory base. We saw strong growth this year, adding 39 asset owners to our global network of signatories. Given their size and local market influence, we were particularly pleased to recruit strategic asset owners such as the San Francisco Employees Retirement System (SFERS) in the US, the KWAP Retirement Fund in Malaysia, newly-formed local authority pension pool Brunel Pension Partnerships in the UK, insurance group LVM in Germany and the European Bank for Reconstruction and Development (EBRD).
KEY TARGETS
39 new asset owner signatories (PRI target: 38)
Our net signatory growth was 14%, level with last year. The US market saw the highest net increase with 52 new signatories.
Our new asset owner signatories
Fonds de placement du Barreau de Quebec
Inarcassa (Italy)
MTAA Super (Australia)
Pension Fund of Bank J. Safra Sarasin (Switzerland)
Bloomberg LP Retirement Plans
Japan Post Insurance Co.
Mutua Enginyers (Spain)
San Francisco Employees' Retierment System
Brunel Pension Partnership (UK)
The JW McConnell Family Foundation (Canada)
Mutuelle d'Ivry (France)
Seattle City Employees' Retirement System (SCERS)
Ceska Sporitelna Penzijní Společnost (Czech Republic)
Retirement Fund Incorporated (KWAP) (Malaysia)
Norfund (Norway)
Sierra Club Foundation (United States)
Concordia University Foundation (Canada)
Lifsverk (Iceland)
The Pension Board UCC (United States)
The Skoll Foundation (United States)
Pensioenfonds Detailhandel (Netherlands)
Loyola Marymount University (United States)
Presbyterian Church USA Foundation
Stichting Pensioenfonds voor de Woningcorporaties (SPW) (Netherlands)
European Bank for Reconstruction and Development (UK)
Landwirtschaftlicher Versicherungsverein Münster a.G.(LVM) (Germany)
PT ASABRI (Persero) (Indonesia)
Fondo de Pensiones Empleados de Telefonica (Spain)
The Episcopal Diocese of New York
Medical Assurance Society New Zealand (MSA)
Regime de Rentes du Mouvement Desjardins (Canada)
Union Mutualiste Retraite (UMR) (France)

Fair-finance Vorsorgekasse (Austria)

MMI Group (South Africa)
The Rokinren Bank (Japan)
VBV-Pensionskasse (Austria)
Fondo Pensioni del Personale Gruppo BNL/BNP Paribas Italia
Monash University (Australia)
Building our presence
To make systematic responsible investment a reality across all markets around the world, we have enhanced our presence in key markets – such as China, a country whose economic clout translates into enormous responsible investment potential.
We recruited three of the largest asset owners in China: China Asset Management, E Fund Management and Harvest Fund Management, and we hired a head of China to support signatories. The overall signatory base in Asia increased by 53%, the fastest rate of growth of any market.
To better support our French-speaking signatories – 15% of our signatory base – we launched the Francophone programme at PRI in Person in Berlin. Through this programme, we will better support our French-speaking signatories by:
translating PRI resources;
introducing simultaneous translation to certain events;
holding more French-speaking events and webinars.
Signatory growth in our less established markets was strong: our southern Europe market increased by 23% and our Japan market by 15%.
Expanding the reach of responsible investment training
Education is the starting point to ensure that investors capitalise on the opportunities responsible investment presents. The PRI Academy, which provides training on how ESG issues impact company performance and investment decisions, upskills investors to help them make better investment decisions.
Growing momentum
The PRI Academy has gone from strength to strength this year. We welcomed nearly 1,900 students from 50 countries: an increase of 159% from the previous year. This helped see the PRI Academy run unsubsidised for the first time.
KEY TARGETS
Nearly 1,900 PRI Academy enrolments (PRI target: 850)
Educating trustees
We also launched our first responsible investment course for trustees. Trustees are responsible for large pools of assets on behalf of their beneficiaries and should act with duties of care, loyalty and prudent investing – and thanks to the growing momentum and recognition of ESG issues, this is more in demand than ever. Identifying the ESG factors that are material to funds will not only allow trustees to fulfil their fiduciary duty, but ensure the long-term success of assets.
The course provides trustees and boards with the foundation to shape investment beliefs, principles and policies that promote sustainable investment decisions.
Find out more about the trustee course

Connecting academics with investors
The PRI's academic research programme provides grant funding to support and develop innovative responsible investment research. It showcases research findings for an investor audience and convenes a vibrant, global community of nearly 4,000 academics and investors through the PRI Academic Network.
This year, we produced 13 public research papers. They focused on issues including modern portfolio theory, the drivers of successful engagements and how and where milennials will invest.
KEY TARGETS
13 research papers published (PRI target: 5)
The defining issues of our time
There is an increasing awareness among investors that they need to investigate the link between issues such as economic inequality and human rights, and corporate financial performance. This in turn will help achieve SDG 10, reduced inequalities.
While the salience of human rights to business has been established, little attempt has been found to establish materiality. We explored this issue by:
holding events in Geneva, Switzerland and California;
publishing a discussion paper on how human rights affect corporate financial performance;
commissioning research.
A just transition
Workers and communities will be affected by the transition to a low-carbon economy. A poorly managed transition could result in stranded workers, communities and assets. While investors understand the need to integrate social issues into their climate strategies, identifying exactly what their contribution should be to ensuring a just transition is critical.
We have laid the groundwork for a new project on the just transition, through which we will:
explore the strategic case for investor action;
draft guidance for investors;
generate recommendations for policy and market reforms.
Read more about our climate activities
Read more about how we're aligning our work to the SDGs
Creating value through engagement
Amid growing evidence that investor engagement with companies on ESG issues can create shareholder value, we commissioned research on how it does.
Following over 100 interviews with representatives of large listed companies and institutional investors, we discovered three distinct types of value for companies and investors – communicative dynamics, learning dynamics and political dynamics – and presented recommendations for both companies and investors to improve the success of engagement.
A global network
The PRI's academic network has 4,000 members from around the world. To support them to share research and publications, we launched the Academic Network Online. This hub allows academics and investors to connect and engage with responsible investment research.
Academic Network Conference: empowered millennials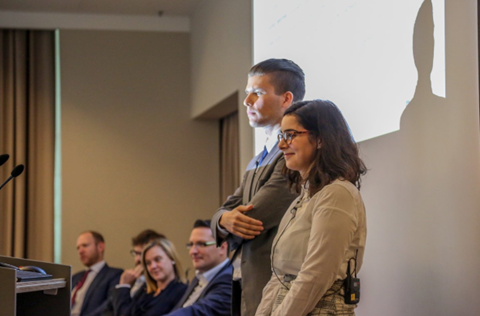 We held the 2017 Academic Network Conference in Berlin. Over a hundred investors and academics met to discuss issues such as the link between corporate social performance and financial performance.
At the conference we heard presentations from the shortlist of entries to an essay competition about how millennials are shaping the future of investing.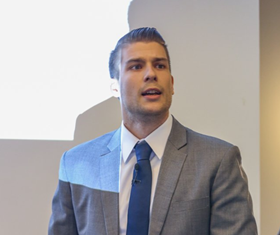 Winner Mikael Homanen, PhD candidate at Cass Business School, argued that the investment industry needs to step up and create an environment of trust for millennials, whose values are disrupting traditional investing models: "They are demanding more 'bang for their buck' and they do not just mean financial returns. [Millennials are] very reactive when it comes to ESG factors. They want to contribute to the future that they want for themselves."
In addition, we presented awards for best qualitative, quantitative and student paper following our call for papers.
Berlin: host to the world's leading responsible investment conference
1,000 delegates
500+ organisations
95% rated good or excellent
8m impressions generated by #PRIinPerson
1,000
delegates
from 500+ organisations
95%
good or excellent
ratings
8m
#PRIinPerson
impressions
PRI in Person returned to Europe in 2017, with nearly 1,000 delegates at the InterContinental hotel in Berlin. Delegates came together over three days to discuss key responsible investment trends such as the transition to a low-carbon economy, the role millennials will play in the future of investing and the business case for active ownership.
Highlights of the event include:
"The low-carbon transition cannot be elastic… We need to step up exponentially in our efforts if we are to protect the global economy."
Christiana Figueres, convenor, Mission 2020
"It's becoming increasingly obvious that what's good for the planet, what's good for the future, is actually starting to be good for finance and good for profits."
Per Bolund, minister for financial markets, government of Sweden
"There is no longer anything I see in boardrooms around the world that detracts from my fundamental optimism about the trajectory of sustainable finance."
Nicolas Moreau, head of Deutsche Asset Management
Next stop: San Francisco
PRI in Person 2018 will be bigger and better than ever before: 1,200 delegates will convene in San Francisco, the first time the conference has taken place in the US since 2010. Delegates will discuss a range of issues such as the critical role of investors in the transition to a low-carbon economy, water risk and social responsibility in the technology sector.
Our events and webinars
Aside from PRI in Person, we run and co-partner on a range of events and webinars throughout the year. We held 78 events and webinars this year, attracting 2,915 delegates from 1,641 organisations across 35 countries.
53% of delegates that attended our events were signatories. To increase this, we are evaluating how we can best interact with signatories through more systematic one-to-one meetings, events and communications.
KEY TARGETS
53% of event delegates were signatories (PRI target: 75%)