New signatories
We were delighted to welcome 662 new signatories1 to the Principles for Responsible Investment in 2019/20, representing a 28% increase on the previous year to bring the total number to 3,038.
Search for signatories by name, signatory category, location or join date in the: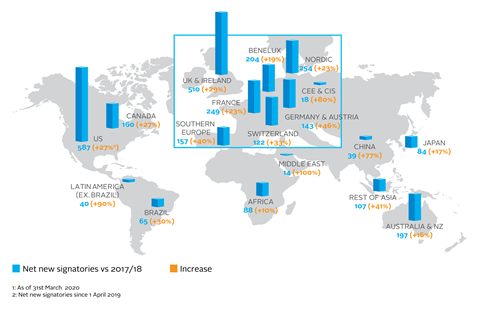 New signatories in 2019/20
Africa
36ONE Asset Management
AFIG Funds
Ajeej Capital
Brentwood Wealth Fund Management Ltd
Cannon Asset Managers
Craton Capital
FidelisWorld
FIM Partners
GE3S
INSPIRED EVOLUTION INVESTMENT MANAGEMENT PTY LTD (IEIM)
Khumo Capital (Pty) Ltd
Lima Mbeu Investment Managers
Mentenova
New Era Capital Partners
PAPE Fund Managers (Pty) Ltd
Perpetua Investment Managers (Pty) Ltd
Psagot Investment House
SDS Int'l Group (Sustainable Development Strategy International Group)
Solon Capital Partners Limited
Thuso Incubation Partners (Pty) Ltd
Valpre Capital
Asia (ex-China and Japan)
AGP Sustainable Real Assets Pte Ltd
Alaya Consulting Limited
Antler
Baring Private Equity Asia
BIMB Investment Management Berhad
Brinc
Caldera Pacific
Cedargold Pte. Ltd
CSOP Asset Management Limited
Daishin Economic Research Institute
ECube Investment Advisors
EFM Asset Management
Employees Provident Fund
EMR Capital
Environmental Investment Services Asia Limited
Fullerton Fund Management Company Ltd.
Governance Solutions Group (GSG)
Hong Kong Monetary Authority (HKMA)
HSZ (Hong Kong) Limited
Impact Credit Solutions Pte Ltd
Lion Global Investors Limited
Maitri Asset Management
Mioying Financial Technology (HK) Limited
Nabla Global
Pixiu Asset Management Limited
Praxis Capital Partners
Principal Asset Management (SEA)
Red Pulse
Singular Asset Management
Telligent Capital Management
TransAsia Private Capital Limited
Tsao Family Office Pte. Ltd
UOB Asset Management Ltd
UOB Venture Management Private Limited
Value Partners Group Limited
White Oak Capital Group
Australia & NZ
Antipodes Partners Limited
Blackmore Capital
Blue Oceans Capital
BNZ Investment Services Limited
Brightlight Group Pty Ltd
Castle Point Funds Management Limited
Clearmatch
Daintree Capital
Eiger Capital
Ethical Partners Funds Management
Fairlight Asset Management
Federation Asset Management Pty Ltd
Future Super
Global Impact Initiative
Kirwood Capital
Kiwi Wealth Investments Partnership (Kiwi Wealth, Kiwi Invest)
Liverpool Partners
Longwave Capital Partners Pty Ltd
Melior Investment Management
Metrics Credit Partners
Munro Partners
NAOS Asset Management Limited
Northcape Capital
NZ Funds
Paradice Investment Management
PLUTON HOLDINGS PTY LTD
Providence Asset Group
Qualitas
Revolution Asset Management
Riparian Capital Partners Pty Ltd
Rivera Farming P/L
Sage Capital
Suncorp Group
Warakirri Asset Management
Austria & Germany
3 Banken-Generali Investment-Gesellschaft m.b.H.
3S Advisory GmbH
7orca Asset Management AG
alpha portfolio advisors GmbH
Ampega Asset Management GmbH
Aquantum GmbH
Aramea Asset Management AG
AssetMetrix GmbH
Atlantic Food Labs
blueplanet Investments AG
Bright Capital
CAM Alternatives
capiton AG
Conduction Capital Advisers
CREA Asset Management Trust Reg.
CreditValue Partners
derigo GmbH & Co. KG
Deutsche Rückversicherung AG
DPE Deutsche Private Equity
HAMBURG TEAM Investment Management GmbH
HC Capital Advisors
Huber, Reuss & Kollegen
KanAm Grund Group
Land Hessen für sein Sondervermögen "Versorgungsrücklage des Landes Hessen"
Lloyd Fonds AG
MPC Capital AG
NORD Holding UBGmbH
Öffentliche Lebensversicherung Braunschweig
Öffentliche Sachversicherung Braunschweig
ÖRAG Rechtsschutzversicherungs-AG
Palladio Partners
PATRIZIA AG
PIER Investment Partner
Provinzial NordWest Holding AG
Provinzial Rheinland
RMC RISK-MANAGEMENT-CONSULTING GMBH
Sauren Finanzdienstleistungen GmbH & Co. KG
Selection Asset Management GmbH
Siemens Fonds Invest GmbH
Siemens Pensionsfonds AG
Société Générale Securities Services GmbH
Sparkassen-Versicherung Sachsen
SV SparkassenVersicherung
Talanx Group
TBF Global Asset Management
Value Intelligence Advisors
Versicherungskammer Bayern
VGH Landschaftliche Brandkasse Hannover
VöV Rückversicherung KöR
Warburg Invest
wpd invest GmbH
Benelux
Anthos Fund & Asset Management B.V.
Astanor Ventures
BACKBONE (Luxembourg) SA
BCEE Asset Management S.A.
Berk Partners
BGV
Careventures Capital
Chahine Capital
CMIS Group
DYNASTY AM
Econopolis
European Stability Mechanism
FACTS East Africa
Finch Capital Partners
First Light Digital
Gilde Buy Out Partners B.V.
Gilde Healthcare
GRESB
Holland Capital
ILX B.V.
Infra4Be Management
JAB Consumer Fund Management S.à r.l.
Midas Wealth Management
MIMCO CAPITAL
Orcadia Asset Management
OREA CAPITAL SA
Prorsum Capital
Quadrivio Group
QUINTET PRIVATE BANK (EUROPE) S.A.
SMART PRIVATE MANAGERS (LUXEMBOURG) S.A.
Stichting Pensioenfonds APF
Stichting Pensioenfonds Medisch Specialisten
Stichting Pensioenfonds Robeco
SustFin
Unovis Asset Management BV
VBDO
XS Investments
Brazil
3J GESTORA DE RECURSOS LTDA
4UM Gestão de Recursos Ltda.
Albion Capital
Aqua Capital
BlueMacaw
Constellation Asset Management
DLM INVISTA
EQUITAS INVESTIMENTOS
FAPES
Fram Capital
Galop Capital
GEO Capital
GGP Family Office
HIX INVESTIMENTOS LTDA
INDIE CAPITAL INVESTIMENTOS
JGP
Pandhora Investimentos LTDA
Patria Investments
Principia Private Equity
SKP Investimentos
Vila Rica Capital Gestora de Recursos Ltda.
Votorantim Asset Management DTVM Ltda.
Canada
ACM Advisors
Act Analytics
Alberta Teachers' Retirement Fund Board
Amp
Axium Infrastructure
Barrantagh Investment Management Inc.
Beutel, Goodman & Company Ltd.
Bridging Finance Inc.
Bristol Gate Capital Partners Inc.
British Columbia Public Service Pension Board of Trustees
Brookfield Asset Management Inc.
Burgundy Asset Management
Canada Post Corporation Pension Plan
Canso Investment Counsel Ltd.
Cougar Global Investments
Dalhousie University
EdgePoint Investment Group Inc.
ESG Global Advisors
Fidelity (Canada) Asset Management ULC
Fonds FMOQ
Giverny Capital
Goodman & Co Investment Counsel / Dundee Goodman Merchant Partners
Groupe Pangea Agriculture Inc
Harris Douglas Asset Management Inc.
Innocap
Investment Management Corporation of Ontario (IMCO)
Letko, Brosseau & Associates Inc.
Lithium Royalty Corp
Manitou Investment Management Ltd.
Mantle
Mawer Investment Management Ltd.
North Growth Management
PBC Health Benefits Society
Pembroke Management Ltd.
Régime de retraite d'Hydro-Québec
Régime de retraite de l'Université de Sherbrooke
Université Laval (Fiducie globale de placement UL-FUL)
University of Guelph Endowment
Van Berkom and Associates Inc.
CEE & CIS
CBL Asset Management
CVI
InterCapital Asset Management
JSC Lords LB Asset Management
Mediterra Capital
PROSPERUS-INVEST L.t d.
REDSIDE investiční společnost, a.s.
Zilliard Capital
China
AEGON-INDUSTRIAL Fund Management Co.,Ltd
Bin Yuan Capital Limited
CGP Investment
China Alliance of Social Value Investment
China Merchants Fund Management Co., Ltd.
Da Cheng Fund Management Co., Ltd
FOF Weekly
Gaocheng Capital Management Limited
Legend Capital
Maison Capital
Marathon Venture Partners
Morgan Stanley Huaxin Fund Management Company Limited
Morningstar Communication
Oner Capital
Orient Securities Asset Management Co., Ltd.
Ping An Insurance (Group) Company of China, Ltd.
Shanghe Capital
Wu Capital
France
AFFECTIO MUTANDI
Africa REN Development
AMPLEGEST
Aster
Athymis Gestion
AUDACIA
AXELEO CAPITAL
BEX CAPITAL
Caisse Nationale des Barreaux Français (CNBF)
CAVP - Caisse d'Assurance Vieillesse des Pharmaciens
CICLAD GESTION
Dorval Asset Management
Dubly Transatlantique Gestion
EDUCAPITAL
ELLIPSIS AM
ERAAM
ESFIN GESTION
EXANE ASSET MANAGEMENT
EXPERIENCED CAPITAL
Extendam
Fédération Agirc-Arrco
FIDEAS CAPITAL
Financière Arbevel
Fonds de Garantie des Victimes
FOX - GESTION D'ACTIFS
GO CAPITAL
Greenback
Groupe B2V
Harmonie Mutuelle
HMG Finance
IMOCOM PARTNERS
Kepler Cheuvreux Invest
KEYQUANT
KIRAO AM
M CAPITAL PARTNERS
MEESCHAERT CAPITAL PARTNERS
Mérieux Equity Partners
Natixis Investment Managers
October
Palatine Asset Management
PORTZAMPARC GESTION
Primonial Real Estate Investment Management
Promepar Asset Management
Quadrille Capital
SCOR SE
Sigma Gestion
THEMATICS Asset Management
TOCQUEVILLE FINANCE S.A.
Trocadero Capital Partners
Vauban Infrastructure Partners
VEGA INVESTMENT MANAGERS
VIA AM
Japan
Alternative Investment Capital Limited
Asahi Mutual Life Insurance Company
Canadian Solar Asset Management K.K.
Eisai Corporate Pension Fund
Kanekyo Corporation
Kenedix, Inc.
Mitsubishi Jisho Investment Advisors, Inc.
Nippon Sangyo Suishin Kiko Ltd.
Norinchukin Zenkyoren Asset Management Co.,Ltd.
REEP Foundation
Resona Bank, Ltd.
Sumitomo Life Insurance Company
Taiju Life Insurance Company Limited
The University of Tokyo
Tokyo Realty Investment Management, Inc.
Tokyu Land Capital Management Inc.
Latam (ex-Brazil)
Afore Profuturo
AFP Capital
AFP INTEGRA
AFP Provida S.A.
Altor Capital I, S.C
Altra Investments
Angel Ventures
BANCHILE ADMINISTRADORA GENERAL DE FONDOS
BEEL Infrastructure Partners
BICE Inversiones
Ecovalores
FONDO DE FONDOS
Fondo Nacional de Infraestructura
FUNDACION WWB COLOMBIA
Pacific Credit Rating Group
PEI Asset Management
Pichardo Asset Management, S.A. de C.V.,
Proteccion SA
Sura Investment Management
Toesca Asset Management
Unión Capital AFAP S.A.
Nordic region
ADVANTAGE
AFA Försäkring
AIP
Alfa Framtak ehf.
Alliance Venture Management AB
Apoteket ABs Pensionsstiftelse
Aristoi Capital Management Ltd.
Atle Investment Management
Avara Ltd
Bank of Finland
Bliwa Livförsäkring
Bodenholm Capital
COIN Investment Consulting
Credo Partners
EDUIMPACT Venture Capital Ltd
Elementa Management AB
Equip Capital AS
Erik Penser Bank
Espiria Kapitalförvaltning
EV Private Equity
FIRST Fondene AS
Front Capital Ltd.
Genesta Property Nordic AB
Harvest Funds AS
Heimdal Nordic ApS
HitecVision
IFU Investment Fund for Developing Countries
IKC Fonder AB
Incentive AS
Industriens Pension
Intera Partners
Keel Capital
Lancelot Asset Management AB
Landkreditt Forvaltning AS
Ness, Risan & Partners AS
Nordic Investment Bank
OBTON
Pædagogernes Pension (PBU)
PensionDanmark
Petersen & Partners Investment Management
POLARIS
Rhenman & Partners Asset Management
Sampo Group
Sarsia Seed Management AS
Sector Asset Management AS
Sector Gamma AS
Sissener AS
Skagerak Maturo
Solidate Oy
Spar Nord Bank A/S
Sparebank 1 Forsikring AS
SPK
SR-Forvaltning AS
Stabelo Asset Management AB
Trill Impact
Velliv
Southern Europe
ABE CAPITAL PARTNERS SGEIC
ALCEDO SGR S.P.A.
Alfaquest Saboya Assessors
ARCA FONDI SGR S.p.A.
Arpinge S.p.A.
Asterion Industrial Partners
ATTALEA PARTNERS
AXON PARTNERS GROUP
Azimut Holding S.p.a.
BPI Gestão de Activos - SGFIM S.A.
BPI Vida e Pensões
Caixa Gestão de Ativos Sociedade Gestora de Fundos de Investimentos, S.A.
Capital Strategies Partners
CASSA NAZIONALE DI PREVIDENZA E ASSISTENZA FORENSE
CGD Pensões - Sociedade Gestora de Fundos de Pensões, S.A.
CHARME CAPITAL PARTNERS SGR S.p.A.
Consilium SGR p.A.
Equita Capital SGR S.p.A.
Faraday Venture Partners
FENERA & PARTNERS SGR S.P.A.
Fondazione Enasarco
Fondo Italiano per l'Efficienza Energetica SGR S.p.A.
Formentor Capital
Green Arrow Capital SGR
Grupo Catalana Occidente, S.A.
Gruppo ITAS Assicurazioni
HAT SGR
Hawkclaw Capital Advisors, Lda
Hellenic Asset Management
IGI Private Equity
Impact Bridge
INDICO CAPITAL PARTNERS
Inter-Risco SCR SA
Iolcus Investments AIFM
Kairos Investment Management S.p.A.
Link Consulting Partners SCF S.p.A.
Mediobanca SGR S.p.A.
Nauta Capital
NBG Asset Management M.F.M.C.
Orfila Management, S.L.
Prelios SGR S.p.A.
Renta 4 Gestora SGIIC S.A.
Sistan SGR S.p.A.
Società Cattolica di Assicurazione - Società cooperativa
Solventis SGIIC SA
TREA ASSET MANAGEMENT SGIIC, S.A
Ver Capital SGRpA
Switzerland
2Xideas AG
Aliter Invest
Artico Partners
ASIM
B&I Capital AG
Banque Pâris Bertrand
BCGE Asset Management (BCGE)
BCV, Banque Cantonale Vaudoise
Bellevue Asset Management Ltd
Crossbow Partners AG
DECALIA SA
EMCORE Asset Management AG
Endeavour Vision Ltd.
EUROFIMA European Company for the Financing of Rolling Stock
Evoco AG
Helvetia Holding
InvestInvent AG
ISGAM AG
Kieger AG
Luzerner Kantonalbank AG
Pensionskasse Basel-Stadt (Pension fund of Basel-City)
Picard Angst Ltd.
POLARIS Investment Advisory
Progressive Capital Partners Ltd.
PvB Pernet von Ballmoos AG
Rothschild & Co Wealth Management Switzerland and Germany
Swiss Bright Advisors SA
Swiss Finance & Property Group
Tavis Capital AG
Twelve Capital
Ufenau Capital Partners AG
Vaudoise Assurances Holding SA
WaVeritas
UK & Ireland
4BIO Partners LLP
7iM
Abbey Capital Ltd
Acclimatise
Aeon Investments
Agilitas Private Equity
Albion Capital Group LLP
Alcuin Capital Partners LLP
Algebris (UK) Limited
Alpha Real Capital LLP
Amber Infrastructure Group
Amberside Capital
Anavon Capital
Apex Group Ltd
Appian Asset Management
Apposite Capital
Arcmont Asset Management Limited
Argo Group International Holdings, Ltd.
Arjun Infrastructure Partners
Arlington Infrastructure Limited
Armstrong Energy Limited
Artha Partners Ltd
Atlas Master Trust
August Equity LLP
Baker Steel Capital Managers LLP
Barwood Capital
bd-capital
bfinance
Blackstar Asset Management Limited
Bluefield Partners LLP
BOOST&Co Limited
Border to Coast Pensions Partnership Limited
Campbell Lutyens
Canaccord Genuity Wealth Management
Castleforge Partners Limited
Charles Taylor Investment Management Company Limited
Connected Asset Management
CONQUEST
Consilium Capital
io
CQS
Crake Asset Management
Dalriada Trustees
Dalton Strategic Partnership LLP
Deutsche Finance International
Downing LLP
Drakewood Capital Management Limited
Draper Esprit Plc
Ediston
Endless LLP
Enhance Group
EOS Investment Management Ltd
EQ Investors Limited
Equilibrium Investment Management LLP
Everest Re Group, Ltd.
Fasanara Capital Limited
Ferox Capital LLP
FIM Capital Limited
Fuse Venture Partners
Gatemore Capital Management
Greenstone
Guinness Asset Management
Hampshire Pension Fund
Harmony Capital
Henderson Park
Heptagon Capital
Herald Investment Management Limited
Hosking Partners
IAM Advisory
Initiative Ireland
IPUT Plc
Isle of Man Government Treasury
Isomer Capital
J Stern & Co.
Kreos Capital
Kuvari Partners LLP
Lansdowne Partners (UK) LLP
LendInvest Limited
Lightman Investment Management Limited
Lindsell Train Limited
LNG Capital LLP
Lodbrok Capital LLP
London School of Economics and Political Science
Lothbury Investment Management Limited
Marcho Partners
Marine Capital Ltd
Mayar Capital Management Ltd
MML Growth Capital Partners Ireland Limited
Mobeus Equity Partners LLP
Mori Umbrella Fund plc
Niche Asset Management ltd
Nordic Capital
Odey Asset Management
One Peak Partners
Park Square Capital
Patron Capital Advisers
Pension Insurance Corporation
Pentech
PFP Capital
Phoenix Equity Partners
Pollen Street Capital
Pool Reinsurance
Portfolio Manager Consultancy Ltd (PMCL)
Premier Miton Investors
Quatre
Revetas Capital
Rocq Capital Management Limited
Round Hill Capital
Royal College of Surgeons in Ireland Pension and Death Benefits Plan
Royal London Group
Rubicon Partners
RWC Partners
W. Mitchell Capital LLP
Sandbar Asset Management LLP
Saracen Fund Managers
Sephira Investment Advisors (UK) Limited
Sequoia Investment Management Company Limited
Slater Investments Limited
Smarterly
Sprints Capital
Stenham
Stone Mountain Capital LTD
Sturgeon Capital
Sturgeon Ventures LLP
Telios Capital
Telstra Ventures
THE LEGAL EDUCATION FOUNDATION
Threadmark
Triple Point LLP
TwentyFour Asset Management LLP
University of Birmingham
Vala Capital
Valeur Capital Limited
Velox Capital Partners LLP
Vengrove Group Limited
Vespa Capital LLP
Waverton Investment Management
WestBridge
White Star Capital
US
337 Frontier Capital
3x5 Partners
400 Capital Management
Abraham Trading Company
Advanced Portfolio Management, LLC
Aether Investment Partners, LLC
Air Asset Management
American Landmark Apartments
American Realty Advisors
American Triple I Partners
Argo Infrastructure Partners LP
Aristotle Atlantic Partners, LLC
Aristotle Capital Boston, LLC
Aristotle Capital Management, LLC
Asia Alternatives Management LLC
AV Group Ltd.
Axiom Investors
BakerAvenue Wealth Management
Baron Capital Group Inc.
Bell Rock Group
Black Diamond Capital Management
Blue Orange Capital LP
Braemar Energy Ventures
Brattle Advisors LLC
Bridgewater Associates, LP
Brigade Capital Management, LP
BroadRiver Asset Management, L.P.
Cambiar Investors
Campbell & Company
Capital Advisors, Inc.
Carillon Tower Advisers
Catherine Avery Investment Management LLC
Catholic Investment Services
Chamaeleo Sustainable Investments LLC
CHANGE Global Investment, LLC
Chilton Investment Company, LLC
CIFC Asset Management
CIFI Asset Management
Clarity AI
Clean Energy Ventures
Clear Frontier Ag Management, LLC
Cliffwater LLC
Copper Rock Capital Partners LLC
Cowen Investment Management LLC
CRG
Dalton Investments LLC
Driehaus Capital Management LLC
Eagle Asset Management
EAM Investors, LLC
Ecosystem Integrity Fund
EFM (Ecotrust Forest Management)
Electron Capital Partners, LLC
Ember Infrastructure
Encap Investments L.P.
ESG Administration LLC
Essex Investment Management, LLC
Everstrong Capital LLC
Excelsior Energy Capital LP
ForgePoint Capital
FPA Multifamily
Franklin Park Associates
Garcia Hamilton & Associates, L.P.
GEC Advisors LLC
Glasswing Ventures
GoldPoint Partners LLC
Grandeur Peak Global Advisors, LLC
Green Mesa Capital
Guggenheim Partners Investment Management, LLC
Harding Loevner
Haverford Trust Company
Impactive Capital LP
IndexIQ Advisors LLC
Iron Park Capital Partners
Jacobs Levy Equity Management
Jensen Investment Management
JKMilne Asset Management
Kayne Anderson Capital Advisors
KBRA Holdings Inc.
Kiva Capital Management
Knightsbridge Advisers LLC
Leeds Equity Advisors, Inc.
LK&A Investment Counsel
LLR Partners
Lone Pine Capital LLC
Longpoint Realty Partners
Lorient Capital Management, LLC
Los Angeles City Employees' Retirement System (LACERS)
Lucerne Capital Management
Madison Capital Funding LLC
Madison International Realty
Mar Vista Investment Partners
Matarin Capital Management
Maverick Capital, Ltd.
Mercer (Fund of Funds Manager)
Mercer Advisors, Inc
Mesirow Financial
MGG Investment Group LP
MidOcean Partners
Mission Driven Capital Partners
Montgomery County Employee Retirement Plans
Moody's Corporation
MultiGreen Properties
Napier Park Global Capital
National Wildlife Federation
New England Asset Management
New York Life Investment Management LLC
Noble Investment Group
NOVA Infrastructure
Oaktree Capital Management
Octagon Credit Investors, LLC
Old Farm Partners
Onliest ESG
OpenInvest
O'Shaughnessy Asset Management, LLC
Pacific Community Ventures
Pacific Paradigm Advisors, LLC
Paine Schwartz Partners
Palisade Capital Management, L.L.C.
Palmer Square Capital Management
Prime Meridian Capital Management
Princeville Capital
Quiet Canyon Capital LLC
RCP Advisors
Redcar Properties
Rising Sun Management Ltd.
River Road Asset Management, LLC
ROBO Global, LLC
Rockpoint Group L.L.C.
Rondure Global Advisors
RRG Capital Management
Rusheen Capital Management
Scout Investments
Sealaska Corporation
Sellwood Consulting LLC
Shelter Growth Capital Partners LLC
Sierra Global Management, L.L.C.
Siltstone Capital, LLC
Sole Source Capital
Solstein Capital, LLC
Sound Mark Partners LLC
Southeastern Asset Management, Inc.
Spring Bridge Management, L.P.
Starwood Capital Group
Summit Global Investments
Sunstone Partners Management LLC
TA Realty
The London Company of Virginia LLC
The Phi Beta Kappa Foundation
Total Impact Capital
True Green Capital Management LLC
UOB Global Capital LLC
van Biema Value Partners
Volery Capital Partners
Vulcan Value Partners, LLC
Warwick Investment Group
WP Global Partners LLC
ZAIS Group, LLC
Former signatories
Between April 2019 and March 2020, 127 organisations ceased to be signatories. These include organisations choosing to relinquish signatory status (65), membership changes due to mergers and acquisitions involving other signatories (38) and organisations that ceased to exist (11). A further 13 signatories were delisted for failing to participate in the reporting and assessment process.
Chose to leave
ABS Investment Management
AFL-CIO Housing Investment Trust
AgCAP
Alliance Trust PLC
Amyma Capital
APEX CAPITAL
Atkinson Foundation
Balbec Capital
Berkeley Partners
Brabantse Ontwikkelings Maatschappij
Brownfields Gestion
Cap Decisif Management
Capri Investment Group
Carnstone Partners LLP
Discovery Americas
E-Capital Equity Management
Ecovalores
ESG FORCE LLC
Etho Capital
EURO Institute of Real Estate Management
EverBloom
Fairwinds Asset Managers Limited
Farm & Forestry Management Services SRL
Farm Venture
Figure 8 Investment Strategies
FIX SCR S.A.
Forluz
Funcef
GAIA Fund Managers (Pty) Ltd
Gala Capital
GK Investor Services
Grid & Finance Advisors
Groupe Investissement Responsable
Hudson Clean Energy Partners
INFUNDE DEVELOPMENT PTE. LTD.
J8 Capital Management LLP
Knight Frank Investment Management LLP
Kudos Africa
La Caisse d`économie solidaire Desjardins
LumX Group Limited
Markham Rae
Misaki Capital Inc.
Nationbuilders Capital LLP
New Amsterdam Partners
NorthPointe Capital, LLC
Performa Investimentos Ltda.
PowerHouse Africa Asset Management
ruvercap group AG
Sesfikile Capital
SIGMA Capital Partners
SQN Venture Partners, LLC
Stichting Pensioenfonds Blue Sky Group
Sustainability Intelligence
Sustainable Investments Institute (Si2)
SustainAsia Ltd
SustenRisk Consultoria
Syntaxis Capital
The Capital Company Hong Kong Limited
The Sustainability Group of Loring, Wolcott & Coolidge
Van Lieshout & Partners N.V.
Wilbanks Partners llc
Wingspan Funds Advisors LLP
Wisdom Funds Pty Ltd
ZEBRA CAPITAL MANAGEMENT, LLC
Ceased to operate
BlueSky Investment Management, LLC
DH Private Equity Partners
Gramont Capital Ltd
INSIDERFONDER
IPSOL Capital
JCP Investment Partners
Kestrel Investment Partners
Mvunonala Asset Managers
Red Mountain Capital Partners, LLC
Sigma Funds Management Pty Ltd
Solidar Fonder
Delisted for failing to report
AMA Partners
Core Capital Management, LLC
Crossmark Global Investments
Drapac
ETF Securities Limited
Illac Ltd.
JAR Capital Limited
NAI Italy
RADIAL CAPITAL PARTNERS GmbH & Co. KG
Socopa - Corretora Paulista
The Skoll Foundation
Tiptree Asset Management Company, LLC
UFCW International Union Pension Plan for Employees
Wealthcheck Funds Management
Wisdom Funds Pty Ltd
Merged/split memberships (including due to M&A between signatories)
ADRIGO ASSET MANAGEMENT
Advanced Capital
Aktieinvest Fonder AB
Alda Asset Management
Alto Invest
AVADIS Anlagestiftung 2
CAER
Carbon Delta
CDC International Capital
Celpos
Daiwa SB Investments
Eligo Asset Management AB
Eurazeo PME
Foresters Asset Management
GES International
Gurtin Municipal Bond Management
ISP Pension
Kames Capital
Logan Circle Partners, L.P.
Mayfair Capital Investment Management
Monyx Asset Management AB
Nuveen Real Estate
PATRIZIA Property Investment Managers LLP
Pavilion Advisory Group / Pavilion Alternatives Group
Pension Consulting Alliance
Ryan Labs Asset Management Inc.
Summit Strategies Group
Sustainable Technology Investors Ltd
Swiss Life REIM
TECTA Invest GmbH
The Townsend Group
TIAA - CREF
Trilogy Global Advisors, LP
Veritas Investment GmbH
Merged with or taken over by non-signatory
FISCO IR Ltd.
Gavion, LLC
JLT Investment Solutions
Tyndaris LLP