A race to the top and a clear rulebook improve results
To showcase leadership and increase accountability, we have committed to:
rewarding and highlighting top performers;
sharing examples of what the best are doing;
defining a minimum standard of activity that signatories must achieve;
monitoring and engaging with those that are not meeting this standard and
delist any that fail to do so over a two-year period; and delist signatories that contravene the spirit of the Principles.
As part of our 10-year Blueprint for responsible investment, we committed to showcasing leadership and increasing accountability, with a view to raising standards of responsible investment amongst all our signatories. For signatory status to be meaningful, we must ensure that signatories are living up to the commitments they make when signing up to the Principles. Ensuring that signatories are held accountable empowers us to recognise the leaders, and support those that are lagging.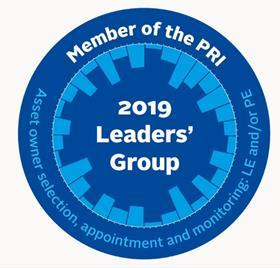 The Leaders' Group showcases signatories at the most advanced stages of responsible investment, and highlights trends in what they are doing. We have used signatories' reporting responses and assessment data to identify those that are doing great work in responsible investment, across their organisation and with a focus on a given theme each year.
In 2019, the theme for the inaugural Leaders' Group was asset owners' selection, appointment and monitoring of external managers, in listed and private equity.
We congratulated 47 asset owners as part of the Leaders' Group 2019. Read the Leaders' Group Report 2019 for examples of leading practices, which include having a thorough and systematic research process for manager selection, using specific contractual definitions for manager appointments and having rigorous follow-up procedures to monitor managers.
In 2020, the theme is climate reporting. To be considered for the Leaders' Group 2020, signatories must demonstrate a strategic approach to aligning their organisation with the FSB's Task Force on Climate-related Financial Disclosures (TCFD) as identified by the PRI.
The PRI Awards
Where the Leaders' Group assesses the breadth of signatories' excellence, the PRI Awards recognise excellence across five categories, in projects conducted by signatories of all sizes, specialisms and levels of development.
Having received entries from 110 signatories, an independent panel of nine judges selected winners for the PRI Awards 2019 in each of the five categories:
Active Ownership Project of the Year
ESG Incorporation Initiative of the Year
ESG Research Report of the Year
Real World Impact Initiative of the Year
Emerging Markets Initiative of the Year.
These were presented at PRI in Person in Paris. The winning and shortlisted case studies can be found on the PRI website.
Nearly 120 entries from 25 countries have been received for the PRI Awards 2020. The winners will be announced online later this year.
Increasing accountability
Minimum requirements
Following the introduction of minimum requirements in the 2018 reporting cycle, last year showed a decrease in signatories not meeting the requirements.

The decrease can be partly attributed to our extensive engagement efforts by during 2018 and 2019 to support signatories in meeting the requirements. In addition to ensuring awareness among the general signatory base through website updates, webinars, improved reporting definitions and supporting documents, we offered one-to-one meetings to all signatories affected.
Engagement has been largely successful. In 2018, we engaged with 121 signatories, of which 69% went on to meet the minimum requirements in 2019. The following year, we engaged with 123 signatories – 83% of these met the minimum requirements in 2020.

The 2020 reporting cycle represents the first time that signatories will be delisted for failing to meet the new standards, following two years of unsuccessful engagement with us. Of the 152 signatories identified as not meeting the requirements in 2018, we held meetings with 143 over the two-year period. This represents engagement with more than 94% of the 2018 cohort (exceeding our key target of 90%). The majority of these engagements have been successful: of the 143 signatories engaged, 132 signatories (92%) met the requirements in the 2020 reporting cycle.
Percentage of successful engagements among signatories not meeting requirement in 2018 (N=143)

Key target
Number of signatories meeting the minimum requirements in the 2020 reporting cycle after the Executive engaged them in 2018/19 and 2019/20: 92%
(PRI target: 90%)
Signatories from the 2018 cohort that did not meet the requirements in the 2020 reporting cycle entered the delisting process – they had the right to appeal if they believe that we have misunderstood or not accurately assessed their position. Due to COVID-related delays to reporting in 2020, the final list of signatories delisted for not meeting the minimum requirements for PRI membership can be found here.
The current minimum requirements will be reviewed in 2020 to ensure they remain fit for purpose and continue to increase accountability in the coming years.
Climate reporting
We made reporting on three TCFD-aligned climate change indicators mandatory for the 2020 reporting cycle. Prior to this, signatories could choose whether to respond to the climate change indicators, and to what extent. They did not have to answer all the climate indicators, nor provide complete answers for any that they did choose to report on. The introduction of mandatory reporting resulted in a total of 2097 signatories reporting on climate, up from 591 in 2019. Read more about our TCFD work here.
Key target
PRI signatories reporting on TCFD framework via PRI Reporting Framework: 100%
(PRI target: 50%)
Reporting and assessment review
This year we completed an extensive signatory consultation on reporting and published a detailed proposal of what the new PRI Reporting Framework, assessment and reporting outputs could look like.
In total, over 580 signatories participated in the consultation, representing nearly a quarter of our signatory base. The feedback provided valuable insight on the strengths of the current reporting and assessment process, and where improvements could be made.
We subsequently developed a detailed proposal of how the Reporting Framework, including reporting outputs, could be improved. We gave signatories an opportunity to indicate their level of support during a second consultation, with oversight from the PRI Board and support from the Reporting and Assessment Advisory Committee.
The proposal covered three broad areas:
The key elements of a new 'core' and 'plus' model; differentiating between assessed, process-focused indicators which will be mandatory to report on and disclose, and outcomes-focused indicators which will be voluntary to complete and disclose;
Retaining confidential signatory assessment with new, recalibrated scoring; and
Outputs – customisation, visualisation, summary reports and accompanying senior executive (C-level) statements.
Overall, signatories are positive about the proposed changes and show high levels of support across all propositions.
To support these proposals, and to address some of the feedback from the first consultation phase, we also started an IT system review. We have selected a new reporting platform to support the new reporting requirements and growing signatory base.
We will continue engaging with signatories on the implementation of the new framework through webinars, tutorials and focus groups, with the (pilot) launch of the new framework scheduled for early 2021.