About the PRI Leaders' Group
As part of our 10-year Blueprint for responsible investment, the PRI committed to showcasing leadership and increasing accountability, with a view to raising standards of responsible investment amongst all our signatories.
The Leaders' Group showcases signatories at the cutting edge of responsible investment, and highlights trends in what these leading signatories are doing. We have used signatories' reporting responses and assessment data to identify those that are doing great work in responsible investment, both across their organisation, and with a particular focus on a given theme each year.
Background
Extensive consultation with signatories in recent years has shown strong support for the PRI to use the reporting and assessment process to further differentiate signatories at different stages of implementing the Principles. This includes showcasing leadership to share good practice and encourage other signatories to improve their performance.
Methodology
Signatories are screened based on the leadership topic each year.
In 2019, signatories must be an asset owner that has received an A or A+ for the selection, appointment and monitoring module, in either listed equity or private equity.
In 2020, we will be identifying signatories based on how they report on climate in the PRI Reporting Framework. Both asset owners and investment managers will be considered for the 2020 Leaders' Group. Details of the screening criteria for 2020 will follow.
A combined score using responses from across the Reporting Framework is used to identify, from that pool, a group of leading signatories.
In 2019, the final group of leading signatories is equivalent to 10% of all asset owners.
The combined score covers three areas of responsible investment practice:
Governance: 25%

Strategy & Governance module score

Implementation: 50%

Asset class module scores, weighted by AUM split

Transparency: 25%

percentage of voluntary indicators disclosed (20%)

number of voluntary modules reported on (5%)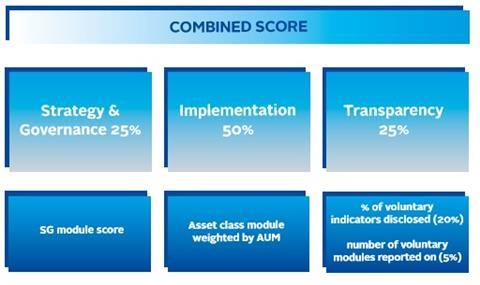 What is the Leaders' group not?
…a ranking of signatories – the Leaders' Group identifies a group of leading signatories, it does not rank the signatories within it (nor those outside).
…an exhaustive list of all leading practices – it identifies a group of leading signatories, and the associated commentary highlights trends and common practices amongst that group. Other leading practices might exist that this approach does not capture.
…PRI validation of signatories' reported data – while the PRI encourages signatories to pursue assurance mechanisms, the Leaders' Group is based on the same self-reported data that underpins all PRI reporting and assessment.