Board responsibilities
The board is collectively responsible for the long-term success of the PRI, in particular:
setting the strategy, risk appetite and structure;
delegating the implementation of the strategy to the PRI Association Executive (the executive);
monitoring the executive's performance against the strategy;
exercising accountability to signatories;
being responsible to relevant stakeholders.
Board priorities for this year
Lead the response to the 'PRI in a Changing World' signatory consultation.
Lead the Chair search process.
Organisational effectiveness, including oversight of the implementation of the target operating model.
Board meetings
The Board provides a quarterly update in the quarterly signatory update.
Rules, policies and terms of reference
These documents, referred to in the Articles, enshrine the procedures and practicalities required to give effect to each Article in more detail. The board has approved the following rules, policies and terms of reference:
Board report
Signatories are encouraged to read the full PRI Board report which provides an overview of the work undertaken by the board over the past year, how we work together and with the executive.
The report includes our focus on organisational purpose; the leadership of the board; integrity measures; decision-making processes, risks and controls; actions to improve our effectiveness; how we are thinking about board diversity and communicating this to signatories; and our efforts to be open and accountable to signatories.
Discussions over the last year
The graph below gives an indication of Board's time spent in percentage discussing agenda items related to strategy, operations, and governance. There was 17% increase in time spent on Board discussions on governance from 35% in 2020-21 to 52% in 2021-22 because the Board spent considerable time discussing and agreeing the CEO transition, recruitment, and appointment.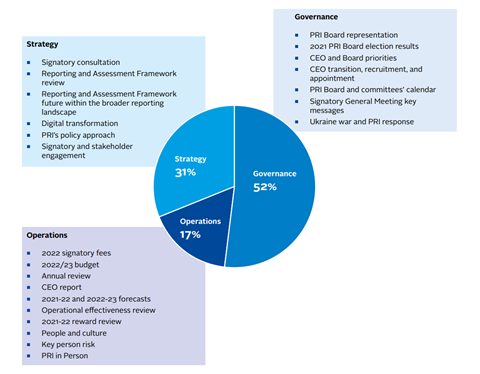 If you have any queries related to the PRI's governance and its rules, policies and terms of reference, please contact governance@unpri.org.