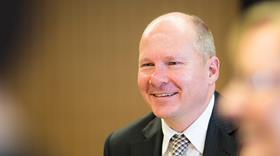 Dear signatories,
The feedback we received from you through our recent PRI in a Changing World signatory consultation has been incredibly valuable. Now, having a deeper understanding of our signatories' needs, we are hard at work shaping the future of the PRI. This is an important opportunity to strengthen the PRI's value proposition for signatories against a rapidly-evolving external landscape, and I look forward to embedding new capabilities and dimensions into our work.
I am also pleased to confirm that the 2023 reporting window will open on 14 June. We have taken a number of steps to improve reporting for signatories this year, including streamlining the number of indicators and publishing the Reporting Framework back in January. Further support and resources can be found in this update.
In addition, we have opened registration for our flagship annual conference, PRI in Person, which will bring us to Tokyo this October. The event will be supported by the highest levels of the Japanese government, and we look forward to welcoming our distinguished keynote speakers: Prime Minister Fumio Kishida and Tokyo Governor Yuriko Koike. I hope to see many of you there too.
Best,
David Atkin
Executive summary
Organisation updates
Following the PRI in a Changing World consultation, the Executive have been working on how to implement changes according to signatories' feedback, to ensure that the PRI can effectively deliver on its mission and provide value to signatories as the PRI grows. Three Board positions will be ending their terms at the end of 2023. Candidate nominations will take place between May and August, with elections starting in September.
Initiatives, tools and resources
The 2023 Reporting and Assessment reporting cycle will be open between 14 June and 6 September 2023. See R&A Updates for the latest news on 2023 reporting and the Investor Reporting Framework page for a range of useful reporting resources. We are pleased to announce that the PRI in Person 2023 website is now live and registrations are open. The 2023 event will take place between 3-5 October in Tokyo, Japan.
Signatory update
We added 62 organisations as new PRI signatories, including six asset owners, in the first quarter of 2023. The PRI now has 5,381 signatories, representing US$121trn of AUM. New signatories include Fullgoal Fund Management in China, VBL (Versorgungsanstalt des Bundes und der Länder) in Germany, and France-based Malakoff Humanis.