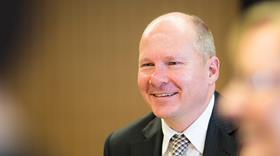 Dear signatories,
In the past quarter, we have shared updates on organisational changes at the PRI with you, via our Annual Report and our Signatory General Meeting. I encourage you to exercise your right to vote on various elements of our governance, such as elections for PRI Board positions, including Conor Kehoe's nomination as Chair. Voting is open until 1 December.
We have also launched updated versions of our most popular PRI Academy courses, available in English and Japanese, and successfully concluded the 2023 reporting period. You can find a timeline for releasing the reporting outputs on our R&A Updates page.
In this quarterly update, I am pleased to share details of a wide range of investor initiatives and collaborations in which we are actively involved. These include our pilot Collaborative Sovereign Engagement on Climate Change, focusing on the Australian market, and the Nature Positive initiative, which launched in September.
Best,
David Atkin
Executive summary
Organisation updates
The Annual Report 2023 was published in August, which also sheds light on the PRI's organisational changes and how they will deliver value for signatories. The SGM took place on 13 September, where Conor Kehoe's nomination as the new Chair in 2024 was formally proposed. From 20 September to 1 December, signatories are invited to vote on various elements of the PRI's governance, including elections for PRI Board positions.
Initiatives and collaboration
The Australian pilot of the Collaborative Sovereign Engagement on Climate Change initiative reached a milestone in August 2023 when the PRI expanded the collaborating signatories involved to 25. The PRI joined 26 organisations in launching the Nature Positive Initiative on 7 September to promote the goal of becoming Nature Positive by 2030, and worked towards launching its new nature-focused stewardship initiative, Spring.
Products, tools and resources
2023 reporting closed on 6 September 2023. See R&A Updates for the latest news on this year's Reporting and Assessment. Thank you to all signatories for making this reporting cycle a success, achieving a 98% submission rate among mandatory signatories. The PRI Academy has now launched the new 2023 updates of its two most popular courses, Understanding ESG and Applied RI, available in English and Japanese.
Signatory update
The PRI now has 5,337 signatories, of which 734 are asset owners. New signatories include Swiss Life Asset Managers headquartered in Switzerland, Japan Science and Technology Agency based in Japan, and CCN Group from Türkiye.