Investors that report on their responsible investment activities through the PRI's Reporting Framework receive a private Assessment Report. This report shows year-on-year progress and broad scoring bands per module or per asset class/sub-strategy. Scores continue to be confidential, with no overall organisation score given.
Why investors are assessed
The assessment aims to fulfil these objectives:
Identify how signatories can improve their responsible investment practices;
Allow asset owners to focus their discussions with investment managers on responsible investment activities and capabilities by sharing their Assessment Reports; and
Facilitate learning and development by outlining how signatories' implementation of responsible investment compares year-on-year, across asset classes, and with peers at the local and global level by providing a confidential report.
Scoring methodology guidelines
The scoring methodology for the 2023 Reporting Framework is based on the following guidelines:
The primary focus remains on a signatory's responsible investment implementation across their overall investment process, rather than looking only at their investment in ESG products.
The scope of implementation of specific responsible investment practices, for example the percentage of AUM covered.
The level of sophistication of the responsible investment practice for the majority of AUM.
Increasing the focus on consistency, including how group policies are applied in different asset classes or sub-categories, or how policies are implemented by external managers or service providers.
Having more clarity on the timeframe of practices carried out.
2023 Assessment Methodology
Download the 2023 Assessment Methodology (PDF)
Scores continue to be confidential, and be provided per module, asset class or sub-strategy with no overall organisation score given.
The assessment methodology reflects how the Reporting Framework is assessed at an indicator (question) level and module, asset class, or sub-strategy level.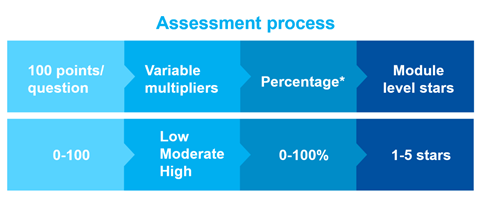 At an indicator level:
Only CORE questions – which are close-ended, mandatory to report on, and made public – are assessed.
In the initial phase of assessment, 0–100 points are available per indicator.
A multiplier is then applied to the indicator score, weighted based on its relative importance with respect to responsible investment practices and/or the PRI's overall mission.
At the module and asset class/sub-strategy level, the score consists of a numerical grading system ranging from 1 to 5 stars. The lowest possible grade is one star, allocated to those whose responsible investment behaviour is at the lower end of what is expected from signatories. The highest score is five stars and awarded to those signatories who demonstrate leading practices within the responsible investment industry.
Assessed modules will receive one score per module, asset class, or sub-strategy as follows:
The Policy, Governance and Strategy (PGS), Private Equity, Infrastructure, Real Estate, and Confidence Building Measures (CBM) modules will receive a score per module.
The manager Selection, Appointment & Monitoring (SAM), Fixed Income, Listed Equity, and Hedge Funds modules will receive a score for each sub-strategy or asset class, and not an overall module score.
The Senior Leadership Statement, Organisational Overview, and Sustainability Outcomes modules are not assessed.
Stewardship is integrated throughout the Reporting Framework, particularly in the Policy, Governance and Strategy module; therefore, it will not receive a separate score.
Frequently asked questions
Assessment process
Are signatories assessed on their responses to the Reporting Framework?
Yes, we continue to assess investor signatories on their responses to the Reporting Framework. This is based on the assessment methodology (PDF).
Will the assessment methodology be public by the time the 2023 Assessment Reports are launched?
Descriptive assessment multipliers have been published in the updated Reporting Framework modules on the Investor Reporting Framework page. The numerical multipliers will be visible to signatories only - in the Reporting Tool and in their private Assessment Reports. The scoring thresholds will be published alongside signatories' 2023 Assessment Reports in November. As with any reporting framework of this size and complexity, there is always the possibility of minor clarifications and updates after publication, but these will not affect signatories' ability to prepare for the reporting cycle.
Is there an organisation-level score?
The PRI Assessment Reports do not rate signatories at an organisational level. Therefore, you won't receive a single "general" assessment score for your organisation. There will, however, be module, asset class or sub-strategy-level scores for each assessed module a signatory completes.
Will we be able to compare our scores between 2023 and previous years?
Since the assessment methodology has evolved to reflect the changes in the Reporting Framework, subject to the extent of content and assessment changes required to address the feedback received from signatories in previous years, the 2023 module or indicator scores may not be fully comparable to previous years' scores – see more information in the 2023 assessment methodology (PDF). When the 2023 outputs are released, signatories will be able to use the Indicator Changes Guide to identify where 2021 and 2023 scores can be compared.
Assessment output
Can I opt out of getting an Assessment Report?
An Assessment Report is generated for each of our reporting investor signatories, along with the Transparency Report. The Assessment Report is confidential and only visible for your own organisation once generated. You can choose to not consult or download your Assessment Report, but the PRI strongly encourages signatories to consult it, as the reports can facilitate learning and development and help identify methods for improving responsible investment practices.
I am a first-time reporter. When will I receive my first Assessment Report?
If you are a new signatory, your first reporting cycle will be a "grace" or voluntary reporting period. If you choose to report in your voluntary year, your organisation will receive an Assessment Report at the same time as mandatory reporters. Otherwise, you will receive your first Assessment Report after your first mandatory reporting year.
Where can I find information on the scoring criteria, and the Reporting Framework modules?
You can find information about the scoring criteria and the Reporting Framework modules on our Investor Reporting Framework page.
Assessment methodology
Does the assessment favour any particular investment strategy or engagement method?
The assessment does not promote any specific investment strategy or engagement method. Its aim is to showcase best practices in responsible investment across asset classes worldwide. These activities are assessed based on equal value, regardless of whether the process is conducted internally or externally, whether the strategy is screening and/or integration, or whether an engagement is individual, collaborative or through a service provider.
Why does the assessment change over time?
It is important that the PRI's reporting and assessment keeps up to date with the fast-moving changes in the responsible investment industry. Therefore, indicators may be added, modified, or even removed to reflect changes in the market, impacting the indicator and/or module-level assessment, as well as the broader assessment methodology. The indicator or module-level assessment may also be adjusted based on signatories' past performance (e.g., to increase the challenge of high-scoring indicators/modules).
The reporting process
1

2

3

4

5

Currently reading

How investors are assessed on their reporting

6

7

8

9

10

11