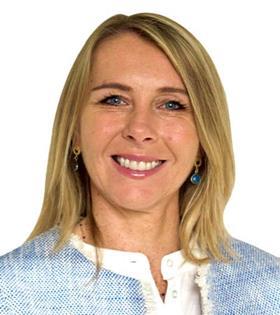 Message from Rose Easton, Interim Chief Responsible Investment Ecosystems Officer
As the PRI signatory base has grown around the world, so too has the PRI gradually built regional teams in each market – encouraging and supporting new signatories to join and existing signatories to progress.
While recruiting signatories has never been an end in itself for the PRI, there are numerous ways in which a larger, more diverse signatory base better serves the PRI's mission. Furthermore, extolling the benefits of responsible investment has naturally gone hand-in-hand with supporting investors in signing and then implementing the six Principles, to guide and improve their responsible investment approach.
Now, after several years of strong growth – both in signatory numbers and the profile of responsible investment itself – the landscape is changing.
Reacting to maturing markets
In many countries, most investors are already PRI signatories – shifting the balance for our regional teams towards the importance of supporting the progression of existing signatories rather than the onboarding of new joiners.
In markets where we think further recruitment would help deliver the PRI's mission, we now need to provide a much more tailored approach that understands and responds to why responsible investment has grown more slowly in that particular market. Markets in which responsible investment first took hold have, to a large degree, grown organically through relationships and recommendation – in markets where penetration remains relatively low, this approach alone is unlikely to spur interest.
Enhancing signatory support
Regionally focused employees have traditionally acted as the first point of contact for PRI signatories new and old, whether to guide them through our wide range of tools, guides and thought leadership, for queries on reporting and assessment or on many other aspects of the signatory experience.
In a PRI of 5,000+ signatories and growing, and an ever-wider array of PRI services, we believe we can provide a more comprehensive, more consistent support experience to signatories – wherever they are in the world – through a dedicated, centralised support team in our operations department.
We're excited to be establishing a new global stakeholder services team that will provide this easy access to PRI services for signatories and other stakeholders worldwide.
To better serve signatories' needs, we need to move beyond managing their relationship with the PRI, towards building a thriving responsible investment ecosystem in their market.
Building responsible investment ecosystems
Engaging with signatories in their region is crucial, but signatories need more from us than just a good relationship with the PRI. A clear message from our PRI in a Changing World consultation was that regional communities of practice, and input on the PRI's strategic approach in each region are high priorities for signatories. We need to be deeply familiar with what signatories' priorities are in their local market, and to what extent they need support from us on each of them.
To better serve signatories' needs, we need to move beyond managing their relationship with the PRI, towards building a thriving responsible investment ecosystem in their market.
This means working with all the key players in the ecosystem: the individual asset owners and investment managers, but also service providers such as the investment consultants and data providers, policy makers, regulators, stock exchanges, sustainable investment forums and other regional associations that shape the market. We must identify the barriers to responsible investment-aligned capital flows right across the investment chain, and work collaboratively to address them.
We must convene investors, policy makers and other stakeholders – but also provide a connecting point for the groups and platforms that already play a convening role in each region, to help them connect with each other. As always, our goal remains to enable any work that serves the PRI's mission, which includes supporting and complementing the work of peers, not competing or duplicating it.
Policy debate and regulatory frameworks are a fundamental aspect of developing strong ecosystems, for which local knowledge is a must. We need a deep understanding of whether a particular market has clear sustainability targets or a sustainable finance strategy, of which government entities are driving which developments, of the blend between country-specific and regional requirements, and more. Our policy engagement will therefore move from a single, central policy team to a dual model that sees regional policy teams delivering local policy engagement, guided by high-level priorities coordinated by a global policy team that will lead on international and multilateral engagement.
Deepening regional engagement
Our global perspective and reach has always been a strength of the PRI and one that is valued by our signatories. In the future, our people in countries around the world will work even more closely with signatories and their communities to support them in progressing their practices, engaging with regional policy and regulatory change and nurturing strong responsible investment ecosystems.
Continued global growth
Building the responsible investment community
Signatory numbers have increased 10% year-on-year, reaching 5,391 signatories (4,841 investors and 550 service providers) by 31 March 2023.[1]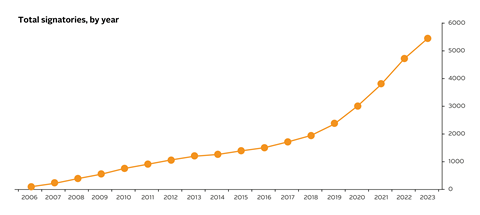 After several years of very rapid growth in signatory numbers, this represents a natural slowing in the rate of new joiners as we start to reach saturation point in some of the most developed responsible investment markets. Regions with the highest number of PRI signatories – such as the US, and markets across Northern and Western Europe – saw larger drop-offs in new joiners than regions such as China, Africa, Latin America, Central and Eastern Europe and the Middle East, which have the fewest PRI signatories but maintained similar numbers of new joiners year-on-year.
Total signatories, by region (31 March 2023)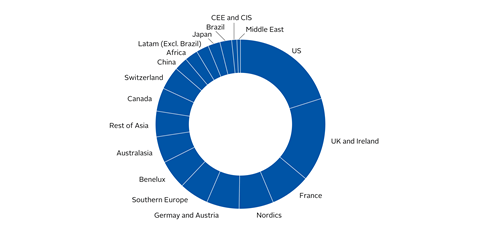 In absolute terms, the largest markets continue to drive the highest number of new joiners, with 287 from across mainland Europe (38% of new joiners), 150 from the US (20%) and 89 from the UK and Ireland (12%).
We were delighted to welcome 755 new signatories in total. For a complete list of signatories, including by join date, see the signatory directory.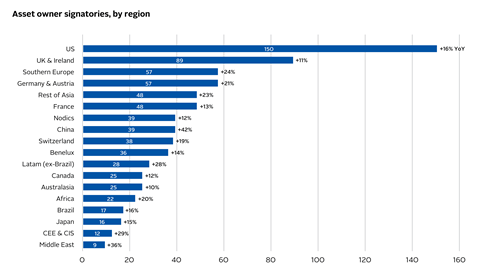 Delisted signatories
We saw 269 organisations removed from the signatory list this year, an uptick on 134 the year before, although this is partly a result of a large increase in the signatory base in recent years providing a bigger pool for turnover, and the overall rate remains low.
A delisting does not always mean an organisation leaving the PRI or represent any drop in the quantity of assets committed to responsible investment – for instance 56 delistings this year were due to signatories merging with another signatory.
See a full list of delisted signatories
While some signatories choose to delist, or are delisted for failing to meet the requirements of being a signatory, other delistings arise for administrative reasons such as two signatories merging. Where signatories contact us asking to end their signatory status, we capture and report the reasons why, wherever possible.
Asked to be delisted
no longer interested
National Employment Savings Trust (NEST)
Kirwood Capital
Goodyields Capital GmbH
AV Trinity Ltd
Grosvenor Europe
Atlas One
Capital Midwest Fund
Thomas Schumann Capital®
Ajeej Capital
Thalmann & Verling Trust reg.
SofCap Partners Ltd.
Amp
Atalanta Sosnoff Capital, LLC
VERSO
EMIT CAPITAL ASSET MANAGEMENT (Provisional Signatory)
Mazarine Ventures
Peninsula Participações
EnTrust Global Partners LLC
Allegra Wealth Pty Ltd
Aster
LendInvest Limited
PeakBridge
Insurance AUM Journal, LLC
OBTON
Hildene Capital Management, LLC
Hadean Ventures AS
Tesco Pension Trustees Limited
lack of resource
EFA Group
Blackcrane Capital, LLC
Global Delta Capital (Provisional Signatory)
DiverseCity Ventures
SMART PRIVATE MANAGERS (LUXEMBOURG) S.A.
Lembas Capital
Who's Good
Social Enterprise Research Academy
Neumeier Poma Investment Counsel, LLC
Affinity Investment Advisors
Hitchwood Capital Management LP
Sustainable Impact Capital LP (Provisional signatory)
Faraday Venture Partners
Archax
PHOENIX CAPITAL
Pactia
GESCONSULT SA SGIIC
The Terra Fund (Provisional Signatory)
Seasons of Advice Wealth Management, LLC.
Rosehill Investments LLC (Provisional Signatory)
SD-M GmbH
Brentview Investment Management
BRE International Advisors
SkySaga Capital Management
Hayborough Investment Partners
Sunbridge Capital Partners LLC
Aitken Investment Management
Habona Invest
Middletown Works Hourly and Salaried Union Retirees Health Care Fund
MONETALIS SERVICES (Provisional SIgnatory)
Beekind
G2 Investment Partners
Impacq Capital Partners (Provisional Signatory)
Vineyard Infrastructure (Provisional Signatory)
Green.Health (Provisional Signatory)
Builders Union LLP
Lofoten Asset Management
Astia
Grey Innovation Investment Partners Pty Ltd
Umbra Capital Partners LLP
Conscious Investment Management Pty Ltd
Cooler Future (Provisional Signatory)
Kilgour Williams Capital
Moerus Capital Management LLC
Globescan Capital, Inc
Stabelo Asset Management AB
VELT Partners
Aker Horizons
XY Investments LLC
Bond&Devick Wealth Partners
no specified reason
Paia Consulting
American Triple I Partners (provisional signatory)
Katjesgreenfood
Pinpoint Equity Partners, SL
BACKBONE (Luxembourg) SA
Green Eight Capital AG
ESG Financial Corp. (Provisional Signatory)
ACI Capital Partners Luxembourg S.à r.l.
Mill Road Capital Management LLC
Zhangzhou Zhangjiang Private Equity Fund Management Co., Ltd.
Did not pay
Progression Capital Africa Limited
Aequalitas Capital Partners
Evo Group Holdings, LLC
Capital Kinetics Limited
Cybele Capital Partners LLP (provisional signatory)
SRI Capital
ASSETLY Investment Partners
BlackCrow Capital
Global BioFuture Solution
CITITRUST HOLDINGS PLC
ACUITE GROUP (Acuité Ratings and Research, ESG Risk AI, SMERA)
Smith Asset Management Group
Morningside Asset Management, LLC
National Rating Agency
Sustainable Network
SAW Software
Morpho Capital Partners (Provisional Signatory)
Millennial Energy Partners
Peoples Company
Merged or acquired
with/by another signatory
Obviam AG
Majedie Asset Management Limited
Greenspring Associates, Inc.
Private Advisors, LLC
DCI
Polen Capital Credit, LLC
TD Asset Management (TDAM USA Inc.)
Società Cattolica di Assicurazione - Società cooperativa
BNP Paribas Securities Services
Madison Capital Funding LLC
Fidelity (Canada) Asset Management ULC
UK Green Investment Bank Limited (trading as Green Investment Group)
FE fundinfo
Hexavest
Energy Industries Superannuation Scheme (EISS)
GoldPoint Partners LLC
Smith & Williamson Investment Management LLP
Snow Phipps Group, LLC
Newbury Partners
Celina Fondförvaltning AB
Australian Catholic Superannuation and Retirement Fund
ARA Asset Management Limited
HANSABAY PTE LTD
Infrastructure Capital Group
Lyxor Asset Management
Eaton Vance Corp.
ACTIAM
BT Financial Group
OpenInvest
Baring Private Equity Asia
Columbia Management Investment Advisers, LLC
Virtuoso Fund
Mauá Capital
SANNE Group plc
Max Mitteregger Kapitalförvaltning AB
BlueMacaw
Selection Asset Management GmbH
Landmark Partners
Macquarie Investment Management Europe S.A., ValueInvest
IMANTIA
Fondo Pensione CR Firenze
Alliance Entreprendre
QIVALIO
EMPLEADOS GRUPO BANKIA FP
Greyline Partners, LLC
Media Super
Trevian Funds AIFM
Veritas Institutional GmbH
CAAM Fund Services AB
Edinburgh Partners Limited
Life Sciences Partners (LSP)
Actis Asset Management
BW Equity GmbH
CAM Alternatives
New Energy Capital Partners, LLC
Proxinvest
with/by a non-signatory
Afena Capital (Pty) Limited
Christian Super
Zeo Capital Advisors, LLC
Velocity
ESG Administration LLC
Green Blue Invest (GBI) SA
Fortius Fund Management
EG Capital Advisors
ATTALEA PARTNERS
Reassignment of where signatory status sits within parent group
Dansk Vaekstkapital II
LMCG Investments, LLC
MACIF
Sompo Japan Insurance Inc.
Bank Cler
Vallbanc Fons SAU
Stopped operating
ERAAM
Vision Capital LLP
Vaekstfonden
FOCUS ASSET MANAGERS
Société Générale Securities Services GmbH
Geokalla
Alderwood Capital LLP
GO Investment Partners
caplantic GmbH
Karara Capital
Blackwall Capital Investment AG
Aquamarine Investment Partners
DCCP Deutsche Credit Capital AG (Provisional Signatory)
Conduction Capital Advisers
Governex Limited
BNP Paribas Capital Partners
AO Asset Management, LP
UnifyImpact
High Pointe Capital Management, LLC
Aeda Asset Management AB (provisional signatories)
Amazon Valley Administradora de Recursos
CBAM Partners, LLC
STONEHORN GLOBAL PARTNERS
IMX
REVITALIS Investment GmbH (Provisional Signatory)
Mayen Capital Management AG (Provisional Signatory)
PELHAM GLOBAL FINANCIALS
Idalia Capital, SGEIC, S.A. (Provisional Signatory)
Credo ESG Solutions Inc.
Seven Oaks Acquisition Corp
Circuitus Capital LLP
Columbus Point LLP
Methodical Valuation and Advisory Services
Future Matters
Backbone Capital Partners Limited
Black and White Capital LP
Stichting Total Pensioenfonds Nederland
JKMilne Asset Management
Redpoint Investment Management
Other
Oxfam Novib
Evangelische Bank
Adelphi Capital LLP
Baird Capital Partners Europe Limited (BCPE)
Rheos Capital Works Inc.
The Consolidated Retirement Fund for Local Government
TransAsia Private Capital Limited
Maitri Asset Management
Summit Global Investments
Caixa Econômica Federal - VIART
Leaders Arena
Ethical Markets Media, LLC
Fator Administração de Recursos
Panoramic Growth Equity
Tramondo Investment Partners AG
Healthy Investment
Grey Mountain Partners
Cambiar Investors
JL Alpha LLC
Allard Partners
Carlson Capital, L.P.
Crea8 Capital
Fidera
Impact Bridge
Altra Investments
Elevation Ventures (Provisional Signatory)
Inframco
Metavasi Capital
AENU Impact Advisory GmbH
Paloma Partners Management Company
Aritmetika
SFS RE (Provisional signatory)
FUND FOR AFRICA'S FUTURE (FUTURE AFRICA)
Fundana SA
Pactum AG
Immobel Capital Partners
Echo River Capital LLC
FOROS
Salacia Solutions
EquityCompass Investment Management, LLC
DSAM Partners
Bee Up Capital
Adragos Pharma
CONFRAPAR ADMINISTRAÇÃO E GESTÃO DE RECURSOS S/A
Ardan Equity Partners
Orpheus Partners
Gatemore Capital Management
Blue Oceans Capital
EQUICAP ASIA MANAGEMENT PRIVATE LIMITED
JSE Limited
FPA Multifamily
S Network Global Indexes, Inc.
Hadron Capital LLP
Asset owner focus
A further 70 asset owners became PRI signatories in 2022/23, making for a total of 730. As with overall signatory numbers, this represents a slight slowdown following three years of very high growth.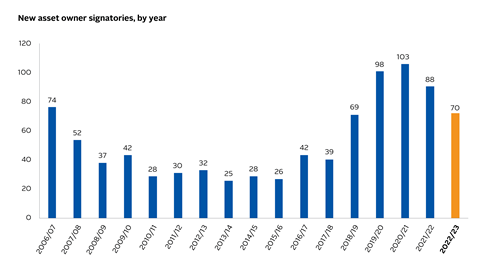 Number of asset owners that signed up the PRI in each year. The cumulative total over time will be lower due to signatories leaving.
Insurance funds have been the biggest driver of asset owner growth in the three previous years, a dynamic that is even stronger this year with insurers making up more than half of all new asset owners.
This sustained growth has seen insurers become the largest type of asset owner in the signatory base, outnumbering public pension funds for the first time.[2]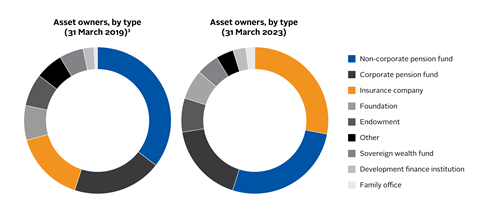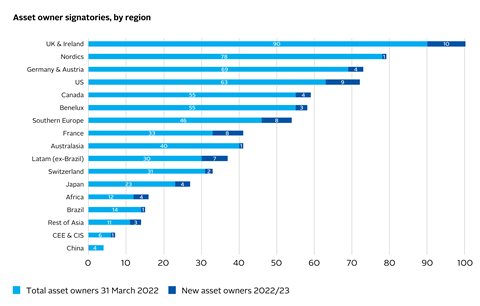 Connecting with signatories
Fostering strong PRI-signatory relationships
The PRI has 33 signatory engagement professionals, working in 24 cities around the world, providing a personal relationship between the PRI and our more than 5,000 signatories in nearly 100 countries. Last year we held over 2,500 meetings with signatories, including meeting with more than half of our asset owners, and in total with signatories accounting for more than 60% of AUM.
We continue to use a blend of face-to-face meetings, video conferencing and other digital tools to provide signatories with more ways to connect with the PRI, and to better operate at scale.
Regional community of practice sessions, consisting of roundtable discussions with signatories on different components of the 2021 reporting, were trialled in Canada and Latin America, and are now running in multiple regions.
As the signatory base continues to grow, we are continuing to evolve our approach to better support signatories. New tools and new ways of working will be crucial to providing signatories all around the world a high-quality, consistent experience when engaging with the PRI, its products and its services.
The PRI is a collaborative, investor-led organisation. Signatories can get involved with our work in a whole host of ways – from joining advisory committees and signing up to initiatives, to attending events and getting involved in our governance. Check out opportunities on our get involved page.
In addition to PRI in Person & Online, we continued to run a comprehensive programme of fully virtual events throughout the year, including 86 webinars with more than 16,000 registrants.
<< Executive team Home Responsible Investment Solutions >>
References
[1]As AUM calculations are based primarily on reporting data, the most recent data available at the time of publication was from 2021, which put AUM at US121.3 trillion, for 3,826 signatories (investors and service providers).
[2]Indicative only. The 2019 data is drawn from current signatories that signed up to the PRI by 31 March 2019. It therefore excludes some organisations that were signatories at 31 March 2019 but have since delisted.