Welcome message from Martin Skancke, PRI Board Chair
It has been an immense source of pride to have served as the PRI chair since 2014. As my third and final term draws to a close, I hope that you will excuse me using my last message as an opportunity to reflect on my time at the PRI, and to look to the organisation's future.
Reform
When I joined in 2014, the first priority was to transform the PRI's own governance and direction. We set ourselves an ambitious agenda for reform and renewal, comprising a new governance structure, a new three-year strategy and a revised funding model – all within 12 months. After a lengthy signatory consultation, we changed the PRI's governance structure from a two-tier governance structure to a single fiduciary board supported by committees, approved by 98% of signatories voting in March 2015. The contribution of signatories was critical to our success in implementing all of the changes.
The foundations were in place: we had more transparency and accountability, a sound strategy for the years ahead and the necessary resources to implement it.
Evolution of the PRI
Responsible investment has evolved considerably over the past nine years, to today where it is a part of the mainstream financial landscape. Investor expectations and practices have changed significantly.
Thinking around the fiduciary duty to integrate ESG factors into investment decision-making has developed dramatically. International norms created by the Paris agreement, the Sustainable Development Goals (SDGs), the UN Guiding Principles on Human Rights, amongst other ESG-related norms, are being transposed into regulations, codes and reporting requirements. Beneficiaries' expectations that their investments should contribute to a world worth retiring into are rising.
The PRI's work, to support and enable signatories' responsible investment, has both reflected and shaped the external environment. It has been a symbiotic relationship.
ESG integration practices across all asset classes have deepened. The PRI has convened communities of signatories to develop and showcase best practices – within asset classes and on particular environmental, social and governance issues. There is better understanding of how complex systemic risks, such as climate change and human rights, can be better addressed through investor collaboration.
Signatories and the PRI have increasingly recognised the importance of a sustainable financial system, engaging policy makers on aligning policy frameworks with responsible investment and of driving meaningful data through markets. It has been particularly rewarding to see the arc of the PRI's policy work over time. That the PRI should engage in policy work was initially contentious, but with the right guardrails and signatory engagement, the PRI's policy engagement is increasingly valued by signatories.
The PRI has also worked with signatories on ground-breaking work towards understanding and shaping the sustainability outcomes of investments, in line with the ten-year Blueprint for responsible investment we developed with signatories in 2017.
On a personal note, let me also mention how much I have enjoyed interacting with our excellent academic network over the years and how impressed I have been with the network events.
The PRI is a mission-led, global, investor-based, big tent organisation, that works across the spectrum of environmental, social and governance issues - and is UN-supported. These are the foundations on which to continue to support signatories.
Providing value in the years ahead
The PRI remains a big tent organisation, welcoming organisations, wherever they are on their responsible investment journey, that are committed to being better responsible investors.
In my early years as chair, I often referred to the analogy of the PRI as a personal trainer, who could support and enable a diverse range of signatories, via a variety of tools, to progress and learn. The PRI has more than four times as many signatories today as it did then – it needs to scale its support to signatories and understand how it can best provide value to them.
I think that two nascent programmes will provide particular value to signatories. Firstly, progression pathways, to be co-designed with signatories, that aim to enable signatories to progress and learn, according to their organisational intentions. Secondly, an increased drive to bring the PRI closer to signatories by focusing on responsible investment ecosystems in regional markets.
There are challenges ahead for responsible investment, with divergent regulatory approaches, ESG backlash in some markets and the rise of greenwashing. At these moments it is important to have clarity on the PRI's comparative advantages. The PRI is a mission-led, global, investor-based, big tent organisation, that works across the spectrum of environmental, social and governance issues – and is UN-supported. These are the foundations on which to continue to support signatories that are committed to responsible investment – within the context of their different intentions and approaches, investor mandates, client expectations and regulatory requirements.
Thank you
It has been a privilege to work with so many talented and dedicated people at the PRI. My thanks in particular to Fiona Reynolds and David Atkin, the two PRI CEOs that I have worked with. Every Chair- CEO relationship is unique, and our perspectives, styles, and experiences have been very complementary. The Board has been keen to recognise the legacy of the PRI's founding Executive Director, James Gifford and his successor as CEO, Fiona, and we are delighted to be launching a research grant of £300,000 over five years, to support primary research benefitting investment practices, behaviours and systems. In particular, the grant will look to develop new knowledge and broaden the sources of responsible investment research, supporting PhD students from disadvantaged backgrounds and collaborating with universities in emerging markets.
Leadership of the PRI Board has been the core of my role. I have benefited from really engaged and constructive Board members over the past nine years, always willing to give time and effort to further the PRI's purpose and signatory value – and ultimately to contribute to the advancement of responsible investment.
Last but not least, I would like to thank signatories for their commitment to the six Principles for Responsible Investment and the PRI's Mission. The PRI aims to be a mission-led and signatory-centric organisation: signatories developing and sharing best practices, engaging on ESG issues and collaborating for change is core to the PRI's work.
I look forward to seeing many of you at PRI in Person Tokyo in October.
Welcome from David Atkin, PRI CEO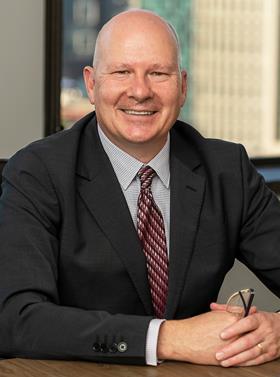 Over recent years, the momentum behind responsible investment has been remarkable. Our work around the world has been driven forward by tailwinds, helping to move responsible investment into the mainstream. In the year to April 2023, the PRI's growth continued on this trajectory, taking our total signatory base over the 5,000 mark for the first time. We represented the investor voice at milestone global events, including COP27 in Sharm El-Sheikh, and held PRI in Person for the first time since the Covid-19 pandemic, convening more than 2,000 attendees in Barcelona and online.
However, over the same period, we also saw the emergence of headwinds challenging responsible investment – in particular, a rise in politically motivated attacks in the US – as well as hurdles in the formation and enactment of new regulatory standards, market turbulence and geopolitical issues.
Learning and evaluating
Against this backdrop, I completed my first full year as CEO of the PRI. After a period serving on the Board from 2009-2015, this was an opportunity for me to learn and evaluate the inner workings of the organisation, understand our signatories and fully immerse myself in our day-to-day work. To do this, I benefited from the experience and insights of my executive team, including its three outgoing members – Lorenzo Saà, Chief Signatory Relations Officer, Shelagh Whitley, Chief Sustainability Officer, and Mark Blair, Chief Financial Officer. All three have taken the next steps in their careers, but their positive influence continues to be felt at the PRI and by our signatories around the world, and I am grateful for their significant contributions to our shared success.
We are hard at work shaping the future of the organisation. This is an important opportunity to strengthen the PRI's value proposition for signatories against the rapidly evolving external landscape.
During this period, I've also had the privilege to welcome and work with the newest members of the executive team: Esther Teeken, Chief Operating Officer; Cathrine Armour, Chief Responsible Investment Solutions Officer ; Tamsin Ballard, Chief Initiatives Officer; and Rose Easton, Interim Chief Responsible Investment Ecosystems Officer. The executive team is completed by long-serving members Nathan Fabian, Chief Sustainable Systems Officer and Chief People Officer, Lian Hillier.
My most formative insight into the needs and priorities of PRI signatories came through our recent consultation, PRI in a Changing World. We conducted almost 40 in-person workshops in key global markets, many of which I was privileged to facilitate myself. The feedback we received has been incredibly valuable, giving shape to our signatories' growing ambitions and cementing the vital role that the PRI plays at the heart of the global responsible investment ecosystem.
Shaping the future
Now, having a deeper understanding of our signatories' needs, we are hard at work shaping the future of the organisation. This is an important opportunity to strengthen the PRI's value proposition for signatories against the rapidly evolving external landscape, and I look forward to embedding new capabilities and dimensions into our work. Amplifying the work of others will also continue to be a critical part of furthering our mission. We are here to partner, support and complement peers operating in the responsible investment space. Where like-minded organisations are doing work that aligns with our mission, it doesn't add value for signatories for us to compete, or to replicate efforts.
Amplifying the work of others will continue to be critical. We are here to partner, support and complement work that aligns with our mission
In response to signatory feedback, we have made significant improvements to our annual reporting process for 2023. The updates have included streamlining the overall number of indicators and publishing the framework in advance of the reporting period. There will be much more to come on this front, as we begin co-designing a progression framework with our signatories that will better enable them to demonstrate their progress on responsible investment. In addition, recognising the increase in regulatory disclosure requirements in certain markets, we are also starting a reporting equivalency initiative, exploring common requirements between the PRI's reporting process and external disclosure frameworks, with the aim of simplifying reporting and avoiding duplication. I look forward to working with signatories on these important developments.
Thank you
Last, but certainly not least, I would like to thank our outgoing Board Chair, Martin Skancke. Having worked with Martin both during my previous time on the PRI Board, and now in my role as CEO, it is difficult to overstate the impact he has had on the development of the PRI and indeed on responsible investment more broadly. Martin's tenure has encompassed a period of immense growth, both in the PRI's size and scale and in the sector as a whole, and he leaves us with solid foundations from which to embark upon the next phase of the PRI's journey. I wish Martin all the best for his next steps.
After a year of listening and learning, and a year as CEO under my belt, we're now taking action. I look forward to working with signatories around the world to shape the future of the PRI.
Home PRI in a Changing World >>