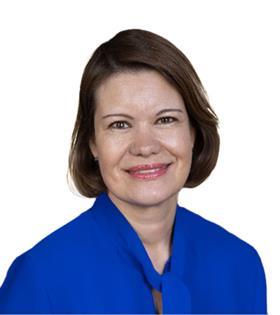 Message from Esther Teeken, Chief Operating Officer
If we are to respond to the challenges posed by scale, by the changing ambitions of our signatories and their needs and by our increasingly global team, the PRI needs a high-performing, centralised, global operations group.
Our operations have developed to respond to signatory and organisational priorities as they have emerged over the past 17 years. The result is operational functions decentralised across business units, multiple internal functions relying on ad hoc ways of working and goodwill, different employee experience in accessing key business support functions (particularly for teams outside of UK) and capabilities focused on delivering outputs rather than a signatory experience.
Developing our internal operations for the PRI of the future will mean creating synergy and scale in our operations, and developing functions and systems that support the value proposition and signatory journey, including strong internal processes, centralised signatory support and the capabilities to understand and develop solutions for the responsible investment market.
Delivering against our strategy
To enable the PRI strategy, and deliver an enhanced signatory experience, we will need to provide effective governance, legal and risk management, deliver global business support functions and systems and coordinate strategy, planning and change management processes.
We intend to centralise all of our operational, strategy and planning functions, and provide these in a supporting and collaborative business partnering model to all PRI colleagues. We will elevate our operational capabilities to move the organisation to an agile strategy approach and bring together planning functions to better allocate resources to organisational priorities.
Developing our internal operations for the PRI of the future will mean creating synergy and scale in our operations, and developing functions and systems that support the value proposition and signatory journey.
Our board and company governance function will be bolstered with legal, risk and internal audit capabilities over time. A dedicated project management office will oversee large organisational and transformation projects, and develop project management best practices and tools to enhance delivery across the organisation.
Enhancing the signatory experience
We will bring together signatory support services from our reporting and assessment and signatory relations teams under one strong operational team, providing centralised signatory support covering a global helpdesk, the signatory onboarding experience and administration.
New marketing capabilities are a particularly exciting development in our ability to explore, create, deliver and communicate value to signatories, wider stakeholders and society at large. This will promote our offering, enhance our brand and develop insights on what drives signatory success.
Developing and delivering our events programme continues to be a crucial way to convene responsible investors and share insights. Our annual flagship event PRI in Person plays a unique role in bringing industry leaders together to share knowledge and effect change. It is the world's leading responsible investment conference, convening over 1,000 delegates each year to hear the latest developments, discuss best practice and network. Meanwhile our virtual events programme provides dozens of opportunities for industry stakeholders to engage with the PRI from anywhere in the world.
Strong operations will provide the systems to deliver a better signatory experience, and coordinate the organisation to achieve its mission.
Finance
In the year ended 31 March 2023, the PRI generated a surplus (after interest, tax and depreciation), of £0.5m, compared to a surplus of £1.7m in the prior year. View the PRI Association Directors' report, group strategic report and consolidated financial statements for the year ended 31 March 2023.
Income
Total income generated during the year amounted to £34.8m. This is £7.1m ahead of the prior year, as a result of increased signatory numbers and higher event income.
Signatory fees remain the major source of income, accounting for 72% of total income, down from the prior year as the impact of covid-19 reduced events income last year.
2022/23
2021/22
Variance
Actual
%
Actual
%

Membership fees

25,052,349

72%

22,087,714

80%

2,964,635

Grants and restricted income

4,293,860

12%

3,711,224

13%

582,636

Events

3,638,780

10%

472,818

2%

3,165,962

Academy

1,806,714

5%

1,409,274

5%

397,440

Total income

34,791,703

100%

27,681,030

100%

7,110,673
Membership fees
Membership Signatory fees increased as a result of growth in membership numbers, from 4,891 at the start of the year to 5,391 at the end of the year. The signatory fee structure was kept consistent with the prior year, with average fees broadly in line.
Grants and restricted income
Restricted funding income increased as a result of additional grant funding being achieved. During the year, the following grant funded projects have been progressed.
| Project | New in 2022/23? | Status | Funder |
| --- | --- | --- | --- |
| Climate Action 100+ Y5 CIFF | Yes | Completed | Ceres |
| Climate Action 100+ Y5 SeaChange | Yes | Completed | Ceres |
| Climate Action 100+ Y5-Y7 Laudes | Yes | Ongoing | Ceres |
| Climate Action 100+ Y5 Sequoia Anon4 | Yes | Completed | Ceres |
| Climate Action 100+ Y5 CWF | Yes | Completed | Ceres |
| LFI phase 2 dept | | Ongoing | The Generation Foundation |
| Investor Agenda & NZAM | Yes | Ongoing | Ceres |
| Investing for impact: aligning financial policies and market practice with inclusive societies | | Completed | The Ford Foundation |
| PRI Resilient Natural Systems engagement and investor practices | Yes | Ongoing | Moore Foundation |
| US policy 2022 | Yes | Ongoing | Tipping Point Fund |
| PRI climate programmes inc. NZFSPA (R050) | | Ongoing | Bloomberg Philanthropies |
| TCFD 2021-2022 | Yes | Ongoing | Bloomberg Philanthropies |
| ESG data project | | Ongoing | European Climate Foundation |
| KR Foundation grant for IPR | | Completed | KR Foundation |
In addition to the grant funded projects, the PRI also received restricted funding for the Net-Zero Asset Owners Alliance, which increased its' membership from 76 to 86 during the year. Overall membership revenue for NZAOA stood at £1.1m, with a restricted, retained surplus of £0.4m at the year end.
Events
Events income is driven predominantly by the annual PRI in Person & Online event, held this year in Barcelona, which generated a surplus of £1.3m through ticket and sponsorship sales.
Overall the event had over 1,200 paying, in-person attendees and 500 paying, digital attendees, as well as attracting 39 sponsors.
PRI Academy
The Academy recorded a strong year with revenues increasing by £0.4m. Overall course enrolment numbers increased to more than 4,400 in 2022/2, from approximately 3,800 in 2021/22.
Expenditure
2022/23
2021/22
Variance
Actual
%
Actual
%

Management and overheads

10,234,329

30%

8,146,720

32%

2,087,609

Content production

7,028,027

21%

5,433,120

21%

1,594,907

Global outreach and management

5,328,021

16%

4,034,956

16%

1,293,065

Grants and restricted expenditure

4,160,503

12%

3,721,898

15%

438,605

Reporting and assessment

3,497,111

10%

2,304,058

9%

1,193,053

Events

2,951,100

9%

1,262,112

5%

1,688,988

Academy

768,334

2%

634,883

2%

133,451

Total expenditure

33,967,425

100%

25,537,747

100%

8,429,678
Expenditure for the year amounted to £34m, an increase of £8m compared to the prior year. The proportion of spending against each area remains broadly consistent, aside from events which were impacted by Covid-19 in the prior year.
2022/23
2021/22
Variance
Actual
%
Actual
%

Total people costs

20,989,414

62%

16,144,475

63%

4,844,939

Total non-people costs

12,978,011

38%

9,393,272

37%

3,584,739

Total expenditure

33,967,425

100%

25,537,747

100%

8,429,678
Looking by Blueprint theme, the majority of our spending goes towards our core work directly supporting responsible investment practice. The "responsible investors" theme covers: empowering asset owners; supporting investors to incorporate ESG issues; fostering a community of active owners; showcasing leadership and increasing accountability; convening and educating responsible investors.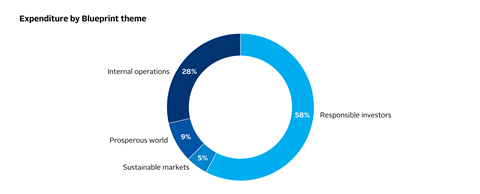 People costs
People costs continue to be the largest expenditure item, accounting for 62% of total expenditure. Head count increased by 33 full time equivalents over the year. The increase is driven by: investment to improve our annual reporting process, including investment in IT capabilities; greater content resource to deliver an increased number of grant-funded projects; augmenting our global outreach resource to cover a growing membership and wider geographical range.
2022/23
FTE
2021/22
FTE
Variance

Content

71

63

8

Signatory Relations

45

40

5

Communications

22

18

4

Reporting and Assessment

20

16

4

IT

20

14

6

HR

9

8

1

PRI Academy

6

5

1

Other

26

22

4

Total

219

186

33
Non-people costs
More than 75% of non-people expenditure is on contracted services, IT, events and premises. Contracted Services covers 37% of non-people expenditure, with the largest suppliers in the year being: PWC and KPMG for consultancy on reporting framework and tools; Right Lane Consultancy for advice on operating model transformation.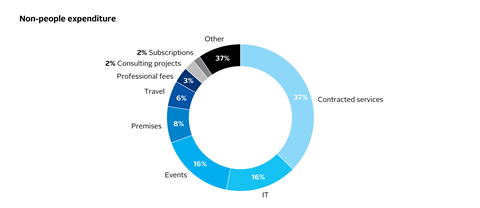 Balance sheet
Overall assets have increased by £0.5m during the year, with year-end reserves within the PRI's minimum required reserves policy of 3x monthly expenditure.
| | 2022/23 | 2021/22 |
| --- | --- | --- |
| Fixed assets | 468,955 | 650,421 |
| Cash | 13,856,928 | 13,948,564 |
| Debtors and prepayments | 3,519,735 | 1,870,594 |
| Creditors and accruals | (7,622,737) | (6,712,115) |
| Net assets | 10,222,880 | 9,757,464 |
Cash 
Overall cash balances at the end of 2022/23 amounted to £13.9m, consistent with the position at the end of 2021/22.
2022/23
2021/22
Variance

Unrestricted cash

11,447,025

12,121,691

-674,666

Restricted cash

- Grants

- NZAOA

2,027,666

382,237

1,531,022

295,851

496,644

86,386

Total restricted cash

2,409,903

1,826,873

583,030

Total cash

13,856,928

13,948,564

-91,636
Budget 2023/24
The budget for the financial year 2023/24 has been signed off by the Board and on an underlying basis, excluding any restructuring costs, generates a surplus of £0.3m.
Assumptions in the budget reflect:
slowing membership growth rate as a result of maturity in some markets and anti-ESG sentiment in the US in particular;

an increase of 68 roles to resource PRIs new target operating model;

PRI in Person event in Tokyo.
Incorporating restructuring costs relating to the new target operating model, the underlying surplus turns into a loss for the year, however this remains within our reserve requirements with the loss expected to be fully recovered in subsequent years.
Risks
Assessing and mitigating external and internal risks to the PRI and our work
The PRI Board assumes overall accountability for overseeing and monitoring the PRI's risks. The Board is supported by the Finance, Audit and Risk Committee, which assures the Board of the veracity of the financial statements and the efficacy of risk, compliance and mitigation processes and controls across the PRI.
Risks are scored by likelihood and impact, including possible mitigations.
Legal
There is risk of litigation, largely due to the political environment in some regions, including specific pushback against ESG investing. We maintain legal advice, have reviewed our guidance documents and updated sign-off procedures.
Reputation
Globally agreed goals on climate and nature are at risk, leading to pushback on the veracity of investors' claims and effectiveness of approaches used. This extends to accusations of greenwashing. Enabling signatories to progress and demonstrate doing so, via PRI Reporting and other mechanisms, is critical to the PRI.
Programmes
Reporting and assessment is an important enabler of signatory learning and accountability. As the programme was not delivered in 2022, the risk of not delivering in 2023 has been monitored closely by the Board. The PRI hired a consultancy to support project management, and the Board has had external assurance of delivery.
People and culture
The PRI is very dependent on the skills and expertise of its people, and the market for responsible investment expertise has been very competitive. The organisation has also been through a revision to its operating model, which has increased the people risk in the short term, but aims to reduce the risk in the longer term through an improved organisational structure, clearly defined roles and clearer career paths. We track employee turnover and have policies to support employee wellbeing.
I.T.
Holding confidential signatory, and other, data means I.T. security is of critical importance to the PRI. We have data protection, information security, password and acceptable I.T. use policies. We are Cyber Essentials certified and working towards ISO 27001 certification.
Financial
Signatory retention and growth, changing signatory AUMs (and associated fees) and currency fluctuations could all affect the PRI's ability to fund its work. These risks are particularly inter-related to other risks, such as legal, reputational and delivery of programmes.
The Board approves the annual budget and the Executive reports regularly to the Board on the financial position throughout the year.
We manage financial risk by ensuring enough liquidity is available to meet foreseeable working capital requirements, contingencies and for specific strategic plans. This includes ensuring we do not fall below a minimum cash balance, set by the Board. We have credit control procedures, and actively monitor numbers such as signatory retention and growth and currency fluctuations.
Regular formal and informal interaction with business partners, such as lawyers and accountancy firms, assist us in remaining abreast of developments in the different countries that we operate in.
Walk the talk
Ensuring our internal practices reflect our values
While most of the PRI's impact on environmental, social and governance issues is indirect, through the work that we do to help our signatories implement the six Principles, we also recognise that our own operating activities have impacts, and we work to manage these in a way that's consistent with the mission of the PRI.
We refer to these efforts as our "walk the talk" programme.
This year, the PRI Board has approved a new Climate Change Policy, which sets out our commitment to measuring, mitigating and reporting on climate change risks and impacts – throughout our operations and in our business relationships.
We have appointed Auditel to measure our carbon footprint. The carbon footprint will include scope 1, 2 and all material scope 3 emissions, including across purchased goods and services, business travel and employee commuting. We will report on our footprint, and actions to reduce it, in future annual reports.
We are also working on strengthening our commitment to human rights. The PRI Board has approved an updated Human Rights Policy, the implementation of which will be supported by a new Supplier's Code of Conduct Policy and a revised Procurement Policy.
Read about our internal diversity, equity and inclusion work in the People and Culture section.
Events
Bringing signatories together
After two years of fully virtual events programmes, in late 2022 we were delighted to be able to bring 1,600 people together in Barcelona for PRI in Person & Online. With another 800+ delegates registering to attend digitally, it was our largest PRI in Person to date, with delegates representing more than 1,200 organisations from across 69 countries.
Highlights of the conference included addresses from UN Secretary-General Antonio Guterres, ISSB Chair Emmanuel Faber and Co-chair of the Glasgow Finance Alliance for Net Zero (GFANZ), Mark Carney.
We cannot blame the system, we are the system. If you are stuck in a traffic jam, you are the traffic jam. For a more resilient future, each of us has to become aware of our own responsibility.

Emmanuel Faber, Chair, International Sustainability Standards Board (ISSB)
As well as plenary sessions on net zero and corporate purpose, the conference launched the Advance stewardship initiative on human rights.
In addition to PRI in Person & Online, we continued to run a comprehensive programme of fully virtual events throughout the year, including 86 webinars with more than 16,000 registrants.
<< Sustainable SystemsHome People and Culture >>