Climate change is the highest priority ESG issue facing investors
10-year Blueprint commitments:
work with our UN partners to meet the Paris Agreement;
empower investors to assess how well-positioned companies, issuers and their portfolios are for a just transition to a low-carbon economy;
align the PRI Reporting Framework with the Financial Stability Board's Task Force on Climate-related Financial Disclosures;
convene investor engagement with companies on climate risks and opportunities;
encourage investors to make substantial allocations to clean assets and technologies;
demonstrate the investment implications of national governments' climate change goals; and
collaborate with policy makers to address the barriers investors face in scaling up clean investments.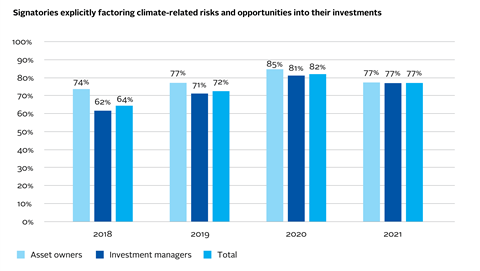 More than three-quarters of asset owners and investment managers reported explicitly factoring climate-related risks and opportunities into their investments this year.[1]
Key targets
Signatories explicitly factoring climate-related risks and opportunities into investment strategies or products: 77%
(PRI target: 75%)
This year we have focused on moving towards net-zero by encouraging investor action, corporate engagement, and policy reform.
More than 500 investors representing US$50trn in assets have now signed up to Climate Action 100+ to engage companies on governance reforms, set short-, medium-, and long-term net-zero targets and implement TCFD-aligned disclosure (for more detail see Foster a community of active owners).
We are supporting a UN global campaign, Race to Zero, through the Net Zero Asset Owner Alliance (see Empower asset owners) and the Net Zero Asset Managers Initiative (see below). Race to Zero aligns net-zero commitments from a range of leading networks and initiatives across the climate action community.
COP26
We continue to engage with governments in the lead up to COP26 in Glasgow in November 2021, calling on parties to the Paris Agreement to set ambitious net-zero-aligned nationally determined contributions, with near-term accountability, including implementing domestic policies to achieve net zero such as robust carbon pricing and decarbonisation roadmaps for energy-intensive sectors.
In addition, we have delivered an extensive programme of webinars and podcasts, including a collaborative webinar series with the London Stock Exchange Group to clarify what actions institutional investors can take to manage investment risk from climate and influence real-world outcomes.
Speakers included:
Alok Sharma, COP26 President
Mark Carney, Former Governor of the Bank of England and the UK Prime Minister's Finance Advisor for COP26
Commissioner Rostin Behnam, US Commodity Futures Trading Commission
David Blood, Co-Founder, Generation Asset Management
Sanda Ojiambo, Chief Executive Officer and Executive Director, UN Global Compact
Mindy Lubber, CEO & President, CERES
Inevitable Policy Response
The IPR is a pioneering project seeking to support PRI signatories in understanding the implications of a delayed, forceful and disruptive transition, based on technology and policy drivers. It provides practical climate analysis and tools at the macroeconomic, regional, sector, and asset-class level, encouraging signatories to prepare and act now.
Building on the IPR Forecast Policy Scenario we commissioned from Vivid Economics and Energy Transition Advisors in 2019/20, this year's outputs have included investor guidance on negative emission technologies and the importance of land use and strategic resilience testing and planning; country-specific briefings on China and Japan; as well as reports looking at the IPR Forecast's implications for forest and water finance risks and opportunities.
A 1.5°C Forecast Policy Scenario paper is planned for release in late 2021.
TCFD
Our TCFD activities this year included:
supporting the Financial Stability Board's Task Force on Climate-related Financial Disclosures, including providing input on its forthcoming guidance on metrics and transition plans, and drafting a section in the status report to the FSB on investor climate reporting;
advising government departments and financial regulators in UK, EU, Hong Kong, Canada, China, and Japan on regulation related to company and investor climate disclosures;
supporting the UK Climate Financial Risk Forum; and
integrating TCFD-aligned indicator questions in the new PRI Reporting Framework.
Key targets
PRI signatories reporting on TCFD framework via PRI Reporting Framework: 100%
(PRI target: 50%)
Net Zero Asset Managers initiative
The Net Zero Asset Managers initiative launched in December 2020 with 30 founding signatories representing US$9 trillion in assets under management. It aims to galvanise the asset management industry to commit to a goal of net-zero emissions. Membership has since grown to 128 signatories with US$43 trillion in assets under management, including BlackRock, Vanguard and State Street Global Advisors.
The Investor Agenda
We are a co-founder of the Investor Agenda, a collaborative initiative to accelerate and increase the investor actions that are critical to tackling climate change and achieving the goals of the Paris Agreement with the aim of keeping the average global temperature rise to no more than 1.5°C.
Highlights from the initiative this year include preparing the Investor Climate Action Plans Expectations Ladder and Guidance, which sets out the actions investors can take to tackle the climate crisis and accelerate the transition to a net-zero economy, regardless of where they are on their climate change journey.
References
[1] Due to changes in the Reporting Framework methodology, this question differs from 2018/2019/2020. The drop in signatories reporting that they explicitly factor climate risks and opportunities into their investments is due to the proportion (29%) reporting for the first time in 2021. Of these, 64% said they do so.