We commit to:
ensuring that all individuals who interact with the PRI, whether as employees, contractors, consultants, signatories or in other capacities, are treated with dignity and respect;
ensuring that learning, personal development and employment opportunities are made available on a non-discriminatory basis; and
providing a safe, supportive and welcoming environment for colleagues and visitors alike.
As of 31 March 2021, we had 161 staff based in 16 countries.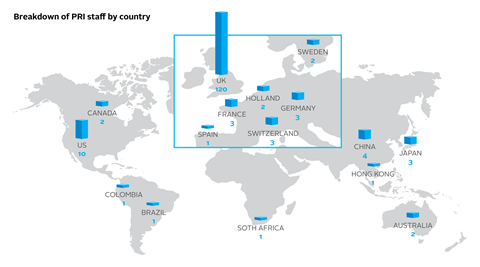 Adjusting to work during COVID-19
Our major focus in supporting staff this year has been on ensuring wellbeing during the pandemic. We have had to adjust our working practices, policies and guidelines in response to COVD-19 and have implemented a host of programmes and resources emphasising mental health and resilience. These included:
webinars delivering advice on financial health, mental health for managers and employees, and dealing with change;
virtual social activities;
virtual health and fitness classes;
online courses providing personal development opportunities across a range of topics; and
compulsory mental health days.
The impacts of working through a global pandemic have been and will continue to be profound, including the need to accommodate a far higher degree of flexibility in how, when and where people choose to work. This, coupled with a sustained period of growth and greater globalisation, will require a change in our ways of working.
We will need to:
strengthen remote management;
improve cross-organisation and intra-team communication practices;
identify how and when to collaborate;
realign HR processes, such as recruitment and onboarding; and
protect the strong and cohesive culture that we know motivates people to work for the PRI.
We have started to lay the groundwork for a broader shift in the way we will work in the future.
London office refurbishment
This year we completed the refurbishment of our London headquarters, extending the space over two floors and redesigning it to create a more engaging and collaborative working environment. We received a Ska gold rating for the fit-out – the highest standard available – reflecting the sustainability criteria used. Ska is an environmental labelling method that rates 104 good practice measures across energy and CO2, waste, water, pollution, transport, materials and wellbeing.
Diversity and inclusion
We are committed to continually improving our diversity – to align with our mission and to benefit our organisational effectiveness – across race, gender and gender identity, religion, sexual orientation, disability, age, socio-economic background, culture and ways of thinking.
In March 2021 we appointed Business in the Community to review our diversity, equity, and inclusion practices. BITC will conduct interviews, focus groups, data analysis and a review of our policies and processes, to help us identify where we can make significant improvements within our recruitment and selection practices, retention, data/benchmarking and culture.
Key targets
Staff engagement survey score: 78%
(PRI target: 75%)
Gender ratio: 59:41 (F: M))
(PRI target: 50:50)