The number of PRI investor signatories increased by 26%, from 2701 to 3404, over the last year.
The collective AUM represented by all 3826 PRI signatories (3404 investors and 422 service providers) increased by 17% over the period, from US$103.4 trillion to just over US$121 trillion as of 31 March 2021.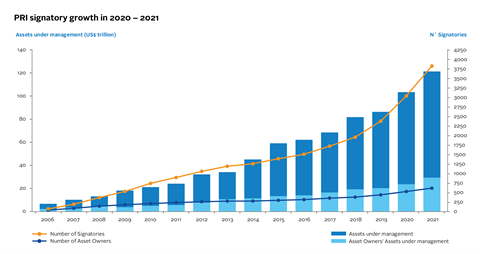 Asset owner growth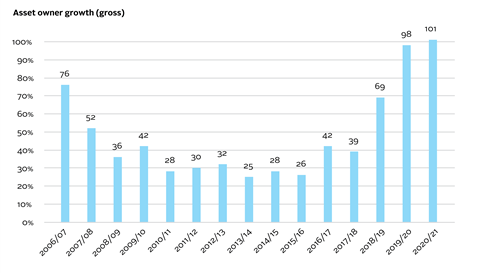 Reflecting our continued focus on influencing the top of the investment chain, the number of asset owner signatories increased by 17% to reach 609, up from 521, and representing the most recruited in a single year.
MassMutual, The Dai-ichi Frontier Life Insurance Co, Alameda County Treasurer-Tax Collector and the Credit Suisse Group pension fund were among those to sign up to the Principles, with the cohort representing US$2.8 trillion in AUM.
While our asset owner base was previously dominated by public pension funds, it has diversified in recent years, as recruitment of endowments, foundations, corporate pensions and insurance companies has grown. The latter group – made up of 132 signatories – now represents 60% of asset owner AuM.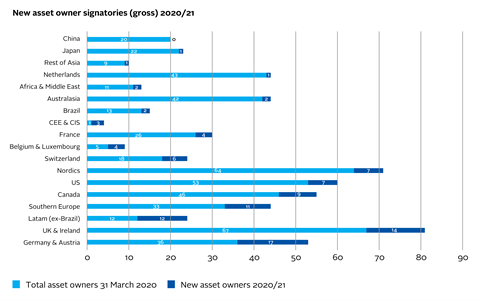 Regional growth
Latin America (77%) and China (46%) were among our fastest-growing markets for signatories overall this year. This is consistent with our core aim of driving signatory growth in emerging markets, driven by the need to support efforts such as achieving the SDGs and enabling a just climate transition, which will only succeed if they involve signatories, companies and society in all markets.
Signatory servicing
This year our signatory relationship managers conducted one-to-one meetings with nearly 1700 signatories – representing 44% of the signatory base – up from 33% in the prior year (see chart below). We had to adapt our signatory servicing approach as a result of COVID-19, with video conferencing and our quarterly communications materials taking on greater importance.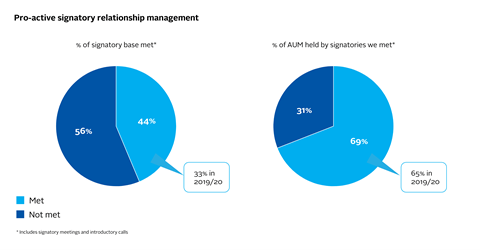 Connecting with and supporting signatories through locally based staff has also become increasingly important, particularly in light of COVID-19. We hired local signatory relationship managers in Switzerland and Luxembourg to ensure we could work closely with the growing number of signatories there and expanded our Nordics coverage by hiring a co-head based in Stockholm dedicated to signatories in Sweden and Norway.[1]
Key targets
Signatories per relationship manager: 154
(PRI target: 100)
Membership share among US asset owners: 14%
(PRI target: 35%)
Membership share among Apac asset owners: 43%
(PRI target: 35%)
Membership share among largest asset owners: 41%
(PRI target: 35%)
Signatory review meetings with overall signatory base: 36%
(PRI target: 33%)
Signatory review meetings with asset owners: 60%
(PRI target: 80%)
References
[1] These markets were previously covered from another location.