Our work on climate change and supporting investors to implement net-zero commitments - plus addressing human rights issues such as diversity, equity and inclusion.
Committing to climate action
All eyes were on Glasgow in October/November 2021, as world leaders gathered for the much-anticipated COP26, postponed by a year due to the COVID-19 pandemic. Leading up to the conference, we set out actions investors and policy makers could take to contribute.
We also contributed to the work of the High-Level Champions (seconding two members of our climate team) – including through the Race to Zero campaign, working with partners in the Glasgow Finance Sector Alliance for Net Zero (GFANZ) to encourage signatories to sign up to net-zero initiatives and advance net-zero targets.
Supporting investors to understand the inevitable policy response to climate change
The Inevitable Policy Response (IPR) is a climate transition forecasting consortium commissioned by the PRI. The latest scenarios from IPR forecast a dramatic acceleration of climate policy in the run up to 2025, the next stage of the Paris Agreement's ratchet mechanism.
This year's forecast policy scenario (FPS) – which describes the most likely policy developments and assesses their impact on the real economy – covers 21 major economies at a granular level and sees total CO2 emissions falling by 80% by 2050. It projects that policy makers will be pushed to make changes by a combination of the following:

Even with this rapid transformation, the forecasted changes in the FPS are only projected to give a 50% chance of warming being limited to well below 2°C. IPR's required policy scenario (RPS) highlights the policy developments that would be needed to limit warming to 1.5°C, including:
Ending deforestation across the entire globe, ideally by 2025
The energy system being able to absorb any reductions not achieved through changes in deforestation, potentially through bioenergy with carbon capture and storage (BECCS)
Eliminating unabated coal in most advanced economies including China by 2035
Phasing out new fossil fuel cars in almost all markets by 2040
Moving to 100% clean power globally by 2045
Throughout 2022 the IPR project is issuing quarterly forecast trackers assessing climate policy, technology and land use developments and acceleration or deceleration in policy ambition against the 2021 IPR scenarios.
IPR has also published its database of more than 500,000 data points, enabling investors and service providers to incorporate the data underlying the latest IPR scenarios into their own valuation models.
Helping investors ensure the world's largest greenhouse gas emitters take action
We continue to assist investors signed up to Climate Action 100+ in engaging with focus companies, and to help plan the initiative's long-term strategy as its initial five-year phase draws to a close.
Climate Action 100+ achievements so far include:

Investor engagement through the initiative resulted in faster and more ambitious climate commitments from a significant number of focus companies. BloombergNEF analysis found if net zero targets set by focus companies were realised, it would equate to an emissions drop by 2050 equivalent to over a quarter of current global greenhouse gas house emissions.
However the initiative's latest round of benchmarking – using an updated methodology and introducing assessments focused on the just transition, and on climate accounting and audit – also found that companies have failed to show progress across key indicators, including disclosure of 1.5°C-aligned medium-term emissions targets and capex strategies.
The initiative is now focused on pressing all companies to translate commitments into tangible action and demonstrate what they are going to do over the short term to achieve their longer-term goals.
Read the Climate Action 100+ progress report
We commissioned a series of climate accounting analyses for 52 Climate Action 100+ focus companies to raise awareness and inform investor engagement about the extent to which companies' audited financial statements and audit reports are currently integrating climate change. An accompanying report by Carbon Tracker examines whether 107 companies (and their auditors) considered material climate-related risks in financial reporting, as well as whether investor concerns about Paris-alignment of assumptions and estimates have been addressed.
Encouraging and supporting investors to implement net zero commitments
The Net-Zero Asset Owner Alliance (NZAOA), co-convened by the PRI and UNEP FI, and the PRI-supported Net Zero Asset Managers (NZAM) initiative each released their first assessments to date, detailing investors' progress in setting targets. The initiatives have been bolstered by the launch of the Net Zero Financial Service Providers Alliance for which we advised on set-up, and the PRI-supported Net Zero Investment Consultants Initiative.
Read the NZAOA progress report | Read the NZAM progress report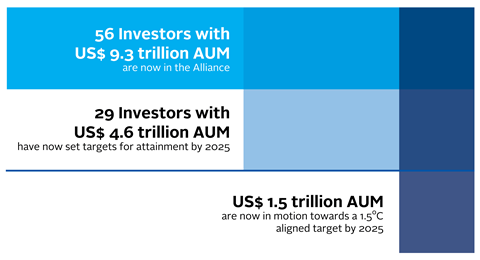 Net-Zero Asset Owner Alliance 2021 progress report: October 2021
Coordinating investor action on deforestation
With forests absorbing 40% of greenhouse gas emissions, addressing deforestation is a critical aspect of tackling climate change. To support investors in doing so, we convened a series of workshops for investors to share practices and collaborate with technical experts. Nearly 50 signatories (representing over US$31 trillion in AUM), along with Global Canopy and Vivid Economics, have been exploring:
The financial risks associated with three key commodities (cattle, soy and palm oil)
A model deforestation policy for financial institutions
Key metrics, data and tools used to assess deforestation risk
Best practices in assessing transition risks
Tackling human rights
Exploring how sovereign debt investors can consider human rights
As the largest fixed income asset class, the sovereign debt market is an important area for the PRI's work to improve investor practice on human rights. But investors in sovereign debt face unique challenges when considering human rights. As well as the usual engagement challenges that fixed income investors face from lacking ownership, pressing a state on human rights violations can raise contentious questions about sovereignty.
We have therefore started by working to build understanding of the actions investors are starting to take and the barriers to doing more, before laying out a three-step process sovereign investors can use to meet human rights responsibilities.
Key actions include to:

Supporting investors' contribution to equity for all
Diversity, equity and inclusion (DEI) have a clear basis in human rights, as reflected in the Universal Declaration of Human Rights and the International Labour Organization (ILO) standards. We have therefore started exploring what the issue means for responsible investors.
Diversity, equity and inclusion: key action areas for investors not only outlines the link between DEI and financial performance, but sets out the role investors have in shaping inclusive corporate cultures, business models and societies, to advance DEI efforts for all groups in society – including indigenous communities, women, people of colour, religious minorities and others.
As well as providing the case for integrating DEI into investment and ownership decisions, it outlines how investors can lead by example and address DEI within their own organisations.
Coordinating collective action
To enable large-scale investor action on human rights, we have launched a new stewardship initiative bringing institutional investors together. Through Advance, the PRI will support investors in using their collective influence with companies, policy makers and other decision makers to drive positive outcomes for workers, communities and society.
<< sustainable markets Home risks >>