Continuing to support signatories' responsible investment practices with additional guidance in key investment areas - as well as working to improve reporting and assessment.
Addressing the top of the investment chain
There is much to celebrate about asset owner signatories' responsible investment practices: over 90% have a public responsible investment policy; analysing managers' responsible investment credentials is common; more than 85% of boards now have some oversight of climate-related challenges and three-quarters have started to take steps to implement the TCFD recommendations.
These were some of the findings of Inside PRI data: asset owner action, which analysed responses from 454 asset owner signatories that participated in PRI reporting in 2021. The analysis also identifies a range of areas where signatories could go further, including in:
Formalising responsible investment requirements in contracts
Robustly implementing TCFD recommendations
Increasing attention paid to social issues including human rights
Expanding responsible investment approaches across asset classes and strategies
Assessing specific stewardship practices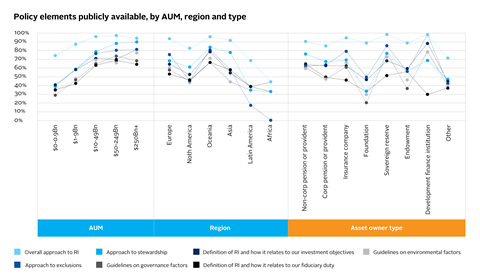 Listen to the podcast episode | Read the blog post
Investment mandates: the missing piece of the puzzle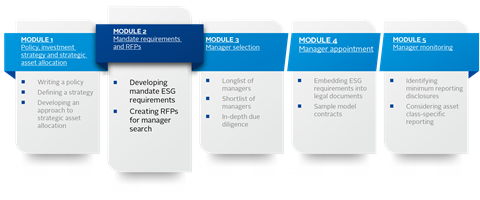 Having built up a suite of resources for asset owners stretching from strategy, policy and strategic asset allocation through to selecting, appointing and monitoring managers, in 2021/22 we added guidance on how asset owners can use a valuable and often underutilised tool to signal ESG requirements to managers – the investment mandate.
Informed by interviews with asset owners and investment consultants, and data on industry practice, Embedding ESG factors in investment mandates outlines common approaches and challenges to incorporating ESG considerations and sustainability outcomes in new or existing investment mandates.
Watch the webinar | Listen to the podcast episode | Read the blog post
More tools for evaluating managers
To help asset owners assess investment managers' approaches to responsible investment, we've continued to expand our suite of responsible investment due diligence questionnaires (DDQs). This year we've added listed equity and hedge fund DDQs, meaning we now provide DDQs across eight asset classes.
For the first time, this year we also released an issue-specific questionnaire. Our Diversity, equity and inclusion DDQ helps institutional investors understand how investment managers and investment consultants approach diversity, equity and inclusion within their own organisations, through their investment activities and through the manager research process.
Read more about our work supporting investor action on diversity, equity and inclusion.
Sharing examples of real investor practice
Commissioning case studies from signatories is a vital way we highlight and share examples of good practice. This year we've added case studies from asset owners on topics including selecting managers, engaging with managers and monitoring mangers' proxy voting practices.
Driving consideration of ESG factors in credit risk analysis
Examining the role of consultants
Our ESG in credit risk and ratings project continues apace, working to enhance the transparent and systematic integration of ESG factors in credit risk analysis.
A key piece this year has been broadening the outreach to investment consultants, whose ESG support is often biased towards equities, where responsible investment is more advanced. The project recommended how investment consultants can adjust their due diligence processes to better meet clients' fixed income needs, including:
Improving their communication with the investment managers they assess
Strengthening their initial and follow-up ESG assessments
Expanding their ESG fixed income coverage across instruments, strategies and geographies
Asset owners, meanwhile, need to provide investment consultants with more guidance on their fixed income ESG policies and investment objectives.
Are the TCFD recommendations useful for credit risk analysis?
There is a growing recognition among fixed income investors and credit risk agencies that climate-related financial disclosures should be embedded in bond valuations and that climate change can impact issuers' probability of default.
Alongside data on metrics and targets, disclosures on how companies identify, manage and integrate climate-related risks are now considered to be crucial, according to the asset owners, investment managers and CRAs we surveyed. However, more consistent, standardised, sector-specific and forward-looking disclosures are needed.
Investors and CRAs highlight the need to address data gaps and the lack of harmonisation between sectors, to help them better incorporate risk management disclosures into their analysis qualitatively and quantitatively.
We also explored whether ESG information providers meet the needs of fixed income investors.
Listen to the podcast series | Watch credit risk webinars | Explore the workshop series | Track credit rating agencies' latest research
Taking stewardship to the next level
Read about our work on large-scale stewardship intiatives Climate Action 100+ and Advance.
Discussing divestment
Investors increasingly recognise that the real-world outcomes they contribute to through their investment activities will feed into the financial risks they face, and are considering the role divestment can play in pursuing these outcomes.
But divestment may be more effective in some contexts than others. Divestment reduces investors' ability to directly influence the sustainability performance of investees, and evidence suggests that its financial impact on investees is unlikely to alter corporate behaviour.
Trends such as the growth in passive investing, acquisitions of apparently undervalued assets by short-term investors and improvements in investor stewardship also may further weaken the case for divestment.
That's why we explored how to develop a divestment approach when pursuing sustainability outcomes, considering the key factors favouring divestment, and those favouring engagement.
Understanding climate transition plan voting
We also investigated climate transition plan votes – a nascent form of governance, popularised by the Say on Climate initiative, whereby companies hold votes on their plans for managing greenhouse gas emissions.
Our work provides a list of recommendations for investors, reviews key considerations for those casting votes, highlights resources to help investors assess climate transition plans and offers guidance on how to address plans that are unclear or insufficient.
Bringing investors together through the PRI Collaboration Platform
The PRI Collaboration Platform – the forum for PRI signatories to collaborate, pool resources, share information and enhance their influence – has received a host of improvements this year, including a sleeker design and better controls for collaboration owners. Collaboration owners can better manage subspaces, privacy settings and how information is displayed to peers.
In 2021/22 the platform averaged 3,500 monthly users, a 31% increase year-on-year.
Another new feature this year is a publicly accessible database of ESG-related resolutions and votes, which PRI signatories can use to publicly pre-declare their voting intentions for each resolution.
Providing learning opportunities
Bringing signatories together
Throughout 2021/22, we maintained a fully virtual events programme, enabling us to continue convening signatories and other responsible investment stakeholders from around the world during an uncertain environment for international travel and in-person events.
The PRI Digital Conference was attended by more than 2,000 delegates, logging in from 103 countries, and featured more than 100 expert speakers across the four days. Highlights included an opening discussion between prominent policy makers from the EU, US, Japan and The International Organization of Securities Commissions (IOSCO), as well as panels on topical ESG issues ranging from biodiversity to diversity, equity and inclusion and a keynote interview with Pascal Saint-Amans, Director of the Centre for Tax Policy and Administration at the OECD.
Five PRI Digital Forums supplemented the flagship conference, providing focused deep dives into specific topics, drawing viewing figures[1] of between 1,000 and 3,000 each.

Alongside these larger-scale events, an active calendar of webinars enabled us to provide regular updates across the full spectrum of our work right throughout the year.

Relaunching the PRI Academy to address evolving ESG training needs
This year we relaunched the PRI Academy, with a new suite of modern, user-friendly courses that make increased use of the PRI's content experts. New digital badges and credentials allow learners to showcase their achievement.

Demand for the Academy's offering continues to grow, driving revenue to more than £1.4 million, with 75% coming from group purchases.
PRI Academy revenues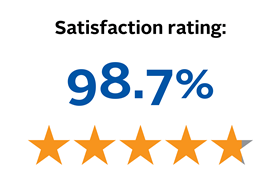 Bringing investors the latest academic insights
Our research programme continues to bring the latest high quality evidence and insights from academic research to investors. The Academic Network has grown to more than 11,000 investors and academics from around the world.
Key themes in our academic article series this year have included examining the role and impact of ESG ratings and of companies' climate disclosures. Our academic seminar series gave investors a chance to hear from leading ESG experts on topics such as Sexism, culture, and firm value: evidence from the Harvey Weinstein scandal and the #MeToo movement.
Academic Network Week attracted 2,270 registrations – more than three times the previous year's total. Amongst the research profiled was Best conference paper winner Firm commitments[2], which examined the effect of companies' emissions reductions commitments under CDP and the Science Based Targets initiative.
Working to improve reporting and assessment
In February 2021, following two years of consultation with signatories, we launched a pilot for a new Reporting Framework and new Reporting Tool. They were aimed at delivering a raft of enhancements including better differentiation between process-focused and outcomes-focused activity in the reporting questions, and improving the customisation and visualisation of information seen in the Transparency Reports and Assessment Reports.
However, issues with how some of the reported data was captured introduced gaps and errors into our record of signatories' submissions, which required a lengthy and manual process working with individual signatories to verify and correct. This delayed the release of the Transparency Reports and Assessment Reports, the Leaders Group, updates to the minimum requirements and ultimately led us to postpone any further reporting until all the issues in the pilot Reporting Framework and Reporting Tool were addressed.
Working to address these issues, internal working groups tackled discrete workstreams, bolstered by external support from consultants from KPMG and PwC. 2021 Transparency Reports and Assessment Reports are now set to launch in early September 2022.
Listening to signatory concerns over executive oversight of PRI reporting, we created a new role of Chief Reporting Officer, reporting to the CEO, and established a reporting-focused board committee, to oversee the recruitment and provide PRI employees with a dedicated connection to the board for reporting-related matters.
Cathrine Armour joined as our Chief Reporting Officer on 1 August 2022, joining from the UK Hydrographic Office within the Ministry of Defence. Cathrine brings experience in reporting ecosystems, in data collection, quality, assessment and analysis and in engaging customers. Cathrine will be responsible for the team, technology and processes that underpin our reporting and assessment work.
We appreciate our signatories' patience and collaboration as we work together to resolve issues with the Reporting Framework and improve the reporting experience in future. Signatory feedback gathered during the 2021 pilot will continue to inform our work, feeding into plans for 2023.
Our focus for the next reporting period in 2023 is to deliver a process that is best suited to the needs of our signatories, and that provides visibility of global responsible investment practices.
2021 REPORTING PILOT CHALLENGES
2021 consultation on new Reporting Framework and Reporting Tool
More than 1,700 signatories responded to our call for feedback on the content of the new Reporting Framework and the functionality of the new Reporting Tool. Overall, signatories indicated that the content of the new Reporting Framework better captured their responsible investment activities compared to that of previous years. However, the level of satisfaction varied across modules, and a significant number of signatories indicated issues with the functionality of the Reporting Tool, which they found time- and resource-intensive to use.
Issues with data collected during the 2021 reporting
Additionally, while reviewing signatories' reporting, we identified some integrity issues with the way a subset of the reported data had been captured. Starting in October 2021, we informed signatories of missing data and indicator errors specific to their reports. Those signatories were asked to check for any discrepancies in their data and PRI employees then implemented changes required. Unfortunately, these checks delayed the release of the Transparency Reports and Assessment Reports, the Leaders Group and the updated minimum requirements.
Visit R&A Updates for the latest news on Reporting and Assessment, including updates on reporting in 2023 following our September Board meeting.
<< Our activities Home Sustainable markets >>