Helping to build a more supportive policy environment
Embedding sustainability outcomes in policy frameworks
Building on the findings of the original A Legal Framework for Impact (LFI)[1] report, our first regional follow-up European Union: Empowering investors to pursue sustainability goals sets out why legal changes are needed in the European Union (EU) to enable mainstream investors to work towards sustainability impact goals.
EU law does not fully enable investors to invest, or exercise stewardship, in alignment with social and environmental goals, except where it is also financially beneficial to do so – and existing duties can be understood in ways that result in investors not considering pursuing sustainability impact goals even where they do align with pursuing financial return.
As a result, there is a potential inconsistency between the EU's financial regulations and its wider sustainability goals.
Watch the webinar | Read the blog post
Learn more about how the LFI project is exploring the realities of investing for sustainability impact in different jurisdictions – including Australia, UK, Canada and Japan – through our webinar series.
Being a part of policy discussions
We continue to engage with policy makers in order to optimise the financial system for responsible investment. This year we've responded to more than 65 policy consultations across the world.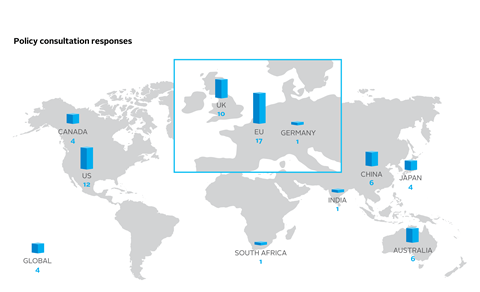 We've also published nearly 20 policy briefings evaluating changes in the policy landscape, including:
Our Global Policy Reference Group grew to more than 150 members: providing input to our consultation responses, strengthening our/signatories' engagement with policy makers and encouraging signatories to align their public policy efforts with their responsible investment commitments.
Working towards improved corporate disclosure
Helping to shape the ISSB
Following the IFRS Foundation establishing the International Sustainability Standards Board (ISSB) at COP26, we analysed the two prototype IFRS Sustainability Disclosure Standards published in November 2021 – one tackling general requirements (derived from SASB standards) and one climate-specific (based on the TCFD recommendations).
Our analysis, developed with our Corporate Reporting Reference Group, found that the general prototype standards should help improve the amount of decision-useful, comparable information available to investors on some sustainability-related matters, but recommends improvements to how materiality, interoperability, presentation and implementation are addressed. We welcomed the climate prototype's strong alignment with TCFD guidance documents, but encourage improvements in areas including implementation, physical risks, strategy, metrics, targets and comparability – alongside a number of sector-specific considerations.
Building on these prototypes, the ISSB's draft standards followed in March 2022, and we continue to engage.
We have also fed in to regional corporate sustainability reporting initiatives, including in the EU, US and China.
Bridging the CIO-CFO gap
Our ongoing collaboration with the WBCSD saw us convene a series of roundtable discussions bringing chief investment officers and chief financial officers together to understand each others' priorities, processes and challenges.
<< responsible investors Home a prosperous world for all >>