Supporting the wider Climate Action 100+ Initiative, the Climate Action 100+ Working Group is a global collaborative engagement targeting a selection of the world's biggest greenhouse gas emitters driving action to curb emissions; strengthen climate-related financial disclosure; and improve governance of climate change issues.
Launched at the end of 2017, this is a five-year investor initiative to engage with the world's largest corporate greenhouse gas emitters to curb emissions, strengthen climate-related financial disclosures and improve governance on climate change.
The initiative acts a global coordination body between five investor networks: Asia Investor Group on Climate Change (AIGCC); Ceres; Investor Group on Climate Change (IGCC); Institutional Investors Group on Climate Change (IIGCC); and Principles for Responsible Investment (PRI).
The aim is to coordinate engagement activities and unify messaging of dialogue with 100 of the world's most systemically important carbon emitters.
Participants of the initiative endorse a public sign-on statement that outlines three high-level engagement goals. These seek to secure the following commitments for company management:
Governance: implement a strong governance framework which clearly articulates the board's accountability and oversight of climate change risk.
Disclosure: provide enhanced corporate disclosure in line with the Task Force on Climate-related Financial Disclosures (TCFD) recommendations and sector-specific Global Investor Coalition Investor Expectations on Climate Change guidance.
Action: take action to reduce greenhouse gas emissions across their value chain, consistent with the Paris Agreement's goal of limiting global average temperature increase to well below 2 degrees above pre-industrial levels.
Climate Action 100+ governance
Of the 161 companies targeted under this initiative, the PRI coordinates a working group of investors engaging with 39 of the companies. Please see figure below.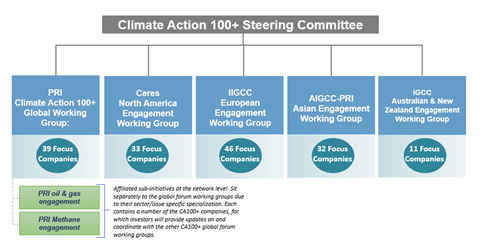 Investors
Investors supporting this initiative can be found on the Climate Action 100+ website.
Engagement focus companies
The focus list of companies can be found on the Climate Action 100+ website.