Climate change is the highest priority ESG issue facing investors
Climate change continues to be the number one issue of concern for signatories, and the number of signatories reporting that they take specific climate-related actions in their work is growing. There is still a considerable gap, however, between investor awareness and investor action, if the Paris goal to keep temperatures well within 2o C of pre-industrial levels is to be met.
KEY TARGETS
Signatories explicitly factoring climate-related risks and opportunities into investment strategies or products: 72%
(PRI target: 75%)

Climate forums
The PRI's 14 Climate Forums, held across 10 countries, engaged more than 1,350 investors to discuss:
the inevitable policy response;
how to ready portfolios for a low-carbon economy;
the Task Force on Climate-related Financial Disclosures (TCFD) and scenario analysis;
active ownership and the Climate Action 100+.
Supporting portfolio transition
Inevitable policy response
In September 2018 we launched our Inevitable Policy Response initiative, highlighting that as current global policies are a long way from achieving the Paris Agreement targets, a forceful policy response to climate change is likely by the mid-2020s.
Our initial exploratory paper set out why a forceful response to climate change is inevitable, when it is likely, potential policy scenarios, and potential implications for strategic asset allocation and portfolio construction. It will be followed by detailed modelling examining how an inevitable policy response will affect the economy, which asset classes will be impacted and which sectors are most at risk.
Keep up-to-date with the latest from the Inevitable Policy Response programme
Tools and guidance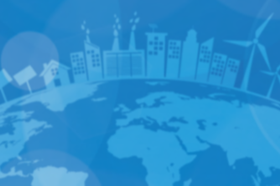 How to invest in the low-carbon economy highlights the approaches available to investors in their efforts to align portfolios with a lower carbon, more climate-resilient economy. The multi-asset class guide focuses on:
low-carbon, climate-aligned investment opportunities;
integrating climate-related risks and opportunities into investment processes;
phasing out investments in thermal coal.
Read How to invest in the low-carbon economy
The Paris Agreement Capital Transition Assessment (PACTA) tool is a climate scenario analysis tool developed by the 2⁰ Investing Initiative, and supported by the PRI. It analyses exposure to transition risk in equity and fixed income portfolios over multiple scenarios, including allowing investors to see the gap between their existing portfolio and 2⁰C benchmarks.
As of March 2019, the PACTA tool has been used by 674 institutions, with a total of 2,600 portfolio tests undertaken across 68 countries.
Learn more about the PACTA tool
Corporate engagement
We convene a number of our own climate-related corporate engagements, as well as joining AIGCC, Ceres, IGCC and IIGCC in coordinating Climate Action 100+ – a global collaborative engagement targeting a selection of the world's largest corporate greenhouse gas emitters.
Investor disclosure
Having launched pilot PRI reporting on TCFD-aligned questions in 2017/18, this year we released data and analysis from that pilot to support signatories reporting in 2018/19. The number of signatories choosing to answer these voluntary indicators increased slightly year-on-year. In 2020, the strategy and governance indicators will become mandatory.
KEY TARGETS
Signatories reporting on the TCFD framework via PRI reporting: 35%
(PRI target: 50%)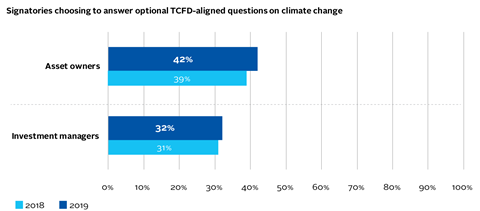 We also convened a UK and Chinese government-backed pilot on climate-related and environmental risk disclosure. The pilot group has established a platform for peer exchange and capacity-building, developed a three-year action plan and published 11 case studies.