New signatories
We were delighted to welcome more than 500 new signatories to the Principles for Responsible Investment in 2018/19. Proportional growth was particularly strong in China (64%), Latin America (excl. Brazil) (45%) and Southern Europe (27%). Mature markets such as the US and the UK continued to see significant numbers of new joiners.
Search for signatories by name, signatory category, location or join date in the: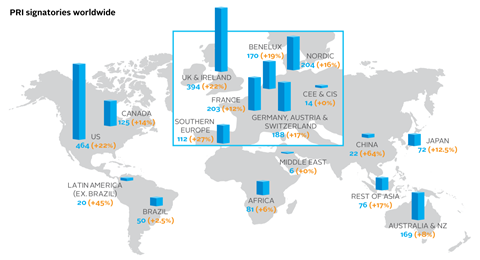 New signatories in 2018/19
Africa
Adenia Partners
Aleyo Capital
Baobab Capital (Pty) Ltd
Differential Capital (Pty) Ltd
FEDGROUP VENTURES
IBIS Consulting
Laurium Capital
Madison India Capital Management LLC
Northstar Asset Management
PowerHouse Africa Asset Management (Provisional Signatory)
SPEAR Capital Pty Ltd
Summit Africa
Australia & NZ
AGNITIO REI
Allan Gray Australia
Allegra Wealth Pty Ltd
Aoris Investment Manager
Artesian Capital Management Pty Ltd
ASB Group Investments Limited
Avoca Investment Management Pty Ltd
Bentham Asset Management Pty Ltd
Ellerston Capital Limited
Generate Investment Management Ltd
Intrinsic Investment Management Pty Ltd
Lighthouse Infrastructure
Nanuk Asset Management
Rest
Spheria Asset Management
The Impact Fund
Trust Management
Victoria University of Wellington Foundation
Benelux
Adara Ventures
AG Insurance
Ageas
AMC GP Sarl
Amethis Investment Fund Manager S.A
Amvest Investment Management
Bank Nagelmackers nv
BBGI SICAV S.A.
Belfius Investment Partners
Bouwinvest
Carlisle Management Company
CEECAT Capital
De Nederlandsche Bank NV
Diepensteyn NV
Dynamic Credit Partners Europe B.V.
E-Capital Equity Management
Equinox AIFM S.A.
Federatie Nederlandse Vakbeweging (FNV)
Freo Group
Groupe Bruxelles Lambert SA
HLD Associés Europe
ING Groep N.V.
Innovation Industries
InsingerGilissen Bankiers N.V.
KJK Management SA
Newion
OAKK B.V.
Ortec Finance
Pemberton Asset Management S.A.
Pensioenfonds Tandartsen en Tandarts-specialisten
Söderberg & Partners Asset Management S.A.
Sofina Group
Spring Associates
Stichting Bedrijfstakpensioenfonds voor het Schoonmaak- en Glazenwassersbedrijf
Stichting Pensioenfonds Horeca & Catering
Stichting Pensioenfonds Vliegend Personeel KLM
Transtrend B.V.
Vendis Capital
Vesteda
XENON AIFM S.A.
Brazil
APEX CAPITAL
Brasil Capital
BREI
CRESCERA INVESTIMENTOS
Integral Investimentos
Integral Trust
Quatá Gestão de Recursos LTDA
Canada
AQTIS (Alliance québécoise des techniciens et techniciennes de l'image et du son)
Atkinson Foundation
Central 1 Credit Union
Foresters Asset Management
Galibier Capital Management Ltd.
Galliant Advisors LP
Grafton Asset Management
iA Gestion de placements
InstarAGF Asset Management Inc.
La Fondation de l'Université de Sherbrooke
LIONGUARD CAPITAL MANAGEMENT INC.
Longview Asset Management Ltd.
Mount Allison University
National Bank Investments
Nova Scotia Public Service Superannuation Trustee Inc.
Quinn & Partners Inc.
RP Investment Advisors LP
Scheer, Rowlett & Associates Investment Management Ltd.
Scotia Global Asset Management
Sionna Investment Managers
Sprott
Stonebridge Financial Corporation
Triasima Portfolio Management Inc.
China
Beijing Huakong Investments Limited
BOSERA FUNDS
China Life Asset Management Company Limited
China Southern Asset Management
EverBloom
Hua Xia Bank Asset Management
Hwabao WP Fund Management Co., Ltd
Penghua Fund Management Co., Ltd.
QuantData Information Technology
Share Capital
Sichuan United Environment Exchange
Starquest Capital
YRD Institute of Green Investment
ZD Proxy
France
Actis Asset Management
AG2R La Mondiale
AGRICA GROUP
Alliance Entreprendre
AMIRAL GESTION
ArchiMed SAS
Arkéa Capital
Atlante Gestion
Capital Fund Management S.A.
COGEFI Gestion
FINALTIS
GARANCE
GENERIS CAPITAL PARTNERS
GINJER AM
Hexagone Conseil
Hexagone Finance
Horizon Asset Management
HOTEL INVESTISSEMENT CAPITAL
HUGAU GESTION
IDAM
Indép'AM
INFRAVIA CAPITAL PARTNERS
INOCAP Gestion
Keys Asset Management
Mansartis
Mata Capital
MONETA ASSET MANAGEMENT
PRUDENTIA CAPITAL
Schelcher Prince Gestion
Seeyond
Suravenir
Germany, Austria & Switzerland
ACATIS Investment Kapitalverwaltungsgesellschaft mbH
Altrafin Group
Aquila Capital
AVADIS Anlagestiftung
AVADIS Anlagestiftung 2
B Capital Partners AG
Baloise Asset Management
Berner Kantonalbank
BONUS Pensionskassen Aktiengesellschaft
BW Equity GmbH
Caisse de retraite du groupe Pictet
caplantic GmbH
Carnot Capital AG
CEE Group
CORESTATE Capital Group
DJE Kapital AG
Dominicé
Empira
ESG Portfolio Management
FiNet Asset Management AG
Finreon Ltd.
Flossbach von Storch AG
GET Capital AG
Hérens Quality Asset Management AG
Joh. Berenberg, Gossler & Co. KG
KGAL GmbH & Co. KG
LIQID Asset Management GmbH
Loyal Finance AG
Novartis Pension Fund
Patrimonium Asset Management AG
Perpetual Investors GmbH
Pinova Capital
Pittet Associates
Quantica Capital AG
ruvercap group AG
Shareholder Value Management AG
SMN Investment Services
Solactive AG
Sustainability Intelligence
Swiss Life AG
Swiss Life Asset Managers
TECTA Invest GmbH
Japan
Fukuoka Realty Co., Ltd.
Grid & Finance Advisors
Japan Real Estate Asset Management Co., Ltd.
Japan REIT Advisors Co., Ltd.
Meiji Yasuda Life Insurance Company
Mizuho Real Estate Management Co., Ltd.
Nextshift Co., Ltd
Sekisui House Asset Management, Ltd.
Sumitomo Mitsui Trust Bank, Limited
Latin America (ex. Brazil)
Acumen Latam Capital Partners, LLC
BBVA Bancomer, Fondos de Pensiones
CKD Infraestructura México
Cuprum afp
FIX SCR S.A.
LarrainVial Asset Management
Mesoamerica
Moneda Asset Management
Nexxus
PRIMA AFP
Nordic
A.P. Møller Capital P/S
Aktieinvest Fonder AB
AP Pension
AS Trigon Asset Management
Asia Growth Capital Management
Brunswick Real Estate AB
Capital Four
Certior Capital
Eligo Asset Management AB
Fokus Asset Management A/S
Fondsfinans Kapitalforvaltning AS
Gjensidigestiftelsen
Holberg Fondsforvaltning AS
ICECAPITAL REAM Ltd.
Indecap
Investerum
ISP Pension
Korkia Asset Management Oy
Monyx Asset Management AB
NorthPeak Governance LP
Nysnø Climate Investments
Pareto Alternative Investments AS
Peak AM Alternative Investments AB
PenSam
Proxy P Management AB
Saminvest
Sensor Fonder AB
StockRate Asset Management
Storebrand Asset Management
Storm Capital Management
Strukturinvest Fondkommission
Tellus Fonder
Worthwhile Capital Partners
Zenith Group
Rest of Asia
AIA Group Limited
AvantFaire Investment Management Limited (Provisional Signatory)
Constant Energy Group Holding Limited
EASTvine Capital (Provisional Signatory)
Essence Asset Management (Hong Kong) Limited
Government Pension Fund of Thailand
HI Asset Management
Kotak Mahindra Asset Management
Panarchy Partners
SBI Funds Management Private Limited
Spot Energy
STONEHORN GLOBAL PARTNERS
Triple P Capital
VinaCapital Investment Management Ltd
Wingspan Funds Advisors LLP (Provisional Signatory)
Southern Europe
ANESVAD FOUNDATION
Alantra
Alpha Asset Management
Alternative Capital Partners SGR S.p.A.
Anima Sgr
BancoPosta Fondi SGR
Black Toro Capital
Bridgestone Hispana Pension, F P
Cassa di Previdenza Monte dei Paschi di Siena
CREST CAPITAL PARTNERS
DeA Capital Alternative Funds s.g.r.
DeA Capital Real Estate SGR S.p.A.
DiverInvest Corporate Family Office
ENPAP - Ente Naz. Prev. e Ass. Psicologi
EUROBANK ASSET MANAGEMENT MFMC
Explorer Investments
F2i - Fondi Italiani per le Infrastrutture SGR S.p.A.
FONDAPI
Fondo Italiano d'Investimento SGR S.p.A
Fondo Pensione Monte dei Paschi di Siena
Fondo Pensione per il Personale delle Aziende del Gruppo Unicredit
Fundeen
Gala Capital
Meridia Capital
Ocidental Pensões
Piraeus Asset Management M.F.M.C.
Poste Vita S.p.A.
Pramerica SGR S.p.A.
Principia SGR SPA
PROA CAPITAL
Sandman Capital Advisors EAFI
Seed&Click
Sherpa Capital
TAGES CAPITAL
UK & Ireland
Absolute Return Partners LLP
Adelphi Capital LLP
Advisors & Partners LLP
AKO Capital LLP
Alcentra
Alder Capital Investment Management
Alpcot Capital Management Ltd
Amati Global Investors
Amyma Capital
AnaCap Financial Partners
Ancala Partners
Architas Limited
Arkadiko Partners LLP
Aspect Capital Limited
ATLAS Infrastructure
Atomico (UK) Partners LLP
B&CE
Banor Capital Ltd.
Beechbrook Capital LLP
Bidwells LLP
Bowmark Capital
Brewin Dolphin
Cairn Capital Group Limited
Cantab Asset Management
Capital and Asset Management Group LLP
Capital D
Carne Global Fund Managers (Ireland) Limited
Causeway Capital
Chelsfield
City of London Corporation
Coupland Cardiff Asset Management LLP
COUTTS & COMPANY
CRUX Asset Management
Daymer Bay Capital
ECO Advisors (Provisional Signatory)
Equistone Partners Europe
EVENLODE INVESTMENT
Exergy Capital Management LLP (Provisional Signatory)
Exponent LLP
Fidra
Findlay Park Partners
Force Over Mass Capital LLP
Fundamentum Property Limited
G Squared Capital LLP ("G2")
Gemcorp Capital LLP
GIB UK
GK Investor Services
Gravis Capital Management Ltd
Hadron Capital LLP
Hayfin
INDOS Financial
International Asset Management Limited
Iona Capital Limited
JLT Investment Solutions
John Lewis Partnership Trust for Pensions
Just Group Plc
Kimura Capital LLP
Kintbury Capital LLP
Leadenhall Capital Partners
LGPS Central
Liontrust Investment Partners LLP
Local Pensions Partnership
London CIV
LumX Group Limited
MainStreet Partners
Marathon Asset Management LLP
Merian Global Investors
Minerva Money Management Limited
Mineworkers' Pension Scheme
MML CAPITAL PARTNERS
National Grid UK Pension Scheme
Nestor Advisors
Nutmeg Saving and Investment
NVM Private Equity LLP
Octopus
OLIM Investment Managers
Orchard Street Investment Management LLP
Pallinghurst GP Limited
Palm Capital Advisors Limited
Polar Capital
Prime Advocates
Quilter plc
Record Currency Management
Rede Partners LLP
Resco Asset Management
RM Funds
SCIO Capital LLP
Seilern Investment Management
Smith & Williamson Investment Management LLP
Somerset Capital Management LLP
Spire Partners LLP
Stirling Square Capital Partners
Sustainable Income Advisors Limited (Provisional Signatory)
SVM Asset Management Limited
Temporis Capital Ltd
The River and Mercantile Group (R&M)
Three Hills Capital Partners LLP
Tosca Debt Capital LLP
Tufton Oceanic Ltd
Tyndaris LLP
University College Cork
University of Manchester
Vantage Infrastructure
Veritas Investment Management
US
1Sharpe Capital LLC
Advent Capital Management, LLC
Aetos Alternatives Management, LP
AJF Financial Services, Inc.
Aksia
American Century Investment Management, Inc.
Angeleno Group
Aperture Investors (Provisional Signatory)
ARGA Investment Management, LP
Arnerich Massena
ARP Investments
Artisan Partners
Atlanta Consulting Group
AVAIO Capital (Provisional Signatory)
Bailard Inc.
Berkeley Partners
Blackcrane Capital, LLC
Bond&Devick Wealth Partners
Calamos Investments LLC
Callan
Canterbury Consulting
CDC Deposits Corp.
CenterSquare Investment Management LLC
Church Investment Group
City of Chicago (City Treasurer's Office)
Cohen & Company
Compass Group
Corsair Infrastructure Partners, L.P.
Covenant Capital Group, LLC
CSE - Center for Sustainability and Excellence
Decatur Capital Management Inc.
Duff & Phelps Investment Management Company
EagleTree Capital
Employees' Retirement System of the State of Hawaii
Epoch Investment Partners, Inc
ESG FORCE LLC
Fairpointe Capital, LLC
FFL Partners
Fitch Group, Inc
Friends Fiduciary Corporation
G Squared Equity Management, L.P.
Gavion, LLC
GI Partners
Glenmede
Global Thematic Partners
Granahan Investment Management, Inc.
Greenspring Associates, Inc.
Harris Associates L.P.
IMPACT Community Capital
Inherent Group, LP
Jackson Square Partners
Jantz Management LLC
Kairos Investment Management Company
Kandeo Asset Management
Karner Blue Capital, LLC (Provisional Signatory)
Kayne Anderson Rudnick Investment Management, LLC
Kennedy Capital Management, Inc.
Kopernik Global Investors, LLC
KraneShares
Kuramo Capital Management
L Catterton
LibreMax Capital, LLC
LM Capital Group, LLC
LMCG Investments, LLC
Lyrical Asset Management LP
Martingale Asset Management, L.P.
Maryland Capital Management, LLC ("MCM")
MBC Strategic
Mercatus, Inc.
Mercy Investment Services, Inc.
Merganser Capital Management, LLC
MetLife Investment Management
Minnesota State Board of Investment - Combined Funds
Mosaic Real Estate Investors
New Energy Capital Partners, LLC
New Mountain Capital
Nuveen, a TIAA Company
Oak Hill Advisors
Oberweis Asset Management
Office of the Illinois State Treasurer
Orion Energy Partners
P. Schoenfeld Asset Management LP
Parametric Portfolio Associates
PERKINS INVESTMENT MANAGEMENT LLC
Pier Capital, LLC
PIPV Capital
Polen Capital Management, LLC
PPM America, Inc.
QS Investors
Ranger Investment Management, LP
Reams Asset Management, a Division of Scout Investments
Reinsurance Group of America, Incorporated
Ridgewood Energy
Ridgewood Infrastructure
Riverbridge
Roha Group Inc
Ryan Labs Asset Management Inc.
Seasons of Advice Wealth Management, LLC.
SEI Investments Company
Snow Capital Management L.P.
Tangency Capital Ltd.
The Forestland Group LLC
The TCW Group, Inc.
The Vistria Group
THL Credit
Thomas Schumann Capital LLC
Tiedemann Wealth Management
Tortoise Investments, LLC
Tremblant Capital
Unison Investment Management, LLC
Unitarian Universalist Common Endowment Fund, LLC
University of New Hampshire Foundation
Vermont Pension Investment Committee (VPIC)
Verto Management, LLC
WCM Investment Management
Westwood Holdings Group
WisdomTree Investments, Inc.
ZEBRA CAPITAL MANAGEMENT, LLC
Former signatories
Between April 2018 and March 2019, 89 organisations ceased to be signatories. This includes organisations choosing to relinquish signatory status (53), membership changes due to mergers and acquisitions involving other signatories (22) and organisations that ceased to exist (3). Ten signatories were delisted by the PRI for failing to participate in the reporting and assessment process.
Chose to leave
Altere Securitizadora
amLeague
ARC Fiduciary
Arrow G Capital
Astra Investimentos
Audley Mineral Resources Management LLP
Banque Bonhôte & Cie SA
Bravia Impact Assets
Cadiz Holdings
Cardano Development
City of Espoo
Coding Ant GmbH
CoPower
Coppin Collings Ltd
Daruma Capital Management, LLC
Element Partners
Fonds 1818
Fortuna Asset Management Communications
Frontier Impact Capital
Global Footprint Network
Grameen Crédit Agricole Microfinance Foundation
Helliot Vermogensbeheer NV
Highland Capital Management
Hub Culture / Ven Currency
IMPACT Partenaires
Innovacom Gestion
ISAM
JLens Investor Network
Kaeté Investimentos Ltda
KEY Associados
Korea Corporate Governance Service (KCGS)
Le Mouvement d'éducation et de défense des actionnaires (MÉDAC)
LimeVest Partners
MVision Private Equity Advisers
Novaster
Origami Consultoria em Gestão de Negócios Sustentáveis ltda
Pampa Capital Management LLP
Pennam Partners
Qube Investment Management Inc.
Radce Consultoria e Participações Ltda
River Hollow Partners
Santro Invest AG
Sciteb Ltd
SDS Int'l Group
Spudy Family Office GmbH
Swell Asset Management
The Abraaj Group
Thomson Reuters
Tiber Capital LLP
Unity Incorporation
Value Adviser Associates
VaR Capital
Varainhallinta Tresor Oy
Delisted for failing to report
BA Desarrollo
Ciloger
COMANCO
Empirical Asset Management, LLC
FINANCE-SA
IDF Capital
Juniata College
NewWorld Capital Group, LLC
Oquendo Management Sarl
Tomorrow's Company
Merged/split memberships (including due to M&A between signatories)
ACG Capital
Alantra Asset Management SGIIC SA
Alexander Forbes Asset Consultants
Aquila Capital Green Assets GmbH
Fiera Capital (UK) Limited
Fiera Comox Partners Inc.
First Investments BV
ING Groenbank N.V.
Lancashire County Pension Fund
Liontrust Investments Limited
London Pensions Fund Authority (LPFA)
N+1 Private Equity
OceanRock Investments Inc.
ODDO BHF Asset Management GmbH
oekom research AG
Pax World
Pioneer Global Asset Management S.p.A
Standard Life Investments
Standish Mellon Asset Management
SYZ Asset Management (Switzerland) SA
The Boston Company Asset Management, LLC
Think ETF Asset Management
Merged with or taken over by non-signatory
Ceased to operate
Hastings Funds Management Limited
METAFORM INVESTMENTS INC.
Quotient Investors