Good decisions need good data
Driving PRI data
The PRI Data Portal is our key tool for driving our own data through markets. Now an established platform following its launch in 2017, we have done a lot of work this year on increasing signatories' use, including webinars and tutorials on how to use it, tailored emails to signatories and demonstrations at PRI in Person.
All of this has seen a significant increase in activity, with the number of requests from asset owners to see investment managers' reports rising to 831 in 2018/19 (from 475 in 2017/18), and, crucially, the proportion of requests being approved rising to 72% from 56%.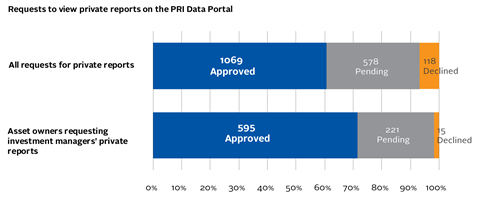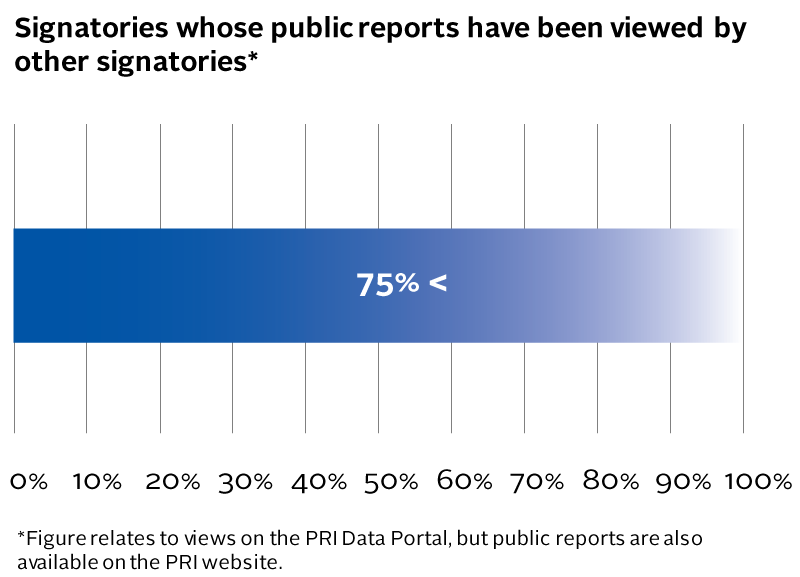 There is clearly room for improvement in the breadth of usage, however. While three-quarters of signatories have had their publicly available reports viewed by another signatory on the PRI Data Portal (and public reports are also available on the PRI website), looking at a more targeted use of the data we see that amongst asset owners that use external managers, only 17% have requested private reports from any investment manager signatories.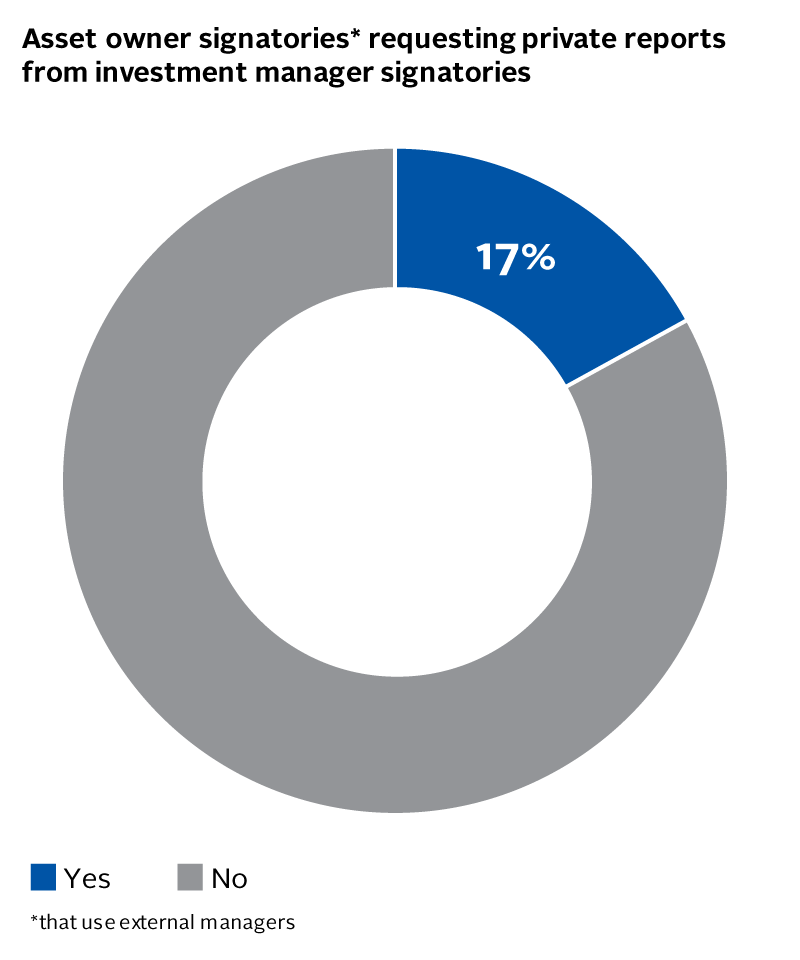 Learn more about the PRI Data Portal
Driving convergence of standards
Increasing the amount of quality data that's available is just one part of enabling data to be used effectively. Another key aspect is to work towards standardisation of reporting, including convergence of the plethora of existing standards.
improve the quality of corporate ESG reporting;
stimulate convergence of corporate reporting standards;
contribute to the development of a standard for SDG/impact measurement and reporting;
support innovations in how ESG issues are incorporated into financial accounting;
engage with policy makers and regulators.
Corporate Reporting Dialogue
The Corporate Reporting Dialogue (CRD) is an initiative designed to respond to market calls for greater coherence, consistency and comparability between corporate reporting frameworks, standards and related requirements. Its Participants are: CDP, CDSB, FASB, GRI, IASB, IIRC, ISO and SASB.
We are part of an ongoing collaboration with six other investor groups (CERES, CFA, GIIN, GSIA, ICGN and UNEP FI) to feed in an investor perspective. The group has published a discussion paper, which has been well received by the CRD, as well as by the European Commission (as part of the preparation for the review of the Non-Financial Reporting Directive) and regulators in China and Turkey.
Learn more about the Corporate Reporting Dialogue
Impact Management Project
We are also part of the Impact Management Project (alongside UNDP, UNEP FI, UN Global Compact, OECD, IFC, GIIN, GRI, SASB and others), which is working to build global consensus on how to measure, report, compare and improve impact performance.
The Impact Management Project seeks to define impact by looking at:
what kind of impact is being achieved;
who benefits;
the scale and additionality of the impact;
what risks/trade-offs the impact comes with.
Learn more about the Impact Management Project
Sustainable Stock Exchanges (SSE)
We continue to support work on how stock exchanges can enhance corporate transparency on ESG issues through the Sustainable Stock Exchanges (SSE) initiative (alongside UNCTAD, UN Global Compact and UNEP FI).
Of the SSE's 90 partner exchanges, 43 now provide formal guidance to issuers on reporting ESG information, representing over 35,000 listed companies. In 2015, when the initiative launched its global campaign and published a guidance document to encourage and help exchanges to provide guidance on reporting ESG information to investors, just 13 did so.
ESG information is also increasingly being incorporated into exchanges' listing rules, either by the exchanges themselves or by securities regulators: there are 17 stock exchanges with mandatory ESG reporting requirements on four continents, with the majority in Asia. The SSE has produced guidance for regulators examining how, within their existing mandates, they can act on sustainability-related risks and opportunities.
Nearly 50 exchanges are also hosting training, online courses and other educational or awareness-raising events for their listed companies, investors or other key stakeholders (eight in Latin America, four in Africa, 18 in Europe, 17 in Asia, and one in North America).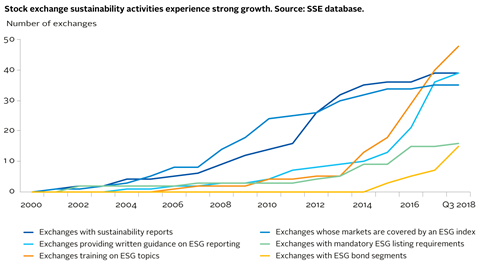 Learn more about the Sustainable Stock Exchanges initiative