The signatory network has continued to expand, making it important for us to continue to focus on how to better support not only an ever-growing number of signatories, but an ever-growing variety. More experienced relationship managers and a tiered relationship management system are enabling better understanding of our signatory base, thus enhancing the service we can provide to signatories. Asset owners remain the primary target for our recruitment efforts.
KEY TARGETS
Signatories receiving signatory review meetings: 40%
(PRI target: 33%)
Asset owners receiving signatory review meetings: 87%
(PRI target: 80%)
Expanding our local presence
We have continued to expand the number of signatory relations staff that we have around the world dealing directly with signatories in their local markets. As well as the number of on-the-ground relationship managers rising, a restructure providing regional directors and additional operational staff is allowing relationship managers to focus more on directly servicing signatories.
At the same time, however, signatory growth has been strong, resulting in the global average of signatories per relationship manager rising. The most over-subscribed markets are the Nordics, France, UK & Ireland, Benelux and Australasia – making them priorities for additional relationship manager support in future.
KEY TARGETS
Signatories per relationship manager: 112
(PRI target: 100)
This year we established a presence in Southern Europe and Latin America, having expanded our coverage into China, Benelux and Australia the year before. Locations are selected based on the size of the market, its strategic importance and expectations of growth. In the case of Latin America, additional factors were low historical coverage and the opportunity to merge with the Latin SIF. In all markets where a presence has been established, both the growth rate and the service provided to existing signatories has increased.
We've also hired locally focused policy and engagement staff in the US, France and China.
Proportion of PRI staff based outside London:
Multi-lingual resources
We are always working to expand the range of languages in which our resources are available. Through 2017/18 we translated 16 publications into languages including French, Spanish, Portuguese, Japanese and Chinese. We are also boosting the number of PRI events and broader communications that occur in a wider range of languages, including across social media, newsletters and blog posts.
See all publications available in multiple languages
A growing network
The 2017/18 signatory growth rate was, at 22%, the highest since the 2010/11.
We recruited 69 asset owners in 2018/19, of which 27 were strategic targets, with growth particularly strong in the UK (12 new asset owners), the US (11), the Netherlands (eight) and across Southern Europe (eight). Beyond the traditional public pension funds, new areas of asset owner growth include increasing numbers of corporate pension funds, insurance providers, public treasuries and central banks.
Among the new joiners were LGPS Central and National Grid PS in the UK, AG2R (France), Novartis PF (Switzerland), PenSam (Denmark), City of Chicago and Illinois State Treasury in the US, AFP Cuprum (Chile), AFP Prima (Peru), GPF Thailand, AIA (Hong Kong), and Meiji Yasuda (Japan).
Search for signatories by name, signatory category, location or join date in the: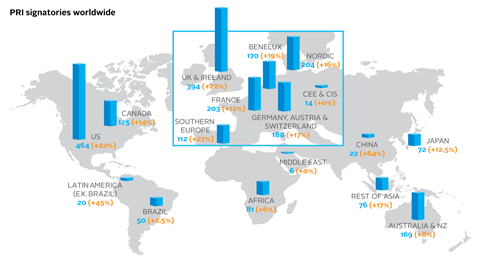 KEY TARGETS
Signatory share among large asset owners: 33%
(PRI target: 35%)
Signatory share among US asset owners: 11%
(PRI target: 35%)
Signatory share among Asia Pacific asset owners: 43%
(PRI target: 35%)