Engaging companies on ESG issues improves their sustainability, their management and their risk/return profiles
Effective engagement has clear objectives and milestones, focuses on the quality of dialogue and sees investors following through on their investment strategy and policies in their proxy voting. Our work on active ownership is increasingly about focusing on the quality of engagement, rather than just the quantity, and how we can support signatories to see real results from their active ownership activities, across all asset classes.
KEY TARGETS
Signatories setting objectives for a majority of their (individual and collaborative) engagement activities: 71%
(PRI target: 80%)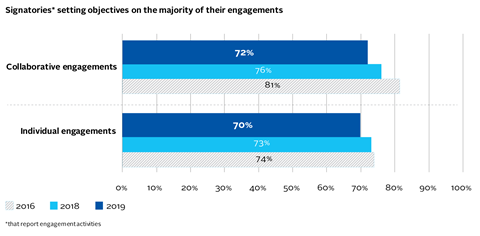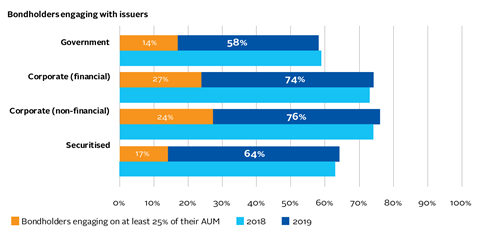 PRI-coordinated engagements
Using the convening power of our signatory network, we coordinate several in-depth, collaborative engagements between investors and companies on ESG topics that have been highlighted as priorities by signatories. Signatories can participate by leading conversations with assigned companies and reporting back to the group, or by joining calls, signing joint letters and sharing relevant info.
KEY TARGETS
Companies engaged with as part of a PRI-led engagement improving their overall performance against the initiative's objectives: 96%
(PRI target: 85%)
Two PRI-coordinated engagements closed in 2018/19:
Corporate climate lobbying
100%
of companies engaged with improved their scores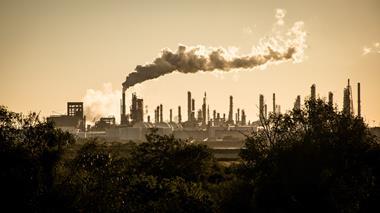 Investors are increasingly scrutinising corporate engagement on climate policy, as it plays a critical role in helping governments create practical climate policy solutions.
However, corporate engagement on climate policy is a double-edged sword. Negative and resistant corporate interest, often undertaken through third-parties, can hinder policy action that aims to mitigate the impacts of climate change. This can cause a number of issues for investors including legal and reputational risks, and long-term portfolio volatility.
Human rights in extractive industries
93%
of companies engaged with improved their scores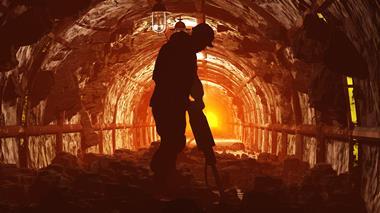 Companies operating in the extractives sector face a multitude of complex human rights issues.
Mining operations typically rely on large quantities of unskilled labour, which can pose human rights risks such as bonded labour, hazardous working conditions and lack of collective bargaining and freedom of association. Oil and gas companies often operate as joint ventures, and while the majors have found ways to impose standards on business partners, this can be challenging for smaller operators.
The PRI continues to coordinate a number of collaborative engagements, including being a part of coordinating Climate Action 100+, the largest ever corporate engagement by investors.
Read more about Climate Action 100+ and the rest of our work on climate change under Action 8: Champion climate action
Other PRI-coordinated collaborative engagements include:
Climate change transition for oil and gas
Methane
Water risks in agricultural supply chains (phase 2)
Investor working group on sustainable palm oil
PRI-Ceres Investor Initiative for Sustainable Forests
Labour practices in agricultural supply chains (phase 2)
Responsible sourcing of cobalt
Corporate tax responsibility
Cyber security
Focus on: Cyber security (ongoing engagement)
Cyber security risk is real and pervasive, as demonstrated by recent attacks that have shaken big banks, web service providers, the UK's National Health Service and even the US intelligence community. The business case to engage with companies on this topic is clear-cut: incidents can cripple business operations, become legal and regulatory risks and have adverse impacts on portfolio company valuation and earnings.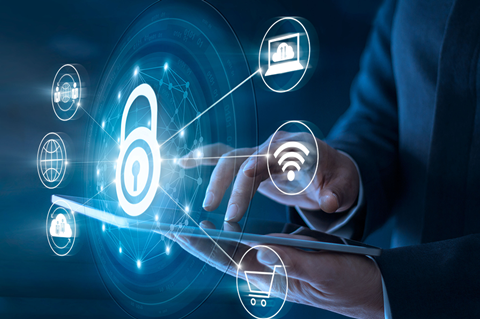 PRI Collaboration Platform
The PRI Collaboration Platform is a unique private forum that allows signatories to pool resources, share information and enhance their influence on ESG issues. It offers a range of global engagement initiatives that involve listed companies, policy makers and others.
Posts to the PRI Collaboration Platform include:
invitations to sign joint letters to companies;
proposals for in-depth ESG research and engagement;
policy consultations and dialogue;
requests for support on upcoming shareholder resolutions.
KEY TARGETS
Change in number of posts to the PRI Collaboration Platform: 17% decrease
(PRI target: 14% increase)
We are finalising a brand new Collaboration Platform that will provide a secure, private space for investors to share information and organise engagements with companies on the issues that matter to them. New and improved features include: enhanced workspaces and discussion forums, better support across the full lifecycle of initiatives, user messaging, company tracking and a more intuitive, user-friendly navigation and design.