Whilst plastic is fundamental to everyday life, plastic waste poses significant reputational risks, particularly for the food, beverage and retail sectors.
Increasing regulation means that companies need to be ready to respond to the growing plastic-related legal requirements.
With 8 million tonnes of plastic entering the ocean annually, and growing evidence of microplastic entering the food chain, seafood companies and consumers are also at risk.
The PRI gathered signatories and external stakeholders during an event hosted by UBS AM in June 2018 to explore the risks and opportunities of plastics to investors. The Ellen MacArthur Foundation, Schroders, Closed Loop Partners, the European Commission and Unilever highlighted challenges and opportunities for investors and companies.
Investment risk and opportunities
Investors are exposed to risks and opportunities through the plastic value chain. In terms of opportunities, panellists highlighted that investors seek companies that contribute to increased recyclability of their own plastic. From a packaging perspective, Schroders's research identified opportunities at the chemicals stage and in the waste collection and recycling phase.

In terms of risks, speakers noted investors need to understand the entire plastics landscape and assess how trends will be material to them. Consumer goods companies were highlighted as most at risk.
The circular economy
The linear system we operate in means that plastic packaging is 'leaked' into the environment and the cost of the clean-up ends up exceeding the profit gained in the earlier stages of the product's life. A circular approach would reduce leakage and decouple plastic from fossil fuels.
Transitioning to a circular economy and addressing plastic requires a holistic approach and investment upstream and downstream of the plastic value chain. Companies will need to interact and engage with other stakeholders in the value chain.
Plastic commitments
There is momentum around the world to address plastic packaging and many commitments have been made by governments such as India, Indonesia and France to reduce or ban single use plastics or plastic bags. Some leading brands, retailers and packaging companies have also committed to 100% reusable, recyclable or compostable packaging by 2025 or earlier.
Currently, company targets and commitments are not comparable. It remains difficult for investors to understand whether the targets are meaningful and how progress will be measured.
Infrastructure investment
The panel agreed there is a lack of investment in infrastructure to collect, sort and recycle plastic waste. For emerging and developing markets, infrastructure can be either non-existent or part of the informal sector, making it difficult to monitor and gather data.
Speakers noted there needs to be a link between the plastic product and its end location. For example, even if a product is organic or compostable, the benefits are only reaped if it is collected and put into the right place for decomposing. If the correct collection system is not available then the product may end up being incinerated – making initial efforts of designing and manufacturing the product ineffective.
Regulation in action
Regulatory risks in different markets can impact business and supply chains and companies will need to respond to them. The UK, Ireland, Germany, Norway and Denmark have all introduced plastics regulation.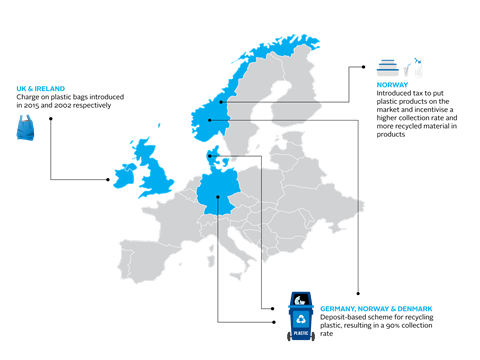 Although regulation for everything is unfeasible, legislation has a role to remove certain products from the market and direct consumers to alternatives such as bioplastic.
Data and metrics
A consistent and robust dataset on plastics does not exist for companies, and data service providers do not have specific plastic indicators. Standard definitions are also needed so investors can understand, interpret and compare data.
Companies are also experiencing challenges collating data and measuring plastic internally as it is difficult to obtain data from informal sectors or where transparency is challenging in certain jurisdictions. There was a call for data to help incentivise changes in behaviour and plastic management.
In addition to clear definitions, investors need quantifiable and comparable data. Qualitative information can provide investors with an understanding of a company's trajectory and ability to deal with their plastic exposure.
The levels of recycled content in plastic packaging, coupled with a company's ambition for recycled plastic, was seen as a potential proxy for evaluating the extent to which a company is moving towards circularity. Current targets and commitments set by companies revolve around recyclable, reusable and compostable packaging, in addition to a percentage of the packaging coming from recycled content. These potential quantitative metrics cover the feedstock and end use of plastic packaging.
Participants discussed the potential for a single KPI as a proxy for the circularity index of a company, which integrates or can be coupled with the true cost of waste streams. However, it was acknowledged there is no one single winning solution and therefore no one single metric. It was also suggested that a certification system would be useful to define what it means to be circular and to verify that there are no unintended consequences.