| | |
| --- | --- |
| ORGANISATION DETAILS | |
| Name | Aberdeen Standard Investments (ASI) |
| Signatory type | Investment manager |
| Region of operation | Global |
| Assets under management | £544.6bn (2019) |
| | |
| --- | --- |
| COVERED IN THIS CASE STUDY | |
| Fund | Aberdeen Standard - Green Focus Fund |
| Geography covered | Global |
| Asset class | Equities |
| Environmental objective | Mitigation |
| Economic activity | All |
ASI recognises the merit of the EU taxonomy initiative. It is extremely valuable for investors to be able to identify and objectively classify business activities that materially contribute to climate mitigation and other sustainability objectives. While we appreciate the many challenges in developing this framework, we believe that increasing transparency is crucial, both from our viewpoint and that of our customers. Indeed, we aim to integrate taxonomy data into our investment decision-making and reporting frameworks.
Taxonomy implementation
Principles, criteria, thresholds
We chose a climate-focused concept fund, in which positive screening criteria are reasonably well aligned with those used by the EU taxonomy. We therefore expected a fairly high percentage of eligible revenues (50% or more).
Do no significant harm assessment
We used MSCI ESG Manager to screen for DNSH across the following criteria:
Environmental Safeguards
Environmental Land Controversies
Environmental Waste Controversies
Environmental Toxic Controversies
Environmental Water Controversies
We recognised that the criteria used by MSCI are not exactly the same as those used by the technical annex, so placing these scenarios within the taxonomy was problematic. Nevertheless, despite the lack of a more closely aligned dataset, we were able to make a partial assessment.
Social safeguards assessment
We used MSCI ESG Manager for screening of the following social safeguards:
Labour Compliance
Human Rights Compliance
UN Global Compact Compliance
Though MSCI screens were somewhat closer to the Technical Annex on social safeguards, we would seek to use more strictly aligned screens in our formal reporting.
Turnover/capex/opex alignment
Eligibility
We used the Bloomberg revenue classification tool as the primary method for assessing taxonomy-eligible revenues. We mapped the Bloomberg Bank Investment Contract (BICS) classification system onto the business activities contained in the Technical Expert Group's (TEG) Final Report Technical Annex. We then built a complex customised query within the Bloomberg portfolio screening that identified companies with eligible revenues.
Thresholds
We manually identified whether companies were likely to meet the thresholds to qualify within the scope of the taxonomy. In some sectors this was simple and we classified companies as aligned pending DNSH/MSS evaluation. However, in other sectors we could not easily find data against the thresholds (e.g. gCO2/pkm in transport) and therefore classified companies as only potentially aligned (pending DNSH/MSS evaluation below).
Additional comments
The Bloomberg revenue classification tool was not designed with the taxonomy in mind. However, Bloomberg has developed the BICS framework to classify green revenues of various types, particularly those relating to renewable energy and electric vehicles. These categories are an important part of the Climate Solutions Fund we chose for this exercise.
Alignment results
Our results showed that, based on weighted holdings, 60% of the fund was eligible for EU taxonomy mitigation criteria with three segments predominating: production of electricity from renewables, manufacture of low carbon technology and various types of low carbon transport.
38% of the fund was aligned with the EU taxonomy (subject to DNSH qualifications). Most of these companies were in the renewable energy or low carbon manufacturing segments, where thresholds are simple to pass and assess. Some 20% of the fund was potentially aligned with the EU taxonomy, but we lacked data to reach a firm conclusion. Transport sectors stood out, where there are demanding but achievable thresholds. Rail freight, passenger rail and public transport revenues should be disaggregated on a company level to determine which meet the standard.
Some 2% of the fund was likely to be eligible, but not aligned on DNSH/MSS grounds.
Taxonomy alignment - Green Focus Fund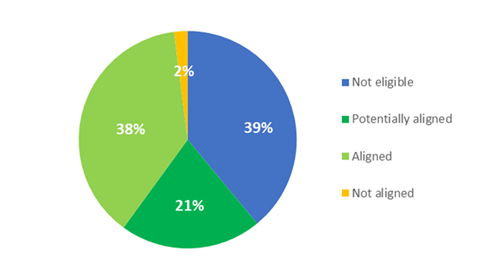 Challenges and solutions
| NO. | CHALLENGE | SOLUTION |
| --- | --- | --- |
| 1 | Matching threshold data to revenues. | Many taxonomy criteria include thresholds, such as 50gCO2/pkm. However, while companies often only met this threshold for some of their operations, e.g. urban vs. rural rail networks, they did not disaggregate their revenues. Therefore, we could not calculate a taxonomy-aligned revenue percentage, even though it may have been quite high. |
| 2 | DNSH standards are often very detailed and EU-centric, and there is a lack of relevant data. | In many areas it was very difficult to match the specific DNSH requirements. We responded by using diverse types of proxy data, which is not ideal. It is essential to reach a consensus on how DNSH will be implemented for non-EU revenues – what types of proxy data are admissible. |
Recommendations
It is crucial to use a data provider that provides good coverage as adopting a manual approach to the global investment universe is extremely demanding.
References
Aberdeen Standard SICAV I - European Equity Fund