| | |
| --- | --- |
| ORGANISATION DETAILS | |
| Name | ESG Portfolio Management |
| Signatory type | Investment manager |
| Region of operation | Europe |
| Assets under management | €33m |
| | |
| --- | --- |
| COVERED IN THIS CASE STUDY | |
| Geography | Norway, Scotland, Chile, Canada, Iceland, Faroe Islands, Ireland |
| Sector | Marine aquaculture |
| Asset class | Equity, corporate bonds (green bond) |
| Economic activity | All |
ESG Portfolio Management's mission is to advise a diversified set of investment funds and mandates, including on ESG factors, SDG impacts and climate risk. We aim to comply with new standards and requirements in order to deliver outstanding results. We believe the EU taxonomy is an important standardisation tool to assess sustainability and reduce 'greenwashing'.
As the taxonomy currently only focuses on environmental impact, we expect the level of alignment to be low. Indeed, many sustainable funds invest in areas that are not yet covered by the current EU Taxonomy. This may result in negative public feedback, as sometimes only pure solar funds or wind farms are perceived as 'truly sustainable'.
Other aspects you would like to mention?
Our target is to apply the EU taxonomy to all funds and mandates as soon as possible. We aim to achieve high levels of alignment with the taxonomy while maintaining diversified portfolios.
Taxonomy implementation
Principles, criteria, thresholds
We used Bloomberg eligibility data. Eligibility for Mowi ASA was 0.0% (agriculture 0.0%) as Bloomberg does not consider marine aquaculture.
We then leveraged the Sustainable Development Goals (SDG) assessment by MSCI ESG, where Mowi ASA had a very high impact of 86.9%. This was applied to the company's turnover, which has a clear and quantifiable impact in line with the SDGs. In the case of Mowi, 63.4% was nutrition and 23.4% was environmental. We consider it to be 23.4% eligible.
We also used data from ESG Screen 17, where Mowi had a SDG performance score of 32.4% (scale 0-100%) with positive impact on various SDGs. The highest impact was seen on SDG 13 (climate action) but there was also positive impact on SDG 14 (life below water) and SDG 15 (life on land).
Analysing company reports and presentations, we concluded that Mowi ASA is performing positively in climate change mitigation - reducing energy demand by increasing energy efficiency, due to a switch to low-carbon energy sources and better building insulation.
Salmon delivers high quality protein while emitting far less greenhouse gases (GHG) compared to beef. MSCI ESG places Mowi in the top industry quartile for low product carbon footprint.
Climate change adaption: Mowi has anticipated the adverse effects of climate change and taken appropriate action by selecting locations far from the Equator.
Sustainable use and protection of water: The company has recently invested significantly in water treatment.
Transition to a circular economy: Aims to reduce waste and reuse materials.
Pollution prevention and control: Mowi uses bigger and deeper nets and practices less dense fishing.
Restoration of biodiversity and ecosystems: Buys 100% deforestation-free soy. Aquaculture is regarded as more eco-friendly than industrial overfishing.
Do no significant harm assessment
We critically screened research and information from ESG-rating providers, NGOs and the web to identify potential controversies or incidents with negative SDG impact:
Performing in climate change mitigation: Transportation (boats, vans) still run on fossil fuel.
Climate change adaption: Mowi is exposed to an increase in fish infections due to global warming.
Sustainable use and protection of water: Despite some good initiatives, Mowi uses and pollutes water.
Transition to a circular economy: Significant use of plastic packaging.
Pollution prevention and control: Emissions persist from production and transportation, and fish excrements and waste, despite some improvement.
Restoration of biodiversity and ecosystems: Monoculture exists within aquaculture. Food waste and pharmaceuticals can negatively impact ecosystems.
Though we did not identify any severe controversies, MSCI ESG mentioned water stress (freshwater withdrawal intensity) and missed opportunities in nutrition and health as shortcomings. MSCI's overall ESG rating for Mowi is AA (highest in class) indicating an absence of serious controversies and severe incidents. Recent negative incidents include a fatality at a Scottish fish farm, the escape of some fish and local outbreaks of disease (the two latter incidents are relevant to the EU taxonomy).
Social safeguards assessment
MSCI ESG's Social Pillar Score is 6.6, despite the fatality mentioned above and difficult working conditions on several off-location fish farms. We did not identify breaches of human rights frameworks or misconduct.
Turnover/capex/opex alignment
We used Mowi's Bond Investor presentation (January 2020) and Pareto Securities AS Seafood Research report (15 April 2020). We selected revenues from assets that either have been considered EU Taxonomy-aligned or that are based on sustainable activities. We also looked at activities such as reducing GHGs, fossil fuel, waste water, plastic waste etc.
We linked this revenue to the company's total turnover and compared it with MSCI ESG's SDG 13 impact weight of 23.4%. The assessment of revenues was challenging as there was a lack of detailed reporting per business line or project. This was particularly the case for companies such as Mowi, which has launched projects to reduce GHG emissions, water and plastic waste. Therefore it is difficult to estimate the precise impact and taxonomy alignment.
Additional comments
We felt our results were undermined by a lack of clear guidance in company reports (such as revenue splits) and research on taxonomy application. It was not simple to assess the taxonomy impact of the new environmentally-friendly feed plant in Scotland or the new efficient freshwater hatchery in Norway, as we could not link the SDG impacts to either concrete turnover assessments or to GHG and freshwater reduction estimates.
Alignment results
We estimated that Mowi is around 20% aligned with the EU taxonomy. We scored 23% on positive impact but deducted 3% for the points discussed in the DNSH analysis. The portfolio weighting of Mowi equity and green bonds in our funds (SDG Evolution Flexibel and Mayence Fair Value Bond Fonds) is around 3%. Therefore, Mowi delivers to the portfolios a weighted overall EU Taxonomy-alignment of 0.6%. In carrying out this exercise for every portfolio holding, we would add the individually aligned percentage for each position and then calculate the total portfolio taxonomy alignment.
As our portfolios are extremely diversified and address other SDGs besides the six currently eligible, we estimate a portfolio taxonomy alignment of around 20%. Although we are disappointed with this figure, we will strive to increase it over time, though we do not intend to transform our portfolios in forest, solar and wind park funds.
Mowi sustainable fish farms
Sea site: Beitveitnes in region mid Norway
Production (tonnes in last production cycle): ~ 7,000
# of meals: ~ 50 million
# of employees: 6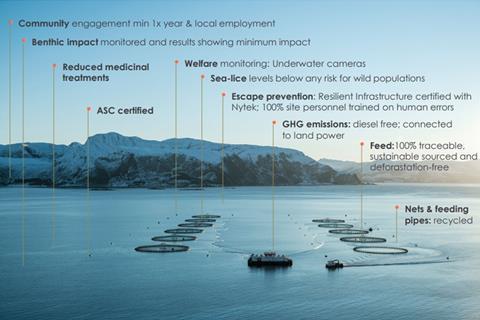 Source: Mowi Bond Investor Presentation, January 2020, page 21
Mowi's focus on sustainability across its value chain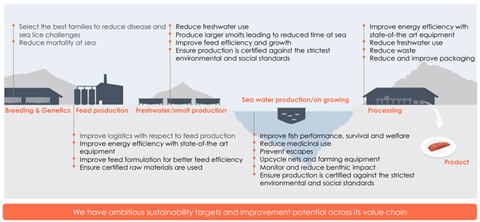 Source: Mowi Bond Investor Presentation, January 2020, page 17
Resource efficient and climate friendly production compared to other protein alternatives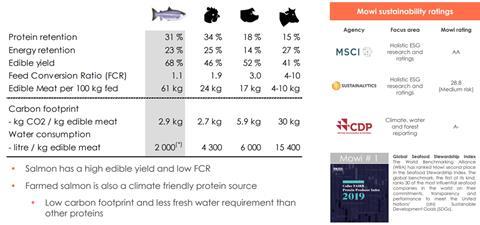 (*) The figure reflects total water footprint for farmed salmonid fillets in Scotland, in relation to weight and content of calories, protein and fat.
Source: Mowi Industry Handbook, Mowi Bond Investor Presentation, January 2020, page 18
Challenges and solutions
NO.
CHALLENGE
SOLUTION
1
Risk of dependency on data providers.
We have no resources to check remote fish farms and have to delegate this to trusted ESG rating experts and NGOs.
2

Difficulty in assessing impact and taxonomy- alignment of sustainable projects.

We hope that PRI or EU will implement investor platforms to share insights and best practice.

This practitioners group is a welcome initiative.
3

Complexity of the DNSH requirements.

We need to assess entire processes, evaluating energy and water sources use, and then compare results with peers to estimate the potential improvement.
Recommendations
Trial the taxonomy on a case-by-case basis, particularly with companies you understand best. Make use of available information (ESG rating providers, GHG, SDG data providers, NGO research, etc.). Reach out to the community (PRI, investors, asset owners, companies, auditors, lawmakers and regulators) to get feedback and gain a better understanding. Be cautious at first, and do not introduce unreasonably high EU taxonomy-alignment thresholds, as this may result in reputational risks.