The first industry-standard tool for investors to assess external hedge fund managers on their responsible investment policies and practices.
The Responsible investment due diligence questionnaire (DDQ) for hedge funds helps identify those hedge funds that have the personnel, knowledge, and structure to incorporate environmental, social and governance (ESG) factors in the investment decision-making process.
Benefits of the Responsible investment DDQ for hedge funds

| | |
| --- | --- |
| GUIDANCE | A standard for investors on responsible investment in the due diligence of a hedge fund investment. |
| DIALOGUE | A tool to facilitate a two-way dialogue between investors and investment managers on responsible investment. |
| DATA | Standardised questions reduce reporting burden and facilitate peers' comparison, cross-checking of information and data consistency. |
| ACCESS | The same questionnaire available across different industry platforms – the PRI, the Alternative Investment Management Association (AIMA) and the Hedge Fund Standards Board (HFSB). |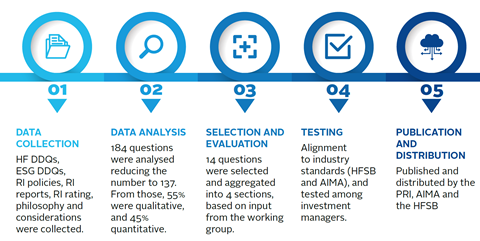 The questionnaire
1 Policy
1.1 Does the investment manager have a policy addressing its approach to the incorporation of ESG factors within the investment process? If yes, please provide a copy of the policy and indicate the coverage of the policy by asset class, funds, strategy and AUM. If there is no policy, please explain why.
1.2 What is the investment manager's rationale for adopting a policy to incorporate responsible investment into the investment decision-making process?
1.3. To which normative codes and initiatives is the investment manager a signatory or a voluntary adherent (e.g. the PRI, national stewardship codes, HFSB Hedge Fund Standards, CFA's Asset Manager Code of Professional Conduct, AOI Hedge Fund Principles 2014)?
2 Governance
2.1 Please indicate the methods of investment manager internal oversight (e.g. oversight by investment committee, firm management, board of directors, etc.), and reporting of responsible investment incorporation across the investment manager's organisation.
2.2 Please describe how the investment manager has organised responsible investment responsibilities within its investment team(s) and indicate whether the investment manager employs responsible investment professionals.
2.3 Please explain what responsible investment training is provided by the investment manager to its employees.
2.4 Does the investment manager's annual employee performance review or remuneration metrics reflect any component for the inclusion of responsible investment ? If yes, please describe them. If not, please explain.
3 Investment process
3.1 Please describe what ESG data, research, third-party consultants, resources, tools and practices the investment manager uses. How are these incorporated into the investment and risk management process?
3.2 Have there been any changes to the investment manager's responsible investment incorporation process over the past 12 months (e.g. additional resources, information sources)? If yes, please describe them. If not, please explain.
3.3 Please explain how active ownership practices, both voting and engagements, are integrated into investment decisions.
3.4 Please provide examples of where ESG risks and opportunities were incorporated into the investment manager's investment decisions over the past 12 months.
4 Monitoring and reporting
4.1 Please describe what metrics (internal and/or external) the investment manager uses to measure its progress in incorporating responsible investment into the investment process.
4.2 Does the investment manager assess its fund's exposure to climate risk and measure and monitor the carbon footprint of its investment portfolio? If yes, please explain the assessment process. If not, please explain why.
4.3 How often and in what format (e.g. meetings, written reports) does the investment manager report to its investors on ESG activities and portfolio ESG risks assessments? Please provide reporting examples.
The answers to these questions may vary according to each fund(s) strategy, and their knowledge of and ability to implement responsible investment.
Users may want to consider using this questionnaire in conjunction with their own DDQ, either embedded within it or as an addendum to it.