Environmental Finance recognised the PRI, together with signatory SynTao Green Finance (STGF), in its recent Sustainable Investing Awards in the category best thought leadership paper on sustainable investing. The accolade was received for a jointly authored report focusing on China's national goal to reach carbon neutrality by 2060, with a just transition aligned to this goal.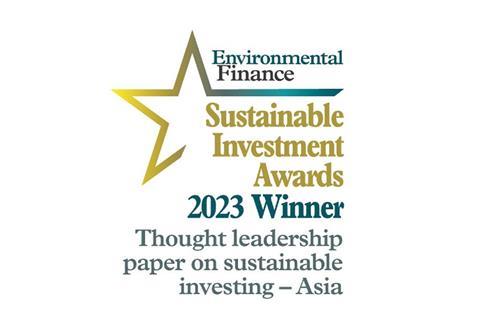 The 2022 report, Investing for a just transition: Proposals for a just transition disclosure framework in China – which is just as relevant today – proposes a framework for companies in China to disclose their strategies, actions and policy advocacy related to a socially just low-carbon transition.
The proposed framework moves companies through the stages of acknowledgement and commitment, to strategy and action, and includes a policy advocacy component.
Environmental Finance reported on the win, including comments from the PRI and STGF as follows:
Peiyuan Guo, the Chairman of STGF, said: "The research paper analyses how China's economic, social, and environmental interests are balanced in the process of the low-carbon transition, providing valuable insights and suggestions to the policymakers and the stakeholders, and recommending the first disclosure framework regarding the just transition in the world."
STGF hopes the paper will make policymakers and market participants "pay more attention to the theme of just transition and take action".
Daniel Wiseman, head of APAC policy at the PRI, added: "Although the topic of transition finance and the just transition is still a nascent area for Chinese investors, we believe this research paper provides a good starting point".
He added the just transition will be "critical for China's responsible investment development as well as achieving China's carbon neutrality goal".
Find the full list of award winners in Environmental Finance's Sustainable Finance Awards. If you are interested in learning more about the report, or PRI's Policy work in China, please contact Di Tang at di.tang@unpri.org